Dividend income is a necessary cash flow for retirees. Many baby boomers are entering the retirement years, and need a high-quality source of income. A traditional source of income, Treasury bonds, does not pay a sufficient interest rate to support monthly living expenses. Inflation is rising at a faster rate than Social Security income. In this article I will provide 7 stock ideas which provide reliable dividends.
The below chart is the retirees' typical dividend income to produce monthly income. I believe Wall Street's "cookie cutter" approach does not work. Every retiree is different with unique income needs and risk tolerance.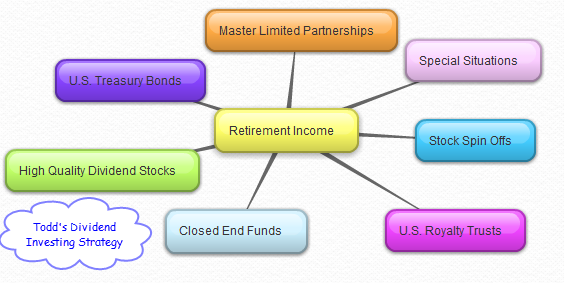 SandRidge Permian Trust (NYSE:PER)
SandRidge Permian Trust is a U.S. Royalty Trust. SandRidge Permian Trust pays a double-digit dividend, which includes return of capital. The trust has oil and natural gas prices hedged, so the distributions are fixed for the initial years. This, in my personal investing strategy, is a guarantee of receiving my return of capital. I want my capital back before I entertain the thought of return on capital.
American Capital Agency (NASDAQ:AGNC)
American Capital Agency is what I refer to as a "special situation." This stock is run by Gary Kain, who is sharp as nails and has delivered outstanding results. The company is known as an agency mortgage real estate investment trust. I refer to the company as a special situation because the company is 100% perfectly positioned in a low-interest environment.
As the old phrase goes, "the proof is in the pudding." The company has provided shareholders a 23.8% total annualized rate of return since its initial public offering. The company currently yields 19.7%.
The agency mREIT sector is misunderstood by many investors. There are a number of moving parts. The business model is to borrow short-term funds, referred to as repurchase agreements. Gary Kain, American Capital Agency's CEO, and his team then buy longer-duration governmental sponsored entity (e.g., Fannie Mae) mortgage-backed securities. The longer-term yield minus the short-term borrowing cost is the net profit. The company levers this net yield profit; the profits are then distributed to shareholders.
American Capital Agency owns only mortgage-backed securities implicitly guaranteed by the U.S. Federal Government. These are Level 1 (on the SEC 10Q balance sheet) assets, and are as liquid as Treasury bonds during trading hours.
General Electric Company (NYSE:GE)
General Electric is as well-known as apple pie and Chevrolet in the U.S. General Electric's stock performance, per the below chart, warrants dividend income investors to avoid ownership. The stock has underperformed the S&P 500 by a total annualized rate of return of 7.7%, per year over the past 10 years.
I personally find General Electric's performance insulting to the financial community. Jeff Immelt, chief executive officer, is making a fortune on his income and stock options. The company's dividend is 3.7% and does not make up the average annual 7.7% capital loss. This is unacceptable for shareholders.
Unless General Electric takes positive shareholder action, in my opinion, investors should recognize the company is underperforming most other dividend income asset classes. General Electric was forced to seek $16 billion in U.S. taxpayer bailout money due to their business model. This is a sign of a weak company, not one of strength.
ConocoPhillips (NYSE:COP)
ConocoPhillips is an example of a company focused upon creating shareholder value. In my above visual dividend opportunity chart, ConocoPhillips is currently engaged in a stock spin-off. In terms of the spin-off, the key focus is to streamline operations. Conglomerates are a business model of years' past. Apple (NASDAQ:AAPL) has proven if a company does one action right, investors will reap the rewards.
ConocoPhillips is, in essence, providing shareholders two companies. One will be an exploration and production (E&P) business and the second will be a refining and marketing (R&M) business. The bottom line is that management delivers. Per the below chart, investors can see the 11.0% total annualized rate of return over the past 10 years. The company's dividend was 70 cents in 2001. In 2011, the dividend has grown to $2.64.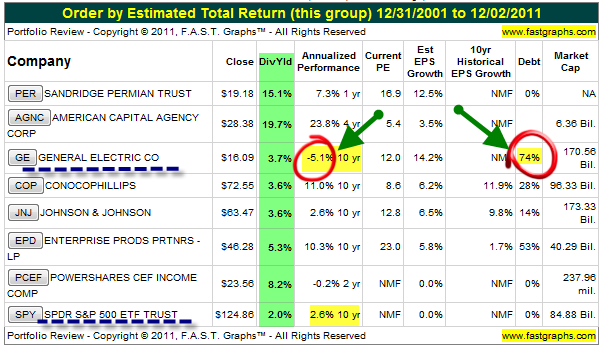 Johnson & Johnson (NYSE:JNJ)
Johnson & Johnson, in my mind, elicits one vivid impression: a company whom provides consumers with safe health care products. This is a blue chip enterprise. In my above chart, I would label Johnson & Johnson a high-quality dividend stock.
Johnson & Johnson has 3 key business units. These include consumer (e.g., Band-Aids and baby care products); pharmaceutical (e.g., contraceptive, dermatology products); and medical devices (e.g, electrophysiology, orthopedic joint reconstruction).
To play devil's advocate - and to state the obvious per the above chart - the 10 year total annualized rate of return has only matched the S&P 500's 2.6%. The current dividend yield is 3.6%, with annual increases. I believe a price to earnings compression is the reason for the company's stock performance. In 2001, Johnson & Johnson traded at about a 27x P/E multiple. Currently the company is trading at a 15x P/E multiple.
PowerShares CEF Income Composite (NYSEARCA:PCEF)
PowerShares CEF represents a one step closed end fund security to provide monthly dividends. PowerShares CEF offers a 7% dividend yield. Dividends are paid monthly. This security falls within the "Closed End Fund" category listed above.
The PowerShares CEF Income Composite Portfolio invests at least 90% of total assets within the "S-Network Composite Closed-End Fund IndexSM." PowerShares CEF is a "fund of funds." This works well for retirees who are going fishing and don't want to worry about hand-selecting individual closed end funds.
Enterprise Products Partners LP (NYSE:EPD)
Enterprise Products is a midstream master limited partnership. The company is an outstanding leader in building out an infrastructure and then collecting toll booth fees on the pipeline, storage, and transportation functions. Enterprise Products is a Texas based production company for natural gas and crude oil pipelines. These assets have displayed major growth. The growth has been both organic and by purchasing new assets, such as GulfTerra in September 2004.
As an MLP, the dividends have tax advantages. The company has grown its dividend over the years, and also provided investors a 10.3% total annualized rate of return over the past 10 years.
Summary
Many roads lead to a successful retirement income. Investors need to take it upon themselves and identify their income needs and their risk tolerance. Just like a snowflake, retirees all have different personalities and dividend income needs. Choose wisely and become engaged in the decision process. You have the ultimate responsibility of developing adequate income for your golden years.
Disclosure: I am long COP, AGNC, EPD, PER.