If your portfolio is currently large enough that you can live solely off of dividends and interest, then you may be able to get away with almost any dividend stock in your income investing strategy. However, most retirees don't have that luxury, and they need to make periodic withdrawals from their equity portfolio (over and above dividend income) throughout retirement. As such, retirees need to choose their dividend stocks very wisely in the current market environment.
Don't Believe the Hype
Income investors should be very cautious about being lulled into the two primary arguments from equity bulls:
Strong corporate earnings and modest Price to Earnings Ratio of 13x
Stock for the long run (i.e., "buy and hold")
First, we believe that corporate earnings are vulnerable to declines due to a weakening global economy. Recent data show that the U.S., China and Europe are slowing. Given how interconnected the world economies are we think investors need to pay close attention to global demand drivers. Approximately 40% of profits from the S&P500 are derived from overseas. Our view is that S&P 500 earnings roared back due to the significant risk transfer to sovereign balance sheets.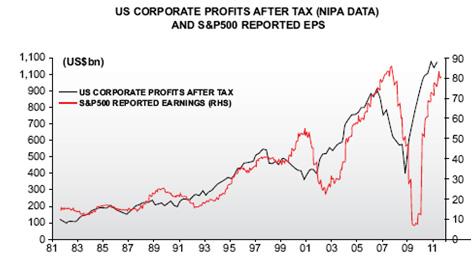 Source: Hinde Capital
Jeremy Grantham's latest Quarter Report has the following to say on profit margins:
Profit margins dominate the P/E equation above, so that the market is unlikely to come down even to fair value, about 975-1000 on the S&P in our view, and stay there until profit margins decline. And the longer you look at these record and still-rising margins and compare them to the miserable unemployment and substantial spare capacity, the stranger these high margins look. They will come down to more normal levels eventually, of course, and when they do they will bring the market down with them. Probably by then, some of the negatives mentioned above will have resolved themselves. If not, then the market could decline a lot and test my "no market for young men" thesis that follows.
As shown in the graph below, gross profit margins declined from 42.6% to 41.8% in Q3 2011 -- the lowest level since Q3 2009.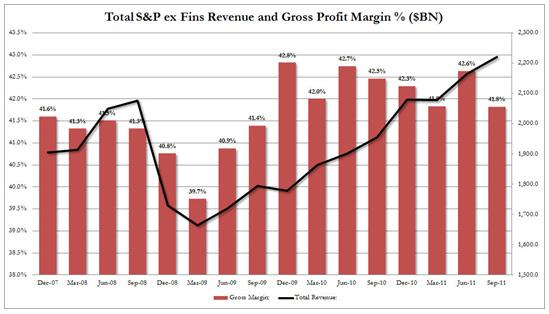 Source: Zerohedge
Second, the "stocks for the long run" mantra that many market pundits continue to tout is simply too dangerous for retirees. The equity bulls believe that time heals all wounds, and as long as investors hold onto their securities eventually "price will come back." Unfortunately, the timeline for retirees is different than most investors, thus the "one size fits all" approach to CNBC advice should be taken with a grain of salt. Retirees do not have the necessary 30-year horizons that are needed to smooth equity returns.
Tale of Two Types of Dividend Stocks
Due to the heightened uncertainty surrounding future earnings in this slow growth economy, income investors (especially retirees) need to focus on companies that will be able to retain pricing power and earnings growth in a slowdown.
The table below highlights a sample of both low beta and high beta dividend stocks. Low beta stocks tend to be in defensive sectors (e.g., healthcare and consumer staples) while high beta stocks tend to be in cyclical sectors (e.g., financials and services).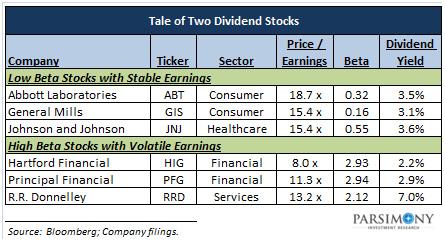 Comparing the Price/Earnings ratios for these stocks is somewhat misleading as it appears that the high beta stocks are more of a "bargain" right now. However, the market tends to discount stocks that have volatile earnings (see tables below).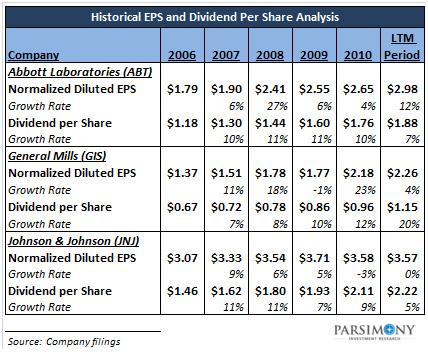 Low beta stocks like ABT, GIS, and JNJ have historically had very stable earnings and dividend growth. Conversely, high beta stocks like HIG, PFG and RRD have had a volatile earnings and dividend history.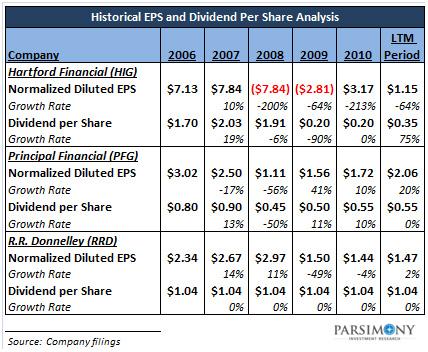 The Proof is in the Pudding
As shown in the chart below, stocks with volatile earnings and dividends tend to drastically underperform their more stable peers during a slowdown. Clearly, having the wrong dividend stocks in your portfolio in an uncertain economic environment could be futile -- especially if you are relying on your portfolio to pay the bills.