Alnylam Pharmaceuticals Inc.'s (NASDAQ:ALNY) RNA interference (RNAi) technology is potentially revolutionary. ALNY is using this technology to selectively turn off the expression of certain genes to build a pipeline to address a wide variety of genetically defined, "unmet need" diseases.
By 2015 the company expects to have five RNAi therapeutic programs in advanced clinical development (the 5X15 program). To someone (me) with a good background in biochemistry and molecular biology, this strategy makes a lot of sense. The chart below shows the company's current pipeline.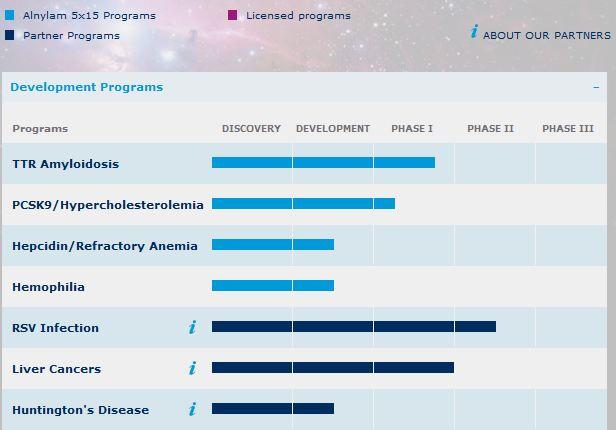 The furthest along in the development cycle is a therapeutic being studied for the treatment of respiratory syncytial virus infection. ALNY has just completed the enrollment in a mid-stage study for its candidate drug, ALN-RSV01. The study is being conducted in RSV-infected lung transplant patients at 33 lung transplant centers in six countries. ALNY is also developing ALN-TTR02, which is a second generation delivery formulation. ALNY plans to file a Investigational New Drug application (NYSE:IND) for ALN-TTR02 by year end. This alone could give ALNY's stock price a boost in the near term. Results from the study are expected in mid-2012. This will be a big upward stimulus for the stock (as Phase II trial results tend to be), assuming the results are positive. So far everything looks good. ALNY is also partnering with other companies on the other dark blue colored drugs in the pipeline chart above.
Apart from the collaborative efforts, ALNY has the 5X15 program (of 5 drugs in late stage development by 2015). ANLY recently presented positive preliminary clinical results for ALN-TTR01, an RNAi therapeutic for the treatment of transthyretin-mediated amyloidosis. The progress appears to be good so far -- a positive. Plus the last member of the 5X15 program is supposed to be designated by the end of 2011. This could give the stock price a lift. All told the pipeline is extremely impressive for company with a market cap of only $294.38M, especially considering the enterprise value is only $117.95M.
On top of the pipeline, ALNY owns a broad and exclusive portfolio of fundamental patents and patent applications required for the development and commercialization of all RNAi therapeutics. ALNY's intellectual property includes over 700 granted patents worldwide, and over 300 granted or issued patents in the world's major pharmaceutical markets: the US , EU, and Japan. The intellectual property includes over 1,800 active cases.
This is all very impressive. It indicates a strong belief that the intellectual property is valuable. Plus it makes ALNY a much more attractive buyout target for a large drug company. As soon as ALNY nears proving out at least one of its RNAi drug efforts, it will likely come into play as a buyout target. It may before that.
In the normal process of things, ALNY should get bid up a few months before the Phase II results due for ALN-TTR02 in mid 2012. It is a little early for that now. However, the two year chart below indicates that ALNY may be finding support now. It could head upwards soon, especially considering the IND mentioned above and the last component of the 5X15 program to be announced soon.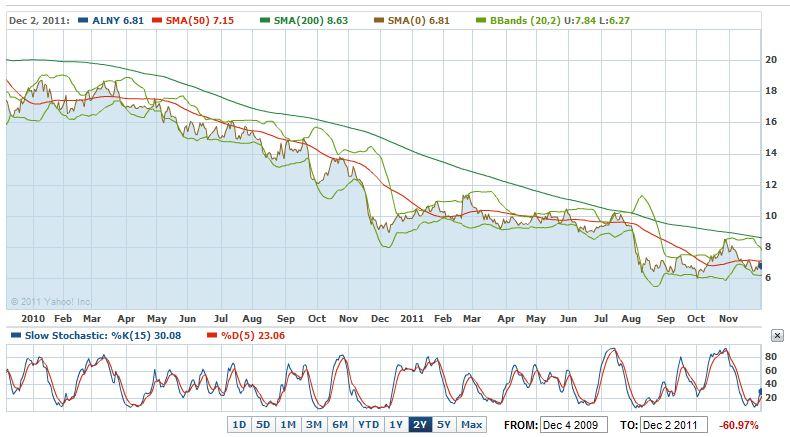 ALNY is near oversold levels on the slow stochastic sub chart. It seems to be in a very weak down trend. ALNY may in fact be stabilizing, as it has been in a consolidation phase for the last three months; it was in a previous consolidation phase for the 9 months before that. If the EU credit crisis snowballs downward, ALNY is almost sure to go down a bit more. However, if the current rally continues, ALNY may well head upward; and now (or soon) might be an appropriate time to buy it.
There are various deadlines for the new EU proposal this week with the most important one on Friday. Any one of these could send the market spiraling downward, or one could push the market further upward. I admit a downward direction seems more likely, but we can hope for the best. If the EU crisis does send the market further downward, you should probably refrain from buying this stock now.
However, if the market continues upward on a decent EU result, it may be a good time to buy ALNY. If this rally continues, there is the possibility of the traditional small cap rally in January (an added boost). Plus if ALNY is to get bid up before it puts out its Phase II results for ALN-RSV02, one might think this would begin in February or even January. All told this could mean that ALNY could be bid up to $10+ from its current $6.89 in the next few months. This would mean a 40%-50% profit in just a few months.
Of course, ALNY is not the only company trying to develop RNAi technologies. Cubist Pharmaceuticals Inc. (CBST) is a partner with ALNY in its development of ALN-RSV01, or rather it has an opt-in right to collaborate in the future for the lung transplant indication.
Galena Biopharma Inc. (NASDAQ:GALE) has a Phase III drug under development for intermediate HER2+ breast cancer patients, not eligible for Herceptin. Its RNAi product under development, RXI-109, targets connective tissue growth factor and is in development for anti-fibrotic diseases, including anti-scarring.
Marina Biotech Inc. (NASDAQ:MRNA) recently confirmed the selection of the lead DiLA2 formulation for a RNAi based therapy for the treatment of non-muscle invasive bladder cancer (with Debiopharm Research and Development).
Isis Pharmaceuticals Inc, (ISIS) through Regulus Therapeutics Inc. focuses on the discovery, development, and commercialization of microRNA based therapeutics. This company has many strategic alliances with major drug companies such as GlaxoSmithKline (NYSE:GSK); Bristol Myers Squib (NYSE:BMY); Eli Lilly and Company (NYSE:LLY), etc. Some of the last may be companies in the bidding war I expect to eventually develop for ALNY. You might add Pfizer (NYSE:PFE) and others to the list.
Any or all of these others may be worth looking at if you are enthralled with the idea of RNAi technology.
Disclosure: I have no positions in any stocks mentioned, but may initiate a long position in ALNY over the next 72 hours.