Coca-Cola (NYSE:KO) has long been a favorite not only with consumers but also with investors. The stock has a long history of steady growth in both revenue and earnings as well as growing dividends. Right now is a good opportunity for long-term investors to enter into a new position or add to existing holdings. This stock is also a good DRIP candidate and the stock has a five-year annual total return of 9.18% even in this recessionary period. At the present time the stock is in a slight downward trend as evidenced in this graph provided by Barchart so shares can be added at this level or lower.
Click to enlarge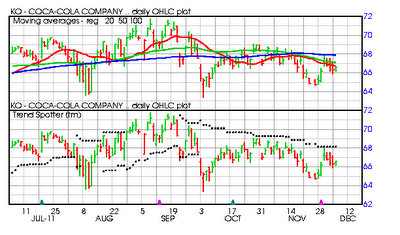 The Coca-Cola Company manufactures, distributes and markets non-alcoholic beverages worldwide. It principally offers sparkling and still beverages. The company's sparkling beverages include non-alcoholic ready-to-drink beverages with carbonation, such as energy drinks, and carbonated waters and flavored waters. Its still beverages consist of non-alcoholic beverages without carbonation, including non-carbonated waters, flavored waters and enhanced waters, non-carbonated energy drinks, juices and juice drinks, ready-to-drink teas and coffees, and sports drinks.
The Coca-Cola Company also offers flavoring ingredients, sweeteners, powders for purified water products, beverage ingredients and fountain syrups. It markets its non-alcoholic beverages primarily under Coca-Cola, Diet Coke, Fanta, Sprite and Simply brands. The company sells its finished beverage products primarily to distributors, and beverage concentrates and syrups to bottling and canning operators, distributors, fountain wholesalers and fountain retailers. (Yahoo Finance profile)
Factors To Consider
Barchart technical indicators:
Technical indicators show a stock's current momentum and if the momentum is downward it can be a signal to buy a stock with good long-term fundamentals at a lower than average price.
Barchart uses technical indicators ranging from seven days to six months to analyze the direction and strength of a stock's current price
At the present time sell indicators are still getting stronger and and the price is trending downward
56% Barchart technical sell indicator
Trend Spotter sell signal getting stronger
The stock is trading below its 20, 50 and 100 day moving average
The Relative Strength Index is 46.83% and increasing
The price is 7.61% off its one-year high while the overall market is 13.55% off its one-year high
Barchart computes a technical support level at 65.15
The stock recently traded at 66.60 with a 50 day moving average of 67.16
Compared to the market the stock has gained 2.81% in the past year while the market as measured by the Value Line Index of 1700 stocks is down 1.60%: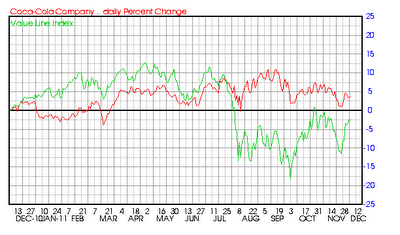 Fundamental factors:
This is a widely followed stock by Wall Street brokerage firms with 13 brokerage houses assigning 18 analysts to monitor the numbers
Analysts project revenue to be up 32.40% this year and another 4.30% next year
Earnings are estimated to increase by 9.70% this year, an additional 8.60% next year and continue increasing by an annual rate of 5.55% for at least five years out
These consensus numbers resulted in 6 strong buy, 10 buy, 2 hold and no negative or under perform recommendations for their clients
The stock's 17.56% P/E ratio is slightly higher than the 13.40% P/E of the market
The dividend rate of 2.83% is about 50% of earnings and slightly higher than the 2.40% dividend rate of the market
The company enjoys an A++ financial strength rating
The numbers for growth in revenue and earnings appear to be solid because the stock has a 100 rating in both stock price stability and earning growth predictability
Although the U.S. and European markets are growing about in line with the economy, sales in Brazil, India, Russia, China and Turkey are all advancing at double digits
Power-Aide and Gold Teak Tea are big revenue gainers in overseas markets
Rising commodity prices in grains and sweeteners are a problem but over the years Coke has been very successful in hedging these commodities
General investor interest:
I look to the readership of Motley Fool to give me a feel of the sentiment of the individual investor and 6,263 readers give an opinion on this issue
The general readers vote 95% that the stock will beat the market
The more experienced and savvy All Stars voted 97% for the same result
Fool notes that all 28 of the recent articles on this stock have been positive
Big names that gave a thumbs up are Jim Cramer, Bob Olstein, Bill Nugren and Warren Buffet
Always look to the market for the final word and over the last year KO has gone up 3.85% while the competition of Pepsico (NYSE:PEP) was up only .20%, Dr Pepper-Snapple (NYSE:DPS) was up 2.56% and Nestle (OTCPK:NSRGY) was down .30: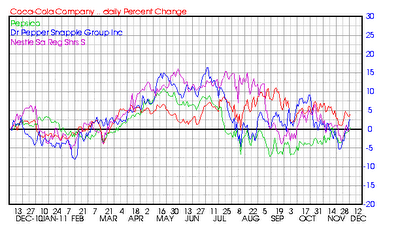 Summary: Coca-Cola should not be considered a short-term play. I recommend long-term investors buy on these dips. Long-term investors should look for a steady increase of revenue, earnings and dividends, and Coke hits on all three. Try to pick up shares under 65 and reinvest the dividend for long-term appreciation. This is an ideal stock for investors that like to have their IRAs on a DRIP program. This is a good entry point but may be even better shortly: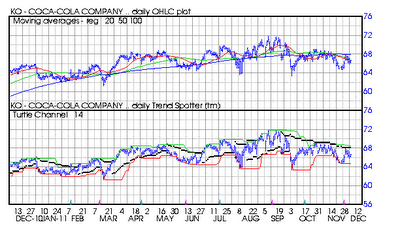 Disclosure: I have no positions in any stocks mentioned, and no plans to initiate any positions within the next 72 hours.