John Hussman is famous for his Hussman Strategic Growth Fund (HSGFX). The fund is a long/short fund that in principle is never net short but uses market actions and market valuation as guides for short term hedging. The fund has performed well since its inception though in the last 3 years, it has suffered from Hussman's overly conservative approach. Year to date, the fund has done well, thanks to the modified approach adopted by the fund recently.
Less well known is that Hussman is also a good stock picker. The following is the latest performance chart of the fund:
click to enlarge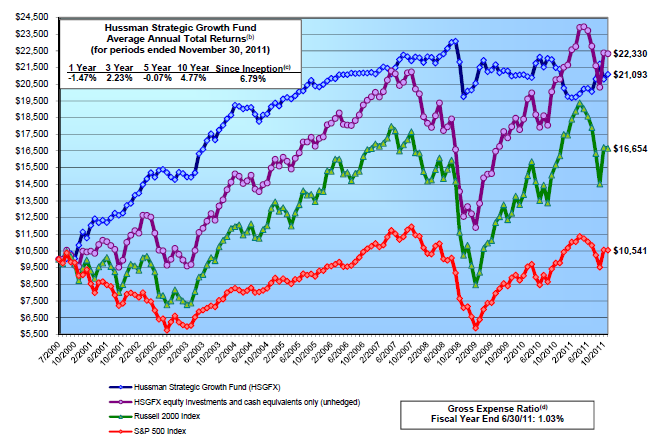 From the above, one can see that HSGFX equity investments (unhedged) outperformed S&P 500 index most of the last decade. This is achieved by Hussman's two principles:
Stocks are selected based on Growth at a Reasonable Price.
Emphasis on sectors that can outperform in a particular market/economic cycle.
The following are the 7 top holding stocks:
| Company | Symbol | % Assets |
| --- | --- | --- |
| Panera Bread Company | PNRA | 2.89 |
| Astrazeneca PLC Common Stock | AZN | 2.88 |
| Humana Inc. Common Stock | HUM | 2.50 |
| Biogen Idec Inc | BIIB | 2.18 |
| Endo Pharmaceuticals Holdings I | ENDP | 2.11 |
| Coca-Cola Company (The) Common | KO | 2.09 |
| Life Technologies Corporation | LIFE | 1.85 |
The following compares Hussman Strategic Growth Fund (HSGFX) with two asset allocation funds with dividend ETFs:
Portfolio Performance Comparison
To summarize, stock investors can look into those 7 stocks as references to form a stock portfolio. They provide Hussman's viewpoint on the current market cycle and they have growth perspective at a reasonable price.
Disclaimer: MyPlanIQ does not have any business relationship with the company or companies mentioned in this article. It does not set up their retirement plans. The performance data of portfolios mentioned above are obtained through historical simulation and are hypothetical.
Disclosure: I have no positions in any stocks mentioned, and no plans to initiate any positions within the next 72 hours.