The domestic energy sector should be a primary beneficiary of the coordinated efforts of the central banks to ease liquidity concerns as well as the lessening prospects of a double dip recession in the United States. One stock that looks good at these levels is Consol Energy.
Consol Energy (NYSE:CNX) – "CONSOL Energy Inc. engages in the production of multi-fuel energy and provision of energy services primarily to the electric power generation industry in the United States. The company involves in the mining, preparation, and marketing of steam coal primarily to electric power generation industry; and metallurgical coal to steel and coke producers. It also produces pipeline-quality coalbed methane gas from its coal properties in the Northern and the Central Appalachian basin; and oil and gas from properties in the Appalachian and Illinois Basins." (Business description from Yahoo Finance)
8 reasons CNX is a solid buy at $41:
1. It is selling at the bottom of its five year valuation range based on P/E, P/S, P/B and P/CF.
2. Consol Energy is significantly under analysts' price targets. The mean analysts' price target on CNX is $62.50 and Credit Suisse is $58.
3. CNX has a forward PE of under 11 which is an over 25% discount to its five year average.
4. The stock looks like it has technical support at just under these levels (See chart)
click to enlarge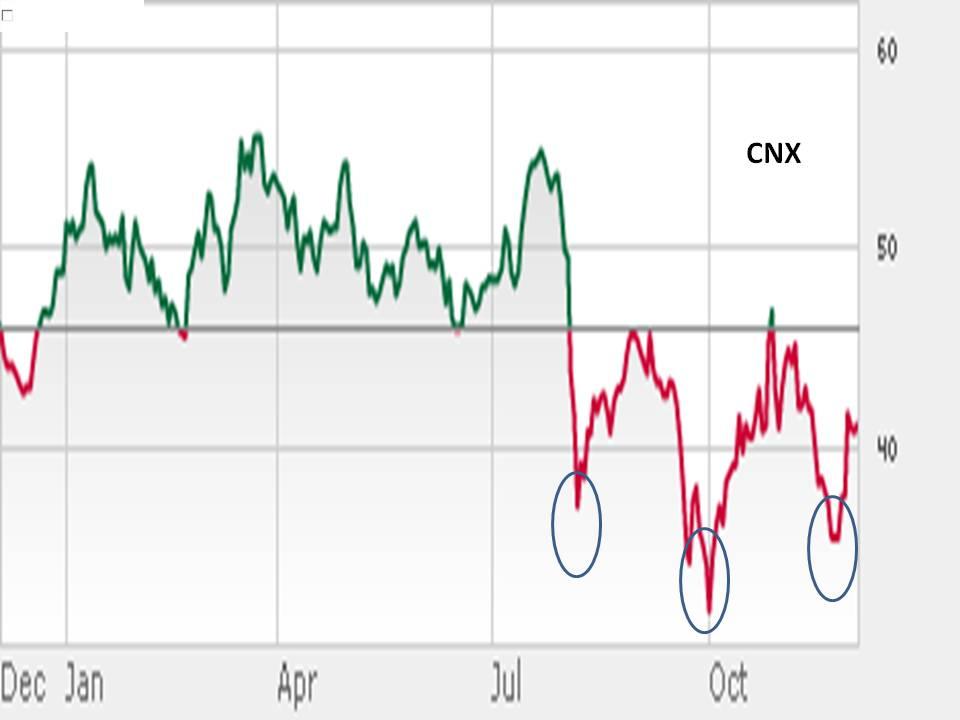 Click to enlarge
5. Barclays just initiated an "overweight" rating on CNX last month.
6. The development of the Marcellus and Utica shale basins should be long term drivers of Consol Energy's growth in revenues and earnings.
7. High growth of Asia will drive CNX's coal exports longer term.
8. Very few industries will benefit more than coal from a change in administration should it occur in November 2012.
Disclosure: I have no positions in any stocks mentioned, but may initiate a long position in CNX over the next 72 hours.