The emerging markets ETF space is surprisingly simple. There are only 44 diversified emerging markets equity funds against a total of 503 US equity funds. The two largest ETFs, VWO (Vanguard Emerging Markets) and EEM (iShares MSCI Emerging Markets) account for 91% of the sector's assets. Add in EWZ (iShares MSCI Brazil) and FXI (iShares FTSE China 25) and the share of the top four funds rises to 93%.
Money flows toward emerging markets ETFs have been binary: managers rush into VWO and EEM when "risk is on" and leave quickly when "risk is off." The graph below shows that net flows into EEM have been a mirror image of the fund's recent performance. Portfolio managers typically buy emerging markets ETFs to boost their returns when they are lagging behind their benchmarks. Because of these funds' high beta (1.2), they are a simple catch-up play during strong market rallies.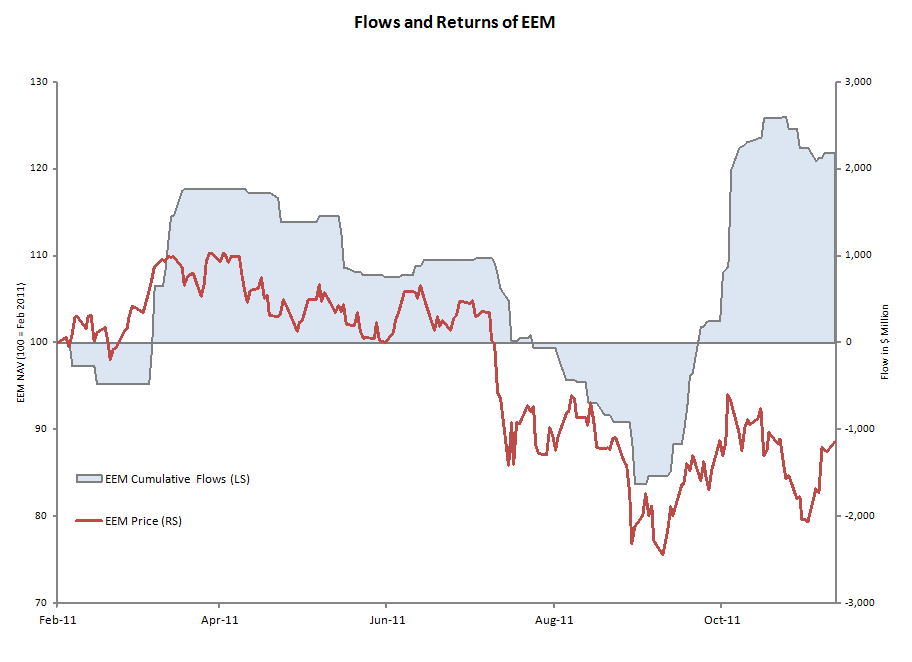 Source: Bloomberg
Are emerging markets ETFs simply EFA (iShares MSCI EAFE Index) on steroids? I believe that emerging markets offer a lot more than their high beta and that the ETF crowd will catch up with this new reality.
First, the global success of large emerging markets companies means that traditional market-cap weighted country ETFs are now heavily biased toward a handful of mega caps. For example, PetroBras (NYSE:PBR) and VALE account for about 20% of EWZ's holdings, while Samsung accounts for 17% of EWY (iShares MSCI Korea)'s holdings.
I have nothing against Petrobras and Samsung: they are two superbly managed companies, which have nothing to envy from Exxon Mobil (NYSE:XOM) or Apple (NASDAQ:AAPL). But just like Exxon Mobil and Apple, they are global companies, which are primarily affected by global growth expectations and macro sentiment. They are not a good way to bet on the rising purchasing power of the Brazilian or Korean middle class.
Second, traditional emerging markets ETFs comingle exposure to local indices and local currencies. The returns of the Brazilian real explain a whopping 88.5% of the performance of EWZ. A simple regression shows that 97% of the returns of EWZ can be replicated by simply holding a long position in Petrobras and the Brazilian real. With the currency market running amok every time A. Merkel sneezes, investors will increasingly want to separate currency exposure from the intrinsic growth of local emerging markets. To my knowledge, WisdomTree is the only provider to offer currency-hedged equity ETFs, but its offering is limited to Japanese stocks (NYSEARCA:DXJ) and global stocks (NYSEARCA:HEDJ).
Third, providers will increasingly move away from market-cap weighting toward fundamentals weighting. Opponents of fundamentals weighing argue that emerging markets are not mature enough for fundamentals-driven strategies. This somewhat condescending argument is one of the most stupid I have ever heard. It is precisely because emerging markets are less efficient than developed markets that fundamentals-weighting makes sense. Now that almost every US equity manager uses multi factor models, most accounting anomalies (earnings momentum, low price to book, small cap premium) will not generate alpha. The opposite is true in emerging markets where "beta players" still dominate.
Fourth, it has been more than ten years since Goldman Sachs' Jim O'Neil came up with the "BRIC" acronym. Investors will likely look for funds that are targeted to the next China, India and Brazil (I purposely leave Russia out because it never really belonged to the group). I see six emerging markets that offer large domestic markets, strong growth potential and liquid stock markets: Indonesia, South Africa, Egypt, Colombia, Vietnam and Nigeria. Country ETFs already exist for five of these markets (IDX for Indonesia, EZA for South Africa, EGPT for Egypt, GXC for Colombia and VNM for Vietnam) but there is no easy way to invest simultaneously in the "Next 6."
Assets will also flow into the nascent field of frontier markets. For now, the most liquid play on frontier markets is FRN (Guggenheim Frontier Markets) with assets of about $137 million, but I expect a surge of frontier markets launches in 2012.
Last, investors will increasingly look at emerging markets for fixed income securities. ELD (Wisdom Tree Emerging Markets Debt) and ALD (Wisdom Tree Asia Local Debt) gathered $1.2 billion and $421 million, respectively, in less than a year, making them the most successful ETF launches in recent history. These funds offer exposure to sovereign and corporate issuers with strong balance sheets, low leverage and high growth prospects. Compare that with the return-free risk offered by "developed" sovereign issuers and the decision is a no-brainer. Did I mention that ELD yields 4.8%?