Last quarter we noted Bill Ackman's big new investments in Citigroup and Family Dollar (along with other noted activist, Nelson Peltz). Ackman slightly increased his Citigroup (C) and Family Dollar (FDO) positions this quarter and added two new names: Candadian Pacific Railway (CP) and Howard Hughes Corp (HHC):
click to enlarge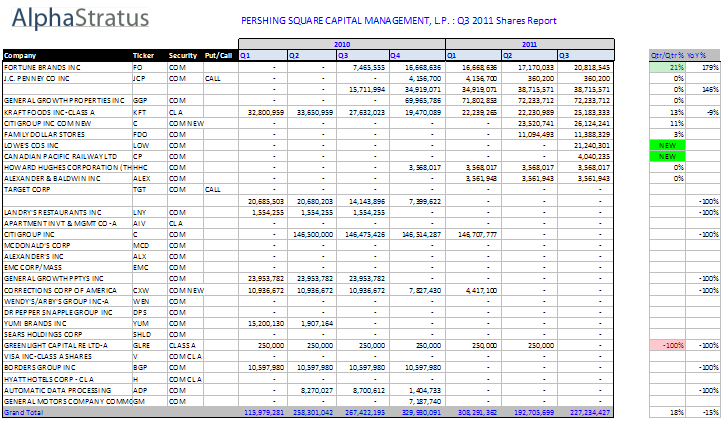 Ackman as stated his intention to talk with Canadian Pacific's management, board and shareholders and "other relevant parties" about the future of the railroad. Ackman writes (in his investor letter) that he took advantage of recent market weakness to " invest more than $600 million in existing investments including Fortune Brands, Kraft, Family Dollar, Citigroup, and two new commitments."
Fortune Brands (FO) is now the highest "conviction" position followed by J.C. Penny Co (JCP) and General Growth Properties (GGP):

The one interesting sale from Pershing's portfolio was from Ackman's friend, David Einhorn's Greenlight Re, after maintaining a very consistent 250k shares for years.