Apple is one of the largest companies in the world. What it does and what it has accomplished has become common knowledge. It is an icon in the tech industry and as an American business with moral practices. Recently, its fame has grown after the death of CEO Steve Jobs.
Apple has only gone up, as it has constantly found new ways to innovate. It has produced the famous iPod, iPhone, iPad and Mac. In each, Apple took a great idea, sold it with amazing advertising campaigns, and then continually improved each product through many generations of releases. Some innovations include unibody enclosure for laptops; all-in-one desktops; high-quality materials; the large, touch-screen phone design; creativity with electronics, such as antenna placement; and the most recent innovation, Siri.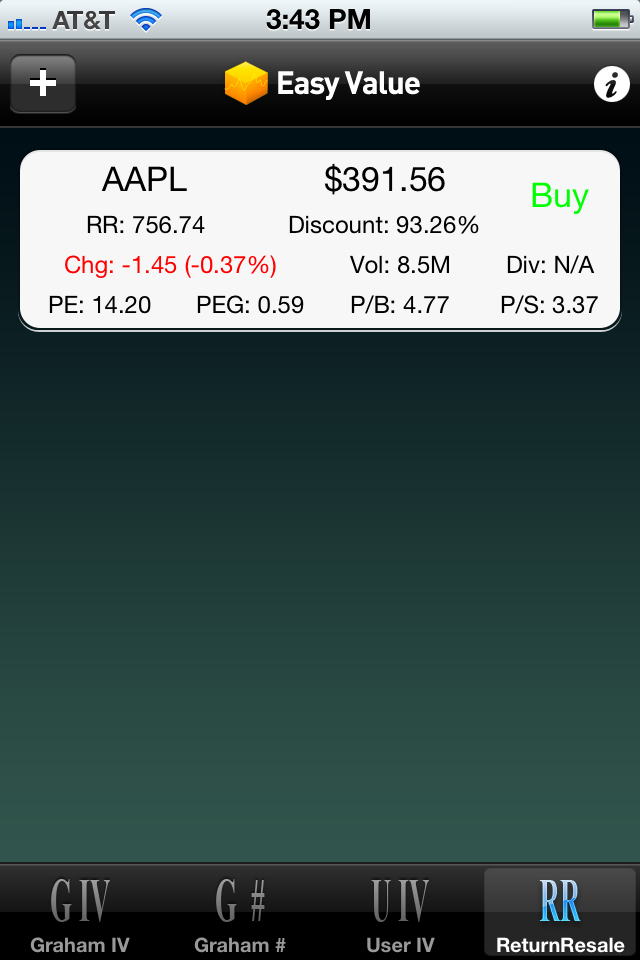 Most experts do not doubt Apple's growth potential, but rather criticize its price tag. Apple is seldom called a bad company, but one will often hear how expensive the stock is. Growth investors love Apple because of its dominance and creativity. They overlook the price, and focus on the company. I am not proposing that you buy Apple using that methodology, as I am more of a value investor. Therefore, looking at Apple from this standpoint, I believe Apple is a good investment because it is at a good price relative to its intrinsic value.
Many value investors won't even consider buying a stock at a slightly higher price, when the action is being justified by growth. To be fair, growth is not definite, but it can be convincing especially at such high numbers. Essentially, Apple's growth puts out a very high intrinsic value when used in a formula. Using two of the formulas in the app Easy Value, I have estimated Apple's intrinsic value at about $800, although it may be much higher, closer to $1500.
Looking at intrinsic value alone can be the death of a value investor. Apple is "built" like a growth company; it has a niche, room to grow, and is healthy. This quality is rare when paired with such a large discount from intrinsic value, and this is why Apple stands out.
Looking at Apple from a price-ignorant point of view, it is a great investment with no downside. First off, it is a very safe investment. Apple has managed to grow at staggering rates without borrowing any money. This is due to its management's abilities and its place in the market. Management has been consistent and creative, while the company itself is special to many consumers. It is unlikely that this will change, despite beliefs that ingenuity ended with Steve Jobs. Not only does Apple have no debt, it has $26B in cash. This is evidence of its financial state, as well as its value. Any cash can be considered a discount from the share price, because a buyer of the stock is essentially buying cash.
In addition, Apple has a high profit margin. This number is at 24%. The lack of debt coupled with high profit margins and a high cash level means that Apple will be able to earn in almost any market, avoid losses and have a safety net. Stocks with these characteristics can have very high prices because so many investors flock to them for safety, especially in times like these. Apple is not as expensive as one might expect, and there are many other qualities that put it above the rest.
Apple isn't only a safe stock, it's also competitive. Its knack for innovation has allowed it to be the dominant player in almost any market it enters -- probably because Apple created most of these markets itself. Currently, Apple is achieving a 42% return on equity. Its gross profit is at $44B, with an earnings per share of $27.70. This type of return is unheard of among large cap companies. Not only is its return high, but Apple is expected to grow its earnings at an average of about 30% for the next five years.
Let's not forget that Apple is carrying around a P/E of 14, which many consider too high to get their buy. In my opinion, this P/E (and Apple's current valuation as a whole) is very low for such a great business. A company like Intel (NASDAQ:INTC) has a lower P/E (11) and pays a high dividend (3.4%). This is the type of stock that value investors generally buy.
Many even prefer higher yields and better values. For example, ATT (NYSE:T) has one of the highest yields at 6%. Or those that are seeking extreme value in large cap companies may flock to companies such as General Motors (NYSE:GM) which has a P/E of 4.7. Unlike all of these companies, Apple has both a solid foundation and a great return.
A price to earnings of 14 is not by any means outrageous, although, for one to consider Apple as an investment, especially as a value investor, it may be on the high side. The only reason that Apple has a higher P/E ratio than some of its peers is because of its high growth rate. A 30% growth rate is very hard to achieve, especially among large companies. I would expect a stock as beloved as Apple with such a high growth rate to be at a much higher P/E, closer to 25 or 30. For example, Coca-Cola (NYSE:KO) is another one of the few companies that is loved by many investors. It's P/E is at 12, with a measly growth rate of 4%. Many investors like Coke because of its brand, 2.8% yield (which has increased for decades, just like T's) and Warren Buffett's (NYSE:BRK.A) approval of it as one of the "best" stocks to own.
Apple is a far better investment than Coca-Cola, in my opinion. Apple is less risky, as shown by margins and debt, and when its growth is considered it is also at a better price. Apple's P/E is actually 50% below its five-year average of 26. The price has risen, but not nearly as fast as the growth rate. Therefore, the P/E has continued to drop lower. An easy way to show you how Apple's growth rate justifies its price is through its PEG. Apple has a PEG, or price to earnings over growth of 6/10. I am not a fan of this statistic, but those who are fans generally believe that stocks with PEGs below a 1 to 1 ratio are good values.
My favorite calculation when considering any type of stock is the intrinsic value. There are many ways to calculate this, but I have estimated Apple's at about $800. This is on the low end of many estimates, especially for one so far out in the future. Do not confuse this calculation with a short-term, 1-year estimate, because this is for a much longer investment horizon. Generally investors wait 3-7 years before the stock's value is realized by the market. Using intrinsic value on a "growth stock" is an uncommon practice, as most value investors don't trust growth estimates. Growth should be factored into the value of a company, as it is the most important part of the company's future (which is the time that you will own the stock). Obviously the market doesn't agree that Apple's growth potential is important, creating a great opportunity for investors.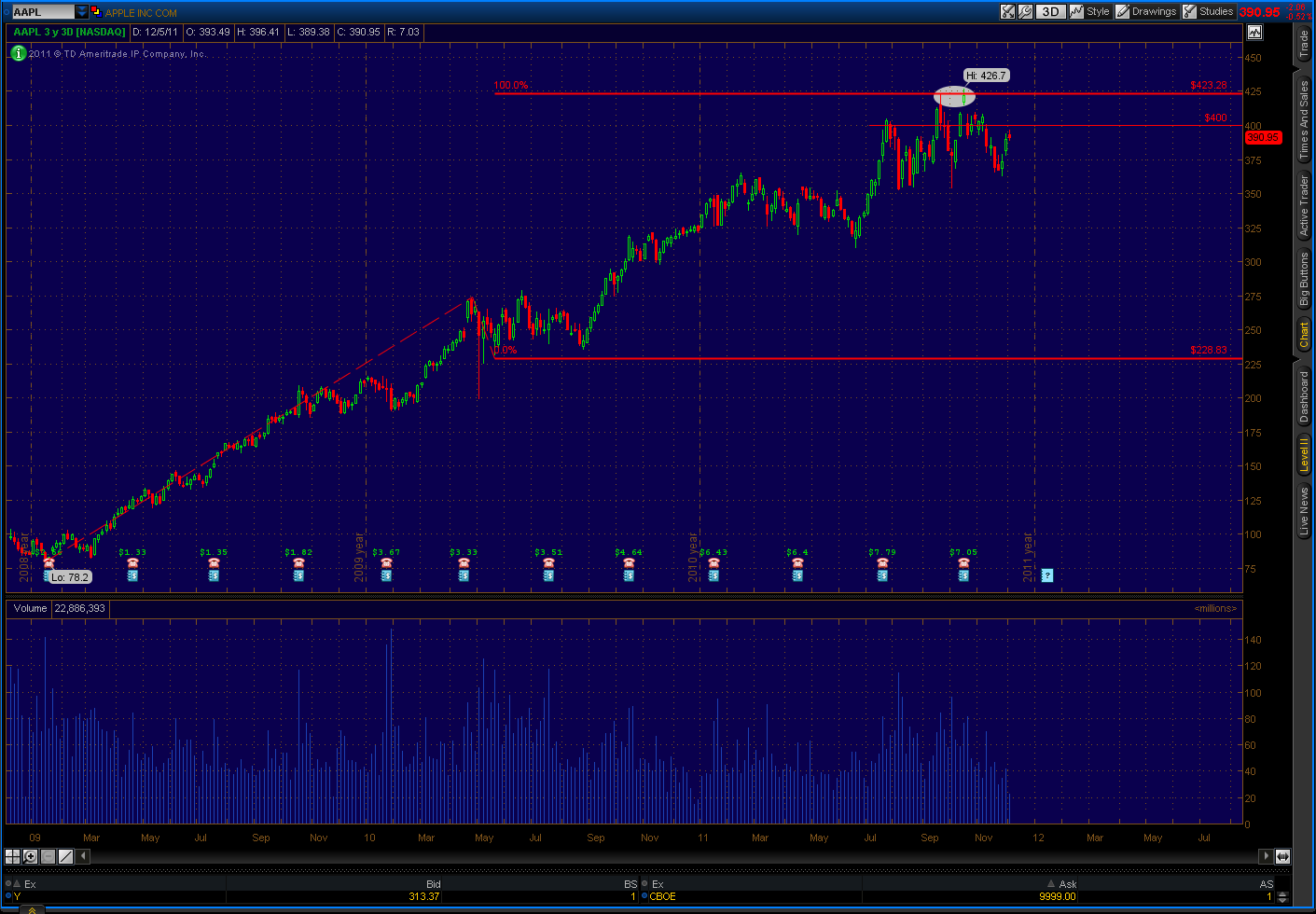 I cannot tell you why Apple is at such a relatively low P/E, considering its low-risk nature and high growth, although, it may be because investors fear Apple when it is over $400. Whenever Apple goes above $400, the price drops soon after. As a technical analyst, I could give a more detailed analysis, but I would like to keep this relevant to the fundamentally-driven value investor.
This is not a resistance level, but rather just a large number that human nature dislikes. This type of methodology is one of the reasons that companies split their stock. Even though traders (most investors don't care about the share price, only the Market Cap) may not want to breach $400, Apple is worth more than that. If Apple does continue to grow, that level will not hold. I recommend you take advantage of this opportunity.
Or, you could just follow the masses and pour money into large companies and gold ETFs such as the SPDR Gold Trust ETF (NYSEARCA:GLD). This type of thinking has been common recently. Gold is at an extremely high level, relative to its past. Many believe that it's a good investment, better than equities. Although, it has no intrinsic value and produces nothing. It goes up when people like it and down when people hate it.
You may feel safer buying gold, as so many have in the past, but this would be a foolish decision. You may fear Apple because it is at a large per-share price, or at a P/E above the "magic" number of 10. These are irrational reasons, yet they are sculpting the market. As an investor one must realize that the market's reaction and trends (the $400 level, for example) should not be feared. Rather, one should take advantage of its irrationality.
Apple is a great company. It has grown to be one of the largest companies using moral and competitive business practices. It is considered a growth stock because its high growth and solid financials are the reasons most investors choose it. As a value investor that considers growth in calculations and analysis, I believe it is a great value stock as well. Its growth should be demanding much higher valuations, yet it isn't. Even conservative intrinsic value estimates put the value of Apple at least 100% above what it's at now. Therefore, investors currently have the opportunity to own a great company at a great price.
Disclosure: I have no positions in any stocks mentioned, but may initiate a long position in AAPL over the next 72 hours.