Here are three stocks to study for long term investments that also provide an opportunity for additional income through option investing. Some may be ready to get into now, others worth your watch list - that is up to you as an investor. But these three are worth your time to study.
Evercore Partners Inc (EVR)
Evercore Partners Inc. operates as an independent investment banking advisory firm. It provides advisory services on mergers, acquisitions, divestitures, and other strategic corporate transactions primarily for multinational corporations and private equity firms; and restructuring advice to companies in financial transition, as well as to creditors, shareholders, and potential acquirers. The company also provides capital markets advice; underwrites securities off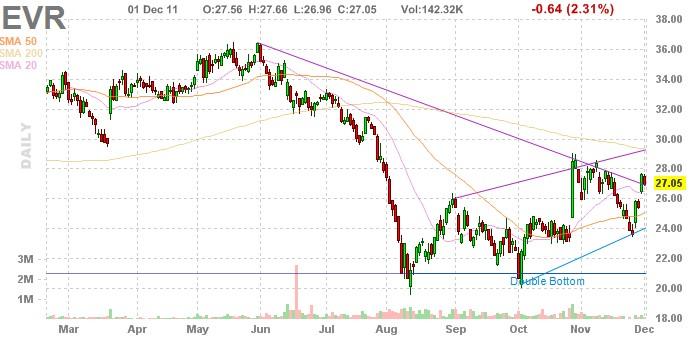 erings; raises funds for financial sponsors; and offers equity research and agency-only equity securities trading for institutional investors.
It is typically in this type of economy that a company will grow through mergers and acquisitions. This may be the reason for EVR's growth. They have been growing through sales for 6 straight years now and continue to look strong. In a recent article about its third quarter earnings, Street Authority writes; "The advisory firm blew past estimates with quarterly revenue of $138 million being nearly 40% ahead of forecasts." Their strength and this market will keep this company growing. Look at investing in the stock now. If you are interested in options, look at purchasing a option toward November 2012 around the 34 level.
Weingarten Realty Investors (WRI)
Weingarten Realty Investors operates as a real estate investment trust (REIT). The company engages in the management, acquisition, and development of real estate. It operates in two segments, Shopping Center and Industrial. The Shopping Center segment engages in the acquisition, development, and management of real estate, primarily anchored neighborhood and community shopping centers located in Texas, California, Louisiana, Arizona, Nevada, Arkansas, New Mexico, Oklahoma, Tennessee, Kansa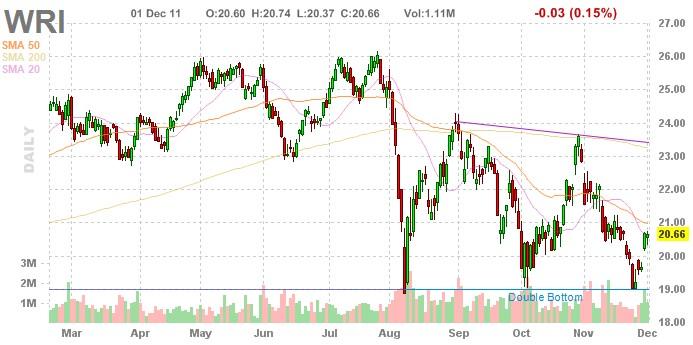 s, Colorado, Missouri, Illinois, Florida, North Carolina, Mississippi, Georgia, Utah, Kentucky, and Maine. Its customer base includes supermarkets, discount retailers, drugstores, and other retailers.
Here's a company with a nice dividend, about 5.23% that may be poised for growth. It has a well defined triple bottom and may move up next year if consumer spending starts to consistently rise. This is one to put on your watch list for future investment opportunities. It will eventually break through its resistance level and may push clear up to the 26 level before it is challenged again. It may not be a bad idea to explore a long term LEAP option on this one.
Whirpool Corp (WHR)
Whirlpool Corporation engages in the manufacture and marketing of home appliances worldwide. Its principal products include laundry appliances, refrigerators, cooking appliances, dishwashers, mixers, and other small household appliances. The company also produces hermetic compressors for refrigeration systems. It markets and distributes its products under var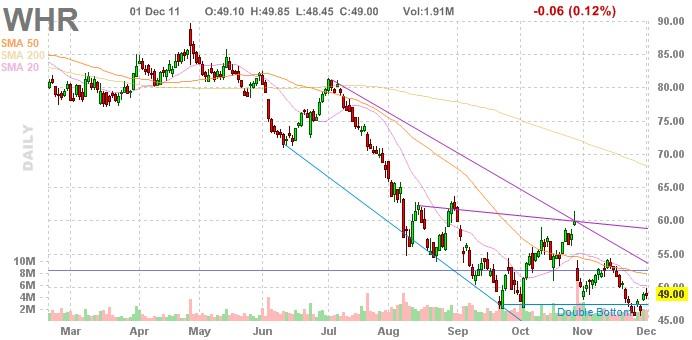 ious brand names, including Whirlpool, Maytag, KitchenAid, Jenn-Air, Amana, Roper, Estate, Admiral
"During the quarter, we experienced weaker than expected global industry demand and elevated material costs," said Jeff M. Fettig, Whirlpool Corporation chairman and chief executive officer in the press release. The down trend and dividend cut is not unexpected in an economy like this. But this also provides us with a good opportunity. WHR could see an extended up-swing in a rising economy where appliances are bought. Watch the economy and watch WHR. It has already formed a double bottom. There is plenty of room to catch a long term bullish trend at the right time. An investor who knows when to get in can also make a nice profit on a long term LEAP option. Watch this stock for a long term investment.