Investing in biotech stocks is usually a risky proposition. First of all, investors rarely have the scientific background to evaluate the claims of most of the potential products being researched. Additionally, there is always the chance that a product being researched fails a key clinical test, in which case, the affected company's stock will usually experience significant losses. Furthermore, because of the nature of biotech companies, they usually do not generate significant revenue during their research phase, although they do experience operating costs associated with the research.
With this in mind, when investing in biotech stocks, it is particularly important to evaluate the strength of management and the cost structure of the company itself. Investing in a company with suspect management or poor financial stewardship is questionable at the best of times, but particularly so for biotech companies because of their lack of tangible assets and negative cash flows. When assessing biotech stocks, potential investors should always critically evaluate several key points: Does the company have a sufficient war-chest to see it through the various regulatory hurdles necessary to realize value for shareholders? Does management have a relevant scientific background or history of successful start-ups? Most biotechs have large addressable markets, so the specific area of research under study often should be secondary to these questions.
Today I will present Part 1 of a series examining Genesis Biopharma (GNBP.OB) and why this is exactly the type of biotech company that investors should avoid. In today's piece I will examine GNBP's management team, CEO Anthony Cataldo and CFO Michael Handelman and the long list of failed public companies under their management or directorship. I will also look at Genesis' own similarity to management's other failed enterprises and its history of paid stock promotion.
CEO Anthony Cataldo's Suspicious History of Failed, Heavily Promoted Companies
Genesis Biopharma's CEO Anthony Cataldo has been involved in many public companies over the last decade, including some where he continues to serve in an executive capacity. This should be the first red-flag to investors. A truly committed executive may be involved as a board member of multiple companies, but if a CEO is also serving as an officer for multiple companies, he clearly cannot be devoting his full attention to any one of them. The details of Mr. Cataldo's corporate associations are outlined in GNBP's 2010 10-K:
Mr. Cataldo currently serves as the Chairman, Chief Executive Officer and a Director of Oxis International, Inc. ("Oxis"), a position that he has held since March 2009. Oxis is a public company engaged in the research, development and sale of products that counteract the harmful effects of "oxidative stress." Mr. Cataldo served as Chief Executive Officer and Chairman of the Board of VoIP, Inc., a public company and provider of Voice over Internet Protocol (VoIP) communications, from September 2006 through April 2008. Mr. Cataldo currently also is the Chief Executive Officer and Chairman of the Board of Green St. Energy, Inc., a public company that intends to enter the alternative energy business. Mr. Cataldo joined Green St. Energy, Inc, in September 2008. From October 2003 through August 2006, Mr. Cataldo has served as non-executive Chairman of the Board of Directors of Brand Partners Group, Inc., a public company provider of integrated products and services dedicated to providing financial services and traditional retail clients with turn-key environmental solutions. Mr. Cataldo also served as non-executive Co-Chairman of the board of MultiCell Technologies, Inc., a public company supplier of functional, non-tumorigenic immortalized human hepatocytes, from February 2005 through July 2006. Mr. Cataldo has also served as Executive Chairman of Calypte Biomedical Corporation, a publicly traded biotechnology company, involved in the development and sale of urine based HIV-1 screening tests from May 2002 through November 2004. Prior to that, Mr. Cataldo served as the Chief Executive Officer and Chairman of the Board of Directors of Miracle Entertainment, Inc., a Canadian film production company, from May 1999 through May 2002 where he was the Executive Producer or Producer of several motion pictures. From August 1995 to December 1998, Mr. Cataldo served as President and Chairman of the Board of Senetek, PLC, a publicly traded biotechnology company involved in age-related therapies.
As one can see from his resume, although he has some biotech experience, the majority of the companies that Mr. Cataldo has been involved in do not share a common industry or area of focus. What they do all share are suspicious stock charts indicative of "Pump and Dump" schemes: sharp spikes in share price followed by dramatic and sustained declines into penny-stock oblivion. Many of them also share another key feature of Pump and Dump schemes, the use of paid stock promoters.
At Oxis International (OXIS.OB), we can see from page 38 of their 2010 10-K that Mr. Cataldo receives a generous cash salary of $180,000, in addition to significant stock-based compensation. This is despite the fact that during that year, the company had no significant sales, incurred losses of almost $3 million and spent only $179,000 on research and development. The fact that OXIS, which is ostensibly in the business of "developing and marketing nutraceutical products in the field of oxidative stress reduction", spent less on R&D than on the cash component of Mr. Cataldo's compensation should be a clear indication to all just how serious this company is about actually developing and marketing the aforementioned products. On the other hand, OXIS has definitely been serious about spending money for paid stock shills to promote their stock.
One such example from paid stock promoter Eric Dickson can be viewed here. Note the disclaimer:
Oxis International Inc., (OXIS), the company featured in this issue, appears as paid advertising, paid by Oxis International Inc. to provide public awareness for OXIS…CFM has received and managed a total production budget of $300,000 for this online advertising effort.
The stock chart of OXIS during Mr. Cataldo's tenure shows ominous signs of a Pump and Dump with the stock spiking to over $0.60 on the back of the stock promotion campaign, soon experiencing a significant and sustained decline to $0.04 where it sits today, a loss of over 90%.
click to enlarge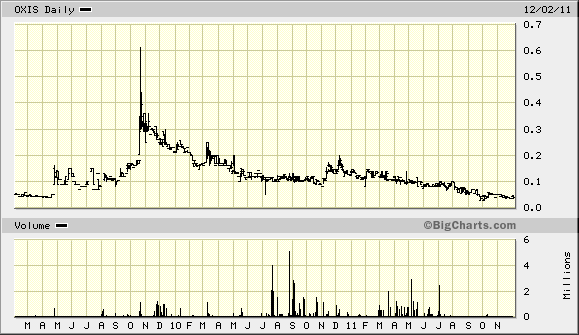 A corporate association of Mr. Cataldo's not listed by Genesis Biopharma is Matech Corp. (MTCH.PK), a now-defunct company where according to an 8-K, Mr. Cataldo has served as executive-chairman since September 9, 2009. As of the company's last filing with the SEC on July 19, 2010, Cataldo held the position of President and CEO. Although the company had no significant business operations, was serially delinquent in filing with the SEC and had significant legal and financial liabilities, MTCH's stock was nonetheless the subject of a significant promotional campaign just several months after Mr. Cataldo entered the picture.
Again, note the disclaimer: "Hototc.com has been compensated by a third party Serendipity Management one hundred thousand dollars for a one week MTCH advertising services contract." A look at the stock chart for MTCH during the time when Mr. Cataldo was serving at the company shows all the tell-tale signs of a Pump and Dump. The company now trades for $0.001/share, a loss of over 99% since Mr. Cataldo got involved.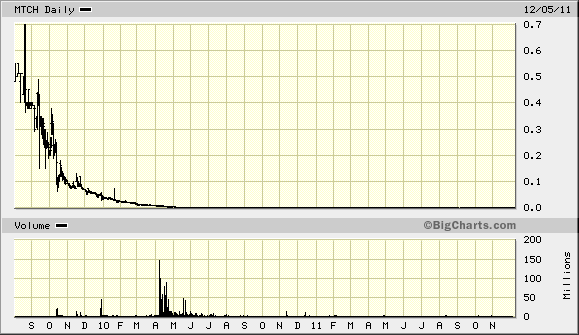 Another of Anthony Cataldo's companies which ended disastrously for shareholders was VoIP Inc. That company's business focus was ostensibly to provide voice-over-IP telecommunications solutions and they even supposedly inked a deal of partnership with Google. Alas, despite management's puffery regarding this deal, the company eventually ended up bankrupt and targeted by the SEC for allegedly engaging in fraud.
During Cataldo's tenure as the CEO of VoIP, the company hired a shady stock promoter, CEOcast, to tout the stock, as evidenced here. The disclaimer reveals that CEO cast was paid "ten thousand dollars per month and three hundred fifty thousand shares of stock" for a 1 year promotional program. CEOcast is a paid stock shill service reportedly run by a convicted felon, details of which can be found here and here. Trading in VoIP's stock was halted and it is no longer listed on any exchange; thus shareholders in this Cataldo company wound up losing 100% of their investment.
I believe that the 3 examples highlighted above illustrate a consistent pattern with companies under Anthony Cataldo's stewardship: negligible business operations with major operating losses and serious stock promotion. I will not examine all of Cataldo's other corporate associations in depth, however, a picture is worth a thousand words, so below are charts of some of Cataldo's other corporate associations during his tenure with each.
Green St. Energy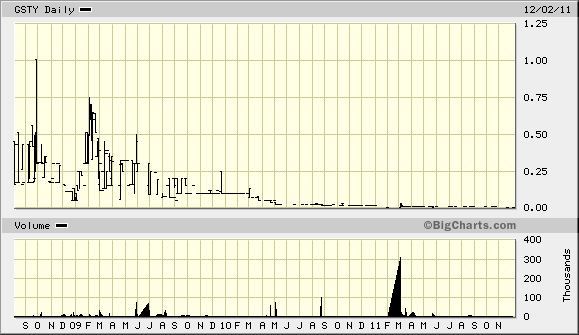 Brand Partners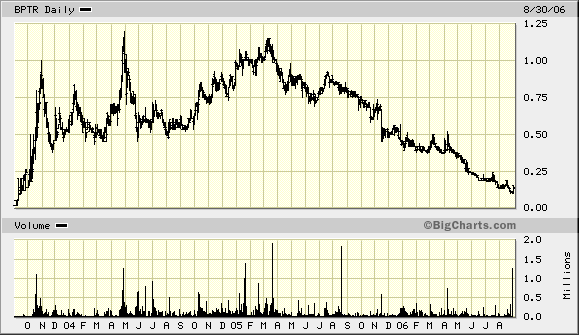 Multicell Technologies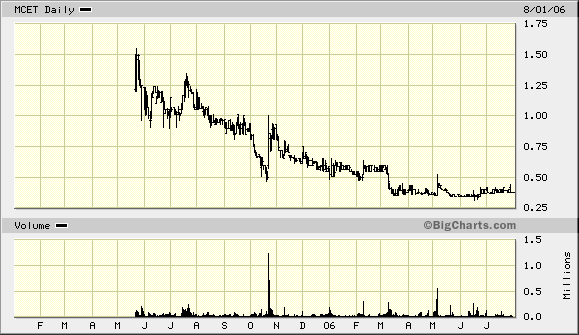 Calypte Biomedical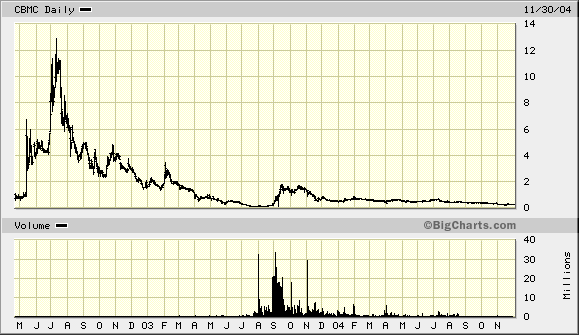 CFO Michael Handleman's Corporate History is Also Suspect
Anthony Cataldo isn't the only executive at Genesis with a dodgy past; from GNBP's 2010 10-K we can also gain some insight into the history of its CFO, Michael Handelman:
Mr. Handelman was appointed to the positions of Secretary, Treasurer, Chief Financial Officer and Director on February 7, 2011. Mr. Handelman is currently the Chief Financial Officer of Oxis International, Inc., a position that he has held since March 1, 2010. Mr. Handelman was a financial management consultant to Oxis from August 2009 until March 2010. Before joining Oxis, from November 2004 until July 2009, Mr. Handelman served as Chief Financial Officer and Chief Operating Officer of TechnoConcepts, Inc., a developing technology and manufacturing company. Prior to that, Mr. Handelman served from October 2002 to October 2004 as Chief Financial Officer of Interglobal Waste Management, Inc., a California start-up manufacturing company, and from July 1999 to September 2002 as Vice President and Chief Financial Officer of Janex International, a children's toy manufacturer. Mr. Handelman has also been the Chief Financial Officer from 1993 to 1996 of the Los Angeles Kings, a National Hockey League franchise.
Los Angeles Kings aside, most of Michael Mandelman's other corporate associations are with now-defunct companies trading on the OTCBB or Pink Sheets. OXIS, of which Handelman is the CFO, was covered earlier since Anthony Cataldo is also the CEO of that company. Let's take a brief look at Mr. Mandelman's other recent association, TechnoConcepts Inc. (TCPS.PK). Mr. Mandelman's tenure at TechnoConcepts is notable in that he oversaw the company's stock price collapse from over $5/share to the $0.001/share level it sits at today. TechnoConcepts was a California-based company that according to its most recent 10-K was:
In the process of attempting to commercialize proprietary technology that we refer to as True Software Radio™. True Software Radio™ is an advanced delta-sigma microchip architecture that converts radio frequency, or RF, signals directly into digital data. TechnoConcepts also owns a controlling interest in Asanté Networks Inc., based in San Jose, California. Asanté provides Ethernet networking solutions for Apple Computer and the small-to-medium business retail markets.
As outlined in the 10-K, Mr. Mandelman received a pay package of $127,500 in 2006 from TCPS which seems quite generous considering that the company was a serial delinquent in terms of filing its SEC financials, forced to restate its financials for the years 2005 and 2004 and had just over $800,000 in total gross profit in 2006. In 2007, the company seems to have imploded based on a reading of its position of outstanding liabilities vs. assets and the collapsing sales results in the final 10-Q filed with the SEC.
At the end of 2007, the company filed an NT 10-K indicating that it would be late in filing its 10-K for the year. After that, without any specific explanation, the company simply stopped filing statements with the SEC and the stock took a final nosedive from about $0.25/share to the sub-penny level where it remains today. Below is a stock chart of TCPS during Mr. Mandelman's tenure with the company.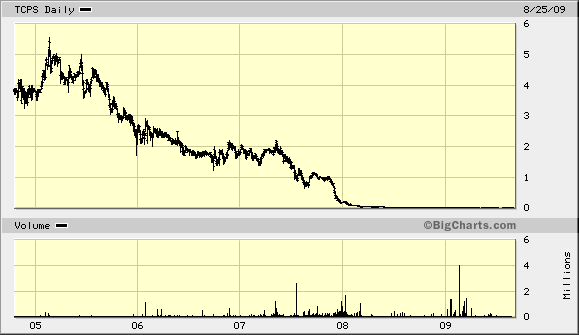 The TCPS 2006 10-K yields a bit more information about Mr. Mandelman's corporate associations. Apparently the same Interglobal Waste Management outlined by GNBP was actually a public company, and he was also "chief financial officer and chief operating officer of Global Business Services, Inc., a publicly traded retail postal and business services company." Interglobal Waste Management traded under the stock symbol IGWM, but never filed much in the way of financials with the SEC beyond an original prospectus. Based on their 2004 10-K, it seems as though Michael Handelman served as the CFO of Global Business Services from February 2003 to July 2004. That company would later go defunct and become a shell company that merged into Pavilion Energy Resources in 2008.
Genesis Biopharma: The More Things Change, The More They Stay The Same
Genesis Biopharma, Anthony Cataldo and Michael Mandelman's latest company bears a striking resemblance to their earlier corporate associations. As one can see looking at the most recent 10-Q, Genesis has no revenues, significant operating losses, poor cash-to-current liabilities position and a pie-in-the-sky vision - a cure for skin cancer in this case. Page 22 also outlines another similarity, generous annual compensation packages for Mr. Cataldo and Mr. Handleman of $300,000 and $120,000, respectively, in addition to stock based compensation.
Genesis Biopharma also resembles Mr. Cataldo's other companies with regard to its use of paid stock shills to support GNBP's stock price. Genesis paid an infamous stock promoter, Jarrett Wollstein, to produce a promotional piece touting their stock and the 500% upside that would be realized based on an imagined bidding war by "Big Pharma". These promotional pieces can be found here and here. Wollstein is sneaky and does not include his disclaimer on the main page of these promotional pieces, but it can be found here. Note the disclaimer:
Intelligent Investor Report received an editorial fee of twelve thousand dollars from Gulfstream Business Group (GBG), which it received from GNBP. GNBP was chosen to be profiled after Intelligent Investor Report completed due diligence on the company…GBG paid fifteen thousand, eight hundred dollars, which it received from GNBP, to advertising agencies for the costs of creating and distributing this report online, in an effort to build investor awareness. GBG paid Ray Dirks twenty-five thousand dollars from the total GNBP budget for reprint and distribution rights of Ray Dirks Research report on GNBP. GBG was paid a fee of one hundred thousand dollars pursuant to a consulting agreement with GNBP.
Conclusion
It has been said that the definition of insanity is doing the same thing over and over and expecting different results. This quote seems particularly apt when looking at a company like Genesis Biopharma. Can shareholders truly expect that in the end GNBP really will find that pot of gold at the end of the clinical research rainbow and discover a significant new cancer treatment? Given management's extensive history of stock promotion and the disastrous results experienced by shareholders of their other companies, it seems highly unlikely that GNBP shareholders will be presented with this happy ending. What seems much more plausible is that GNBP will end up exactly where those other companies did, experiencing 90%+ equity losses or else completely defunct.
Part 2 of this report will examine the state of the Genesis Biopharma today, in terms of its unsustainable cost structure and recent shift in research focus. I will chronicle GNBP's corporate history as well as its history of dubious financial transactions. I will explain how thanks to an ill-advised convertible debt deal with a long-time Cataldo crony, GNBP now faces the possibility of imminent bankruptcy or major unforeseen dilution. Finally, I will present additional supporting evidence that Genesis Biopharma is being used as a vehicle for a "Pump and Dump" scheme.
Disclosure: I am short GNBP.OB. I receive no compensation to write about any specific stock, sector or theme.