I am simply amazed at how cheap Spectrum Pharmaceuticals (NASDAQ:SPPI) is trading, considering its incredible growth. Investors can purchase the fast growing company with unprecedented upside for next to nothing compared to its competition. I believe that Spectrum will be one of the best performing stocks of the next five years and that it has the potential to become one of the larger public biotech companies in that interim. I will compare Spectrum with one of the best performing biotech stocks of the last five years, another company trading with optimism, and two of the market's more exciting biotech companies so that I may illustrate just how undervalued this company is.
Before we begin comparing stocks to Spectrum, I want to take a look at the company's products and the basics of the company. The company has two FDA approved products: Fusilev and Zevalin. And it has two additional drugs that are in the last stages of clinical trials that will be filed in 2012; Belinostat and Apaziguone. Each of the four drugs has a significant amount of upside potential. The company's two approved drugs have seen drastic progress over the last few months and have created more optimism among investors than ever before. This has led to a 3 month gain of 80%.
Fusilev treats colorectal cancer, which is the third most diagnosed cancer in the United States with approximately 400 new cases per day. Yet despite the overwhelming presence of the disease, some have suggested that Fusilev is too expensive and that it would not continue to grow because of cheaper generics. However, because of a supply shortage in Teva's (NYSE:TEVA) generic drug, sales of Fusilev have been higher. They were expected to decline once the supply issues of Teva's generic product stabilized. Most expected Teva's supply issues to be corrected by now, and even though supply is somewhat stable, Spectrum's Fusilev continues to gain momentum. I believe physicians have now developed a comfort with the drug and that the company has done a great job at advertising its benefits. And because of the regularity of the disease, I believe there is unprecedented room for growth- despite a generic presence. This disease is too common for the market share to be limited, which is why Spectrum reported accelerated growth of $41.01 million in sales during its last quarter, a 21% gain over the previous quarter.
Zevalin treats non-Hodgkins Lymphoma, a disease with an estimated 180 new cases per day. The sales from the drug recorded $6.94 million during the company's most recent quarter. However, the issue with the drug that has somewhat limited its sales has been a required Bioscan that costs the patient and the physician additional time and money. As a result, physicians have chosen to use alternative treatments because of the high cost associated with the drug. This fact is what's so exciting about the drug's future because the FDA lifted the bioscan requirement last month. This is crucial to the future sales growth of this drug. The important FDA decision will most likely result in a drastic increase in sales during the immediate future and beyond.
Spectrum has several drugs in its pipeline and two that will be filled in the next year. If these two drugs are approved, the sales from these two drugs, combined with its already approved drugs, would be higher than what I can imagine. There is no way to put a number on the potential of drugs that treat various forms of cancer. Because as I've already highlighted, both of the company's approved drugs have passed significant milestones in their development (Fusilev exceeding expectations and growing despite generics and Zevalin's bioscan being lifted to limit the cost of the treatment). Sales of Fusilev are already growing at an incredible rate, but now we can expect Zevalin to experience the same level of growth because of its recent developments. Then if you add the company's two candidates: Belinostat and Apaziquone, which both operate in a large market, you have a company with incredible revenue growth potential. At this time there is no reason to believe that these two candidates will not be approved, which will add two additional drugs to a company that is already growing exceptionally fast with only two drugs on its sales roster.
Now that we have a good understanding of the company's current status and its future, let's look at the valuation of the stock. When a company has upside such as Spectrum, you would expect a very high valuation to correspond with large gains. And although the company's posted very large gains of 170% over the last year, its valuation remains considerably low, with a P/E of 18.7.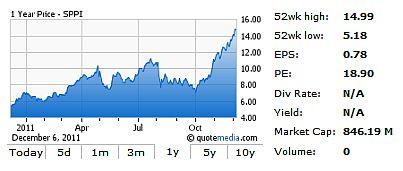 I am simply amazed by this valuation because there are speculative biotech stocks that don't have an approved drug that are trading with higher market caps. There are also companies that have shown similar progress with only one drug, yet which trade with a market cap much larger than Spectrum's. I believe the future of this company has been disrespected, as shown by its stock price. Although it has returned large gains to its shareholders, the gains are simply not concurrent with the progress and future of Spectrum. To better illustrate by belief, I have charted Spectrum along with four additional high-profile momentum biotech companies, and I will compare the fundamentals (most recent quarter) along with trading metrics to better identify Spectrum's value.
| | | | | | |
| --- | --- | --- | --- | --- | --- |
| | Spectrum Pharm. | Questcor Pharm. | Cubist Pharm. | Vivus | Inhibitex |
| Ticker | (SPPI) | (QCOR) | (CBST) | (NASDAQ:VVUS) | (NASDAQ:INHX) |
| Market Cap (millions) | $831 | $2710 | $2330 | $927 | $1100 |
| P/E ratio | 18.5 | 52.16 | 66.3 | N/A | N/A |
| One Year Gain | 167% | 209% | 76% | 48% | 400% |
| Revenue (MRQ in millions) | $51.02 | $59.82 | $201.70 | N/A | $1.26 |
| Income (MRQ in millions) | $20.25 | $22.85 | $24.23 | ($8.63) | ($5.28) |
| Cash (MRQ in millions) | $208.54 | $165.71 | $975.18 | $155.25 | $52.69 |
| Debt | N/A | N/A | $449.51 | N/A | $0.39 |
| Profit Margin (TTM) | 25.49% | 31.62% | 5.8% | N/A | N/A |
| Operating Margin | 30.83% | 47.39% | 31.55% | N/A | (1,205%) |
| Return on Assets | 16.49% | 27.29% | 10.42% | (17.99%) | (39.02%) |
| Return on Equity | 37.51% | 38.35% | 6.01% | (37.88%) | (71.98%) |
There are two stocks on this list, Inhibitex and Vivus, that are speculative and have no revenue from sales, yet they are trading with a higher valuation than Spectrum. I find this to be laughable. How can a stock trade with a higher valuation than a company with two fast growing FDA-approved drugs, and two additional drugs preparing for an NDA, when the company doesn't even have one drug that's being sold? Inhibitex has traded higher after rumors surrounding a potential takeover, along with an increased interest in hepatitis C-treating drugs. And since Inhibitex has a lead hepatitis C candidate with promising initial trials and Gilead (NASDAQ:GILD) paid a hefty premium for Pharmasset (VRUS), investors have bought this stock in hopes of it being acquired.
Vivus (VVUS) has several drugs in its pipeline but has been in a constant struggle with the FDA to get its weight loss medications and type 2 diabetes-treating drug approved. The FDA has already stated that the drug is effective. However, safety appears to be the issue. The company does have upside potential if either of its drugs can gain approval because both its weight loss and erectile dysfunction medication will appeal to a large market. However, like Inhibitex, the drugs' actual success is unknown. Yet this company, along with Inhibitex, trades with a higher valuation than Spectrum, which also has a tremendous amount of upside potential.
Cubist Pharmaceuticals and Questcor Pharmaceuticals are two fast growing, successful companies with exciting products in the market. As you can see, both companies posted higher revenue than Spectrum, but not by much. Cubist reported nearly 4x more revenue than Spectrum but has lower margins in nearly every category. The company's growth is also modest, with its last quarter posting less net income and modest gains in revenue year-over-year.
However, Questcor Pharmaceuticals is one of the fastest growing companies in the market and has returned exceptional gains over the last five years. Yet if you compare the fundamentals of both companies, you would see that both Spectrum and Questcor are very similar in every category, with the exception of valuation. In fact, Spectrum is actually growing faster than Questcor, yet its stock trades at roughly 30% of Questcor's valuation. At the rate that both companies are progressing, Spectrum will actually be trading with better fundamentals within 6 months, possibly by the next quarter. And although Questcor is one of my favorite stocks within the market, and my favorite in the biotechnology industry, one can not deny the explosive growth of Spectrum nor its modest valuation compared to its competitors.
I expect Spectrum Pharmaceuticals to be one of the best performing stocks of 2012 -- and for it to trade much higher by the end of December -- now that all of its questions have been answered. Spectrum's valuation reflects a bullish outlook and the performance of the stock has been satisfying to investors. Yet I still believe that compared to similar companies, it is trading particularly low. The two largest questions surrounding its immediate performance were whether a generic treatment would affect sales and if the bioscan requirement would be lifted. Both of these questions have been answered and the results have been positive for the company. This has created optimism among investors that Spectrum will continue to grow at a fast pace.
The company has loads of possibilities along with limited downside and I believe that for the many reasons listed above, this will be one of the best performing stocks of 2012 and that Spectrum's growth will return gains unlike any biotechnology company during the next year.
For an article that details more information on the company itself click here.
To read the company's corporate presentation click here.
Disclosure: I am long QCOR, SPPI.
Disclaimer: As with any investment, due diligence is required. The opinions in this article are not intended to be used to make a particular investment or follow a particular strategy but rather informational purposes only.