The cigarette sector is well known for its cash generation abilities, moderate valuations, and generous dividends. Having survived years of lawsuits and a somewhat diminished demand, the sector still promises some earnings growth and stability.
Although production, consumption and even exports in the US have been on a clear downward path as shown below (source: CDC, "Cigarette Production, Exports, and Domestic Consumption—United States, 1990–2007"), the companies have been able to adapt through price increases, cost cuts, and conquering new external markets.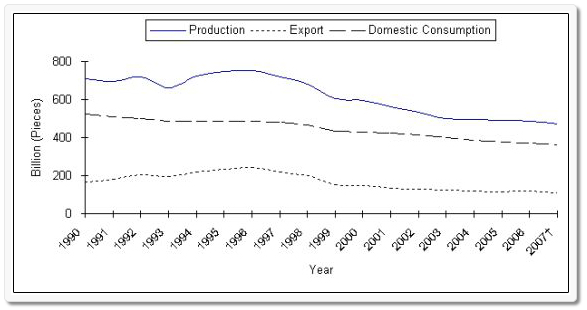 Click to enlarge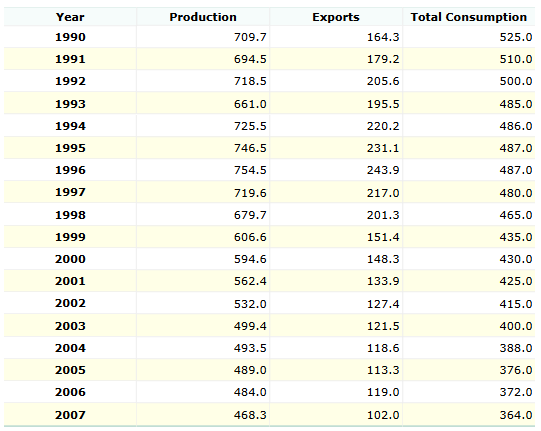 Click to enlarge
So the panorama today, in this sector, is the following

Click to enlarge

Click to enlarge

Click to enlarge It's a sector dominated by large capitalization stocks, with most of the market in the hands of just 5 companies:
The sector presents homogenous valuation in terms of Price/Earnings and Dividends, although with somewhat different growth rates, making for a wide dispersion of Price/Earnings/Growth (PEG), falling between the 1.4 awarded to Philip Morris International (PM) and the 3.0 that Reynolds American (RAI) gets.
The sector's high ROEs are both a function of its stable, highly profitable, nature, and the fact that these companies have repurchased a lot of shares which greatly impacted their book value (this is particularly evident in Philip Morris International).
The threat
Along the years, big tobacco has survived many threats, the two largest being the endless lawsuits due to the health impact cigarettes have, and the lower overall consumption (some of it also coming from the health hazard being much more widely known now).
However, there's a new threat emerging presently: e-cigarettes and the associated "vaping". With these new cigarettes, the smoker doesn't actually smoke – he inhales a vapor mix that includes both a flavor, and nicotine.
These cigarettes work by using a battery and a vaporizer (atomizer), to vaporize a small quantity of e-liquid containing a mixture of glycerin/propylene glycol, water, a flavor and nicotine. The result is that "vaping" is pretty close to regular smoking. It includes the traditional throat hit as well as "smoke" (vapor). For realism, the cigarettes usually even include a LED in their tip, which glows when you inhale.
These e-cigarettes, however, don't just try to emulate regular tobacco. Due to their different nature, they have several huge advantages, namely:
They have a lot less health impact, since the vapor they produce does not include thousands of harmless chemicals present in regular tobacco smoke;
They provide health benefits even in the short term, with users usually claiming easiness of breath and more stamina within days/weeks of starting their use;
Vaping can also be a lot cheaper than smoking, because its consumables, namely the liquid, are a lot cheaper than heavily-taxed tobacco.
Finally, although to avoid FDA regulations every seller of these devices states that they are not smoking cessation aids, anyone familiar with them will tell you that many regular smokers will quit totally or partially from smoking the minute they try them.
Conclusion
The e-cigarette's advantages, together with it making it so easy to cease smoking regular cigarettes (or "analogs", as vapers usually say), is naturally leading to strong growth in what is, right now, a widely dispersed industry that gets most of its devices from China, with the e-liquids being sourced both domestically and from foreign suppliers.
Since this is a direct competitor to traditional tobacco, with severe advantages and possibly lower costs for the consumer, this growth will at some point mean a further impact to big tobacco's market. I believe that this is a threat that should be considered, particularly in light of the not-so-low tobacco sector valuations.
Disclosure: I have no positions in any stocks mentioned, and no plans to initiate any positions within the next 72 hours. Additional disclosure: I do have a small, long shot, position in VPCO.OB, a rather smallish, badly managed, e-cig retailer. It's the only credible one that's quoted in the market, but is far from being the largest or better player.