Eni SpA (NYSE:E) is an Italian vertically-integrated oil and gas producer. In my last article, I mentioned that Eni's massive natural gas discover offshore Mozambique could turn that country into a major exporter of natural gas to Asia. I wanted to take a closer look at this as this could be a very big and profitable opportunity for Eni.
Eni made a very large discovery off the coast of Mozambique in the middle of October. The company's first well that was drilled during their exploration campaign was found to contain about 15 trillion cubic feet of gas. This represents the largest hydrocarbon discovery in Eni's history. Geologists and energy companies suspect that there is a substantial amount of gas yet to be discovered in this region and that Mozambique could become a center of natural gas production. This area is beginning to attract much more attention from other energy companies than it has in the past, including Anadarko Petroleum (NYSE:APC), which also possesses substantial gas fields in Mozambique.
Natural gas is a growth industry in Asia. The U.S. Energy Information Agency projects that OECD-member nations in Asia will increase their consumption of natural gas by 1.0% annually between 2008 and 2035. It is the non-OECD member nations, however, that are expected to deliver the lion's share of the growth in Asian natural gas consumption. Natural gas use in this area is expected to increase by 3.9% annually, going from 11.3 trillion cubic feet in 2008 to 31.9 trillion cubic feet in 2035.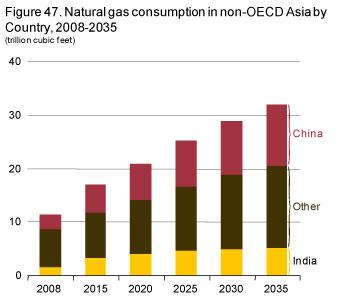 Source: Energy Information Agency
It should come as no surprise that India and China are leading the growth in natural gas consumption. China's central government is actively promoting the use of natural gas in an effort to reduce their reliance on coal. The government set a target of having 10% of their national energy mix being natural gas. The EIA expects that China will fail to meet their goal but still grow natural gas consumption at a 5.5% annual rate from 2008 to 2035.
Meanwhile, Indian natural gas consumption is expected to double between 2008 and 2015. Natural gas consumption in India grew 23% from 2008 to 2009 alone! Overall, the EIA expects that Indian natural gas consumption will increase 4.6% annually from 2008 to 2035.
Mozambique is located on Africa's eastern coast, bordering the Indian Ocean. This positions the country quite well to export natural gas to China, India, and other Asian nations. The country has not yet begun to enjoy the full potential from the advantages that they have to tap into this growth market. The country's largest fields have not yet come online but when they do, it will likely lead to profits for the companies that are producing from these fields.
Eni is well-positioned to profit from the impending growth in exports of natural gas from Mozambique to Asia. Eni holds a 70% stake in Area 4 where their recent large discovery occurred. The company plans to drill another four wells into Area 4 over the next twelve to eighteen months. This could lead to further large discoveries such as the one that the company already made. This is expected as well. Claudio Descalzi, head of Exploration and Production for Eni, stated that these four new wells are expected to bolster the company's reserves by two billion boe and boost production by approximately 300,000 boe per day. Eni has already announced plans to build an LNG terminal in Mozambique to support the forthcoming production from the country.
Eni's stock shot up in October along with the rest of the industry, although Eni's rise was much greater.
click to enlarge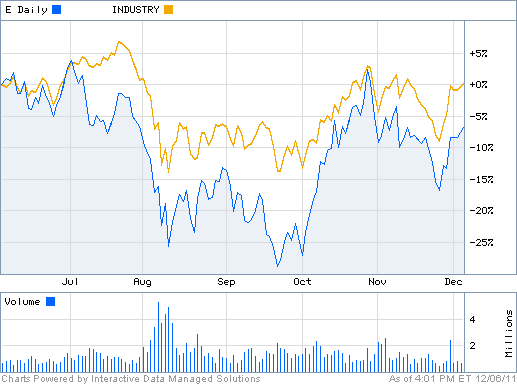 Source: Fidelity Investments
Overall, though, it doesn't appear that the market is fully pricing in the opportunity that Eni has in Mozambique, despite the news being known to investors for almost two months. As you can see on the chart above, Eni has underperformed the industry over the past six months.
One reason for this underperformance is the company's link to Italy. Eni is the largest industrial company in Italy and as such is a large component of the MSCI Italy Index. For example, Eni makes up 22.15% of the total assets of the iShares MSCI Italy Index Fund (NYSEARCA:EWI). Due to Italy being one of the PIIGS countries and being a center of the European sovereign debt crisis, investors have been dumping Italian assets in droves. Eni's substantial weighting in the Italian indices have caused it to be sold off as well.
Eni has also likely been affected by fears over the euro itself. Eni reports its results and pays its dividends in euro. Euro weakness would therefore adversely affect holders of the ADR. The ADR pays its dividend in dollars, so weakening of the euro against the dollar could cause the dividends paid by the ADR to decline. This could be true even if Eni raises its dividend (which is denominated in euro). It is also typical for investors to convert a company's earnings into their native currencies to compare them with other potential investments. Therefore, a weakening of the euro relative to the dollar would lower the company's earnings when measured in dollars.
Disclosure: I have no positions in any stocks mentioned, and no plans to initiate any positions within the next 72 hours.