When someone claims there is an extremely simple solution for a situation which has vexed the best economist for generations, one has a pretty good indication something has to be wrong with that proposed solution.
Indeed, Seeking Alpha contributor Calafia Beach Pundit wrote an article about the eurozone crisis which we feel is so deeply flawed that we really feel obliged to respond. In summary, it is based on the following assumptions, none of which we believe are correct:
The eurozone crisis is caused by profligate politicians.
The 'solution' is just to let markets do their 'work', that is discipline profligate politicians and if that doesn't help, defaults.
Defaults don't destroy demand.
Profligate politicians?
There can be little misunderstanding about what the assumption of the article is regarding the cause of the eurozone crisis. It's profligate politicians. What's more, the author seems so certain of this that this assumption is posed as self-evident, no need to provide any substantiation. No other causes are considered.
Even at first glance, it should be quite obvious to even the most casual of observers that there might be something amiss with this thesis. Just a couple of observations:
Taken as a whole, the eurozone has a smaller public deficit and a smaller public debt in relation to GDP than either the US or Japan, yet it experiences a crisis of unprecedented proportions while the US and Japan bask in the sunshine of the lowest interests rates in their history.
A country like Spain has lower debts and deficits compared to Britain, yet suffers from twice the yields on its debt (see figure below)
Unlike Britain, Italy enjoys a rather small deficit and in fact has a primary surplus.
Countries like Spain and Ireland were paragons of fiscal rectitude before the crisis, having very low debt and budget surpluses.
click to enlarge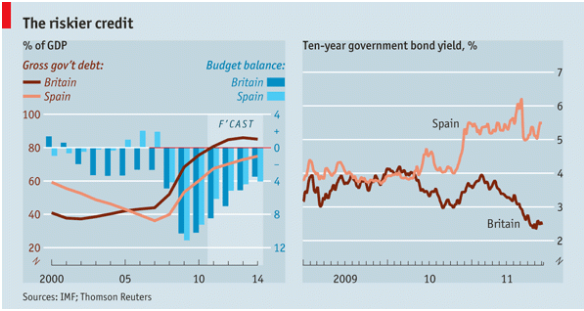 It is quite difficult to explain (away) these facts if one bases one's analysis on profligate politicians only. No doubt they play a role, but these differences between country performances and interest rates cannot be explained by invoking them.
So the truth is that (apart from Greece, and to a certain degree Portugal, whose economies are but a fraction of the eurozone) the state of eurozone public finances is no worse, and in many respects significantly better than those of either Japan, the US, or Britain. Yet, it is the eurozone that is in crisis while interest rates on public debt of these other three countries are at record lows.
Could there actually be another explanation to account for these facts than just 'profligate politicians?'
Lender of last resort
Yes, as it happens. Japan, the US, and Britain all have a 'lender of last resort' in the form of their respective central banks. Investors know that the Fed, the Bank of Japan (BoJ) and the Bank of England (BoE) can ultimately print money to pay-off the public debt should the government no longer be able to do that.
In contrast, eurozone countries effectively borrow in a foreign currency, the euro, a currency over which they exercise no control. This difference in having a lender of last resort can easily explain the fact that while not being more profligate (in fact, quite the contrary), eurozone countries have to pay a significantly higher risk premium to finance their debt.
Since Belgian economist Paul de Grauwe noticed this difference, there is a whole discussion about whether the European Central Bank (ECB) should actually assume the role of 'lender of last resort.' One could further argue that the solution, (dismissed out of hand in the article by Calafia Beach Pundit), being worked on by those profligate politicians to enshrine the EU treaties with more safeguards in order to discipline countries is actually no solution in and by itself, but a necessary prerequisite for the ECB to do just that.
In fact, it it quite likely that yields on eurozone debt have come down substantially, essentially in anticipation of this solution. The rather dramatic stock market rally we've seen in the last week might also have something to to with that.
Eurozone crisis as a balance of payments crisis
There are economists who argue that, rather than profligate politicians, the eurozone crisis can actually best be regarded as a balance of payment crisis. Entering the European Monetary Union (EMU) gave the peripheral countries a one-off boost in monetary credibility and removed the exchange rate risk for investors.
This caused a sudden influx in capital, the mirror image of which is a current account deficit. Here is that story summed up in a single figure: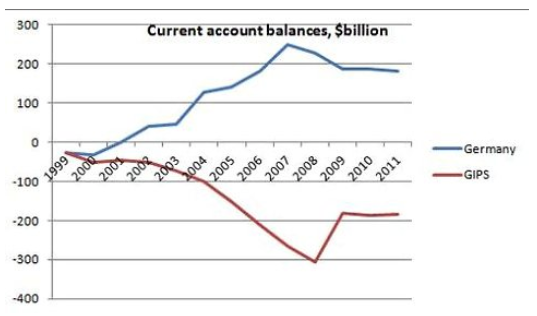 (GIPS are Greece, Italy, Portugal and Spain)
These capital inflows made much of the periphery uncompetitive (hence, the growing trade deficits), which allowed the likes of Germany and the Netherlands to experience unprecedented trade surpluses. They have been clear beneficiaries of the euro.
Also, all that influx of capital produced a private borrowing bonanza in countries like Spain and Ireland that were fiscally very responsible. Could it be that we've been focusing on the wrong kind of debt? Housing bubbles were inflated with that private debt, and when these imploded, capital flows came to a sudden halt, resulting in a classic balance of payments crisis.
Also, balance sheets were out of kilter, resulting in reduced spending and tax income, hence the increasing deficits in Spain and Ireland (add in the bank bailouts and you have explained much of their fiscal 'profligacy').
Reining in the profligate politicians
If profligate politicians are the problem, than surely reining them in is the solution. Here is what they're doing in Greece:
Greece has been subjected to the greatest fiscal squeeze ever attempted in a modern industrial state, without any offsetting monetary stimulus or devaluation. The economy has so far collapsed by 14pc to 16pc since the peak – depending who you ask – and is spiralling downwards at a vertiginous pace. [The Telegraph]
How has that solution worked out in Greece, the most profligate of them all? And are we really sure that this solution, imposed on the whole eurozone, will actually work? How would it solve the competitiveness problem, the 30% or so misalignment of prices if the core, instead of expanding, also embarks on the same austerity?
Doesn't this create a terrible deflationary bias on the eurozone system as a whole if all the adjustment has to come exclusively from the deficit countries? Isn't this akin to the functioning of the Gold Standard?
Multiple equilibria and self-fulfilling price movements
We have nothing in principle against market based solutions, but the one suggested in the article by Calafia Beach Pundit, well, we don't know. For instance, there is the possibility of the existence of multiple market equilibria. This has been widely argued for some eurozone public debt. Take Italy. Italy's public finances are in some respects better than other countries (like those of Britain, the US, and Japan).
Yet suddenly, the spread between Italian and German debt started to widen precipitously, without anywhere near a corresponding worsening of the state of Italian public finances. Talk of a Greek haircut opened up investors to the possibility that eurozone debt isn't as safe as previously thought as it's not backed by a lender of last resort (debt of countries that is face much lower financing cost, even if their public finances are in as big, or bigger, mess than those of most eurozone countries).
While Italian public finances might have been perfectly sustainable and financable at low levels (say, 3 percent or 4 percent) of interest rates, they're not sustainable at 7 percent interest (let alone higher rates). And once the market moves away from the low levels, this becomes a self-fulfilling prophesy as the prospects of unsustainability leads to more selling, and ultimately a panic. We were already on the brink of that, as it happens.
Let the market just liquidate the debt
Another suggestion in the article from Calafia Beach Pundit was to let the market just liquidate the debt. Well, we also tried that with Greece. We liquidated just a tiny bit (a 'haircut'), of a tiny eurozone economy. How did that work out? It was the impetus for markets to see that eurozone debt isn't safe as there is no lender of last resort. Yields started to diverge precipitously from then on: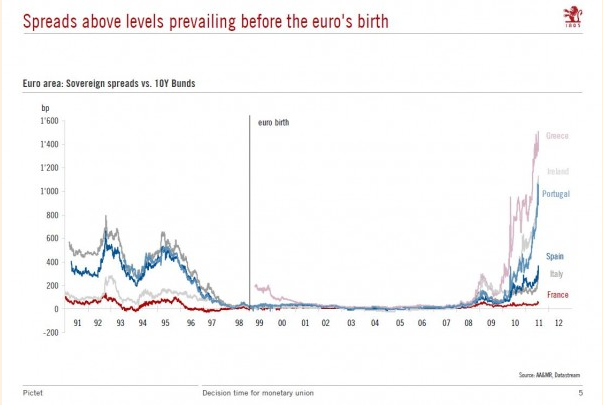 Since banks hold much of the eurozone debt, they got into trouble from then on, and many are only functioning thanks to the life support of the ECB. But perhaps we should just let the market do its work and let them fail instead? How would that work out?
If we do this on a tiny scale, then how would this work out if we do it with all public debt of, say, Italy? Would we still have a functioning banking system in the eurozone after that? Or even outside it? Could there have been a reason they're so nervous in Britain, the US, about all this? Could the fact that the US is embarking on yet another stress test for its banking system have something to do with the US bank exposure to the eurozone?
And how doesn't such a default destroy demand, as the article from Calafia Beach Pundit claims? How about all those pension funds which hold large amounts of eurozone public debt? Would they still be able to pay out the same pensions if we have "a trillion or two of defaults?"
How a bust banking system and a bust pension funds would not affect demand, we really don't know. The whole euro situation is, well, very complex. Here is a little primer for some of the more exotic mechanisms at work. We are quite skeptical against simple solutions.