We've been holders of Officemax (NYSE:OMX), on and off, for several years now. The stock has been enormously volatile in response to the ebb and flow of economic data, but the fundamentals have been far less erratic than the stock's beta would indicate. The key point is that the business has low financial leverage and the stock is extremely cheap at the recent price of $5.00.
One metric that illustrates OMX's historically steady value growth is tangible book value. Officemax's tangible book has grown 16.6% annually since the company's 2006 restructuring, following organization in 2005. Below is annual tangible book value per share, adjusted for an important but typically overlooked balance sheet item, which we discuss below:
| | | | | | | |
| --- | --- | --- | --- | --- | --- | --- |
| | 2011E | 2010 | 2009 | 2008 | 2007 | 2006 |
| TBV/Shr | $14.50 | $14.09 | $13.77 | $11.86 | $10.68 | $6.70 |
The key adjustment is related to $735 million in non-recourse debt which remains on Officemax's balance sheet but will disappear when the Lehman Bankruptcy is finalized (LEH had guaranteed the debt). The adjustment is significant, at $8.54/share, or the majority of OMX's adjusted book value. Without the adjustment shareholders equity is dramatically understated at $657 million at the end of 3Q11. But with the adjustment equity should finish 2011 at over $1.4 billion, of which only $80 million is intangible.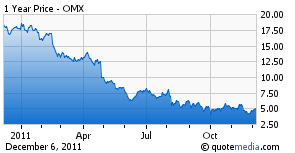 On December 6, 2011, a judge signed off on Lehman's bankruptcy plan, and creditors are expected to begin receiving distributions in early 2012. This means that Officemax should soon reverse the big non-cash charge they took when Lehman filed for bankruptcy.
It is notable that shares are presently trading for $5.00, or about 34% of tangible book. Excluding non-recourse debt, the company has net cash of $186 million, or about $2 per share. Excluding net cash, shares trade for about 5x cyclically depressed earnings. It's rare to find a profitable big box retailer with an unlevered balance sheet at such a valuation.
Officemax has significant operating leverage. White collar employment has historically been a key driver of the purchase of office supplies. With employment beginning to show signs of improvement, the winds may soon be at the company's back.
OMX is not without their challenges. Sales growth has remained sluggish since the 2008 downturn, due largely to stubbornly high unemployment. Competition is fierce, with Staples (NASDAQ:SPLS) a larger and more profitable competitor. But overall, the reward far justifies the risk. Shares traded in the high teens in early 2011, before the slowdown in economic growth and the escalating Euro crisis hit stock prices.
Disclosure: I am long OMX.