The wild swings continued the last two weeks with the S&P dropping 4.7% Thanksgiving week on concerns about Europe, but then reversing course last week (+7.4%) on hopes for a European solution.
December is historically one of the best months for the stock market. The main reason for this is Wall Street's desire to post a good year for customers. With news flow light and many on vacation for the holidays, the big banks and hedge funds also have greater capacity to move the market and shape perception. Obviously the news flow out of Europe this year is anything but light.
This week everybody is looking forward to the European Summit on Thursday and Friday (December 8 and 9). The expectation appears to be an agreement for stronger budget rules for EU members in exchange for increased bond market purchases by the ECB. Of course, the agreement is implicit because the ECB is supposed to be above politics.
Counteracting positive seasonality is a good deal of technical resistance. The market is trading not far from the recent rally highs (1293), 200 DMA (1264) and year break even point (1257).
Imagine a bunch of helium balloons in a room. The balloons rise up to the ceiling where they remain until the helium starts to leak out. The helium is seasonality and the ceiling is technical resistance.
I don't see much additional upside here for the market into year end. In my opinion, investors should start positioning themselves for what I expect to be a bear market in 2012.
Click to enlarge: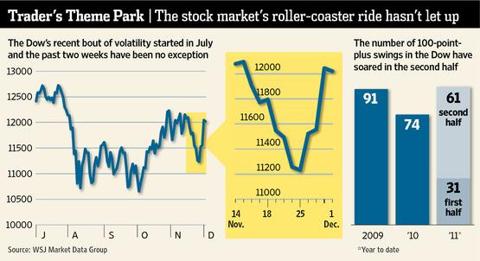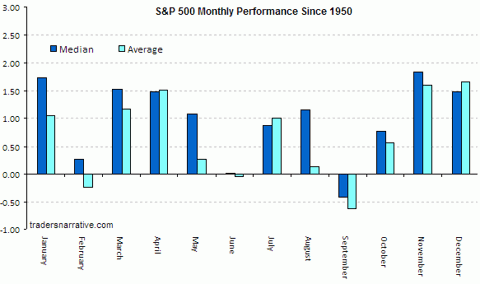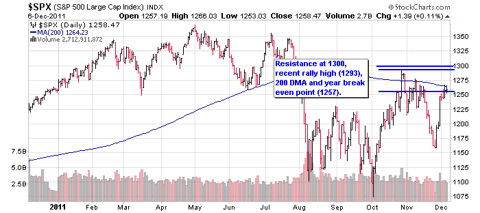 *****
November returns were as follows:
Top Gun: +4.28%

S&P: -0.51%

DJ Total: -0.65%
YTD (through November 30th) returns are as follows:
Top Gun: +5.12%

S&P: -0.85%

DJ Total: -1.89%
To put Top Gun's performance in context, consider that none of the relevant hedge fund indexes are in the black through November ("At Hedge Funds, Breakeven Is The New Black", The Big Picture, December 5).