We maintain our Neutral rating on Boston Scientific Corporation (NYSE:BSX) as the shares appear to be fairly valued. Headquartered in Natick, Massachusetts, Boston Scientific is a leading player in the field of medical devices.
Despite several initiatives undertaken by the company to revive its flagging top line, we toe a more cautious line as the core segments, ICDs and DES (contributing 40%), as per sales, continued to witness several headwinds. The Cardiac Rhythm Management (CRM) market in the U.S. has been impacted by physician reaction to a study result published by the Journal of the American Medical Association regarding evidence-based guidelines for ICD implants, U.S. Department of Justice's investigation into hospitals' ICD implants and the ongoing physician alignment to hospitals and competitive pricing pressures. The DES business in the U.S. continues to suffer pricing pressure, lower procedural volume and penetration rates.
As a confidence booster, recent product launches should come to the company's aid. We are encouraged by the U.S. approval of Promus Element Plus stent, which comes well ahead of the original expectation of a mid-2012 approval. Promus Element represents $200 million in additional annualized gross margin contribution from the U.S. and Japan at the end of 2012. This is a part of the targeted $650–$750 million opportunity for improvement in operating profit over the next few years.
The success of Ion and Promus Element Plus in the U.S., coupled with Johnson & Johnson's (NYSE:JNJ) announcement of exiting the DES business by the end of 2011 and the expected launch of Promus Element in Japan, should enable the company to improve its DES market share. Moreover, we believe the recent U.S. approval of Energen and Punctua CRT-Ds and ICDs should support the company's 2012 growth story.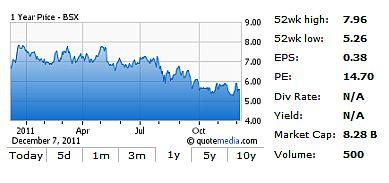 Meanwhile, Boston Scientific has resorted to the restructuring route to strengthen its operational effectiveness and efficiency, increase competitiveness and support new investments. The program is expected to reduce annual pre-tax operating expenses by $225–$275 million exiting 2013 and a part of this saving will be invested back in the business to drive growth going ahead. Although benefits from these programs will not be accrued in 2011, these steps should strengthen the company in the long term.
Moreover, having established a strong foothold in the U.S. and Europe, Boston Scientific is looking to consolidate its presence in the emerging markets of Brazil, India and China. Sales in these regions advance at a double-digit clip during the reported quarter. With the recent launch of Promus Element in China and some anticipated pricing approvals in India, contribution from these regions is expected to rise further in 2012.
Based on investments made in sales representatives, dealers and infrastructure, the company is well placed to increase its single-digit market share in China and India. The combined DES market in China and India is currently estimated at $700 million growing at a 20% rate.
BOSTON SCIENTIF (BSX): Free Stock Analysis Report

JOHNSON & JOHNS (JNJ): Free Stock Analysis Report