Upcoming events – New PDUFA action date for taliglucerase alfa of May 1, 2012 and possible EMA approval soon.
Protalix BioTherapeutics (NYSE-AMEX:PLX, TASE:PLX) – based in Carmiel, Israel engages in the development and commercialization of recombinant proteins. Utilizing their proprietary ProCellEx transgenic plant cell technology, the company aims to leverage its technology platform to provide recombinant proteins (bio-similars and bio-betters) in a low-cost, safe, and reliable manner. Attention is currently focused on the lead drug candidate (partnered with Pfizer (NYSE:PFE)), taliglucerase alfa, which has been resubmitted to the FDA for approval and had a PDUFA date of 2/1/12 5/1/12.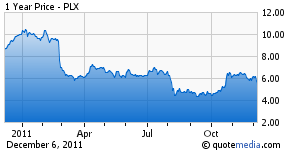 However, PLX put out a press release early Tuesday morning announcing a 3 month delay. The stock opened dramatically lower on the news but recovered some of its value during the day to ultimately close down $0.80 (12.92%) at 5.39. To PLX longs this was a big disappointment, as the stock had recovered from the mid 4s all the way to the mid 6s as of late. Turning our attention now to the press release, I found the following paragraph from the press release is pertinent:
In November 2011, the Company submitted certain clinical information regarding taliglucerase alfa in response to an FDA request. This request related mainly to the presentation of select data provided in the BLA. As this information was requested and provided within 90 days of the February 1, 2012 PDUFA goal date, the agency has the option to extend the PDUFA goal date to provide adequate time for the FDA to complete their review. A three month extension cycle is the standard period granted. No additional data were requested by the FDA in the notification, nor was the Company notified of any specific deficiency in the taliglucerase alfa NDA.
While I believe the drug will ultimately receive approval due to its favorable safety and efficacy profile, this 3-month delay is disappointing. However, as hundreds of patients have now been regularly using taliglucerase alfa under various circumstances (phase 3 trial, switchover trial, open-label extension, and shortage of Cerezyme (Genzyme's/Sanofi's drug)) in the US, EU, Israel, Brazil, and rest of the world, this is a positive as both patients and physicians become comfortable with the treatment.
In addition, there have been no surprises in clinical data from the switchover trial, and to the best of my knowledge, the open-label extension trial either. Some patients have been on the drug for over 3 years now, and the drug is well tolerated, with low hypersensitivity rates (~6% in the Phase 3 trial, done under an SPA with the FDA) and no neutralizing antibodies detected. Now that PLX has provided additional data to the FDA, I expect full approval with similar labeling as velaglucerase alfa and Cerezyme on the new PDUFA goal date.
Potential European Approval – In addition to seeking FDA approval, PLX has submitted (November 2010), through Pfizer, a MAA (Marketing Authorization Application) to the EMA (European Medicines Agency). Since taliglucerase alfa is a biologic and has orphan drug designation, PLX is going through the centralized procedure. They have already replied to the day 120 questions (according to the November 2011 shareholder presentation) and successfully passed a European GMP audit for their manufacturing facility. As a result, I expect to hear shortly about European approval.
It is important to note that the data from the switchover trial is included in the MAA and was not included in the original NDA submitted to the FDA, which I believe improves PLX's chances in Europe. The FDA requested this data in addition to its questions about manufacturing protocols.
Financials – As of September 30, 2011, Protalix's balance sheet showed $34.5 MM in cash and cash equivalents. Now with possible approval over 2 quarters away, the cash burn will likely deplete over half of PLX's coffers. However, Pfizer will owe a potential $50 MM in milestone payments ($25 MM for US approval, and an additional $25 MM for European approval) which may provide enough capital for a successful launch given the nature of the Gaucher's market (orphan drug market with a small number of high prescribing physicians) and Protalix's familiarity and involvement in the space. However, there is the real possibility of another capital raise to have a margin of safety and further the clinical pipeline.
Pipeline – Protalix has an additional clinical program and a number of a preclinical candidates in development. The other clinical candidate, acetylcholinesterase (PRX-105) has completed a phase 1 safety trial for biodefense applications, but data is still thin. PLX plans to initiate a phase 1/2 study for its Fabry disease bio-better candidate early next year. In addition, an oral treatment for Gaucher's is in the works along with bio-similar Enbrel. As these programs mature, I expect additional data to become available.
Conclusions and Future Directions – While investors are rightfully scrutinizing the lead candidate, taliglucerase alfa, it is important not to view Protalix as simply a single asset play. Successful approval will represent a validation of the entire plant-base cell expression system, de-risking the pipeline. As investors are no doubt aware, going forward payers will more closely weigh the costs and benefits for new treatments. Therefore, a company such as Protalix which produces efficacious recombinant proteins inexpensively is filling an appealing niche.
The recent pullback of the stock represents an attractive entry point, and the stock should benefit from the likely approval of taliglucerase alfa in May 2012, as well as progress in the pipeline (oral Gaucher's disease treatment, bio-similar Enbrel, etc.). Again, investors are purchasing more than simply the future cash flows of a single drug; PLX's proprietary platform ultimately allows for the safe, efficacious, and inexpensive development of biosimilars and biobetters.
Disclosure: I am long PLX.
Additional disclosure: I have written January 7.5 covered calls against my position.