The Kroger Company (NYSE:KR), one of the largest grocery retailers, recently posted better-than-expected third-quarter 2011 results, thereby prompting management to raise its fiscal 2011 earnings guidance.
Street analysts had enough time to ponder on the company's scores. In the paragraphs that follow, we cover the recent earnings announcement, subsequent estimate revisions by analysts as well as the Zacks Rank and long-term recommendation for the stock.
Last Quarter Synopsis
Cincinnati-based Kroger unveiled its third quarter financial results on December 1. The quarterly earnings of 33 cents a share beat the Zacks Consensus Estimate by a couple of cents, and rose 3.1% from 32 cents delivered in the prior-year quarter.
However, it is to be noted that although earnings per share increased, the company registered a decline in the net income to $195.9 million from $202.2 million in the year-ago period. The share repurchase activity provided a cushion to the company's earnings per share.
Total revenue (including fuel center sales) climbed 10.3% from the prior-year quarter to $20,594.3 million, handily beating the Zacks Consensus Estimate of $20,430 million. Excluding fuel center sales, total revenue rose 5.1% and identical supermarket sales (stores that are open without expansion or relocation for five full quarters) climbed 5% to $15,524.9 million.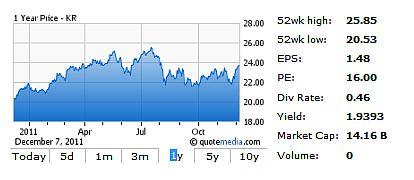 Strolling Through Guidance
Management now expects fiscal 2011 earnings between $1.95 and $2.00 per share, up from a range of $1.85 to $1.95 forecast earlier.
Kroger, which faces stiff competition from Wal-Mart Stores Inc. (NYSE:WMT) and Whole Foods Market Inc. (NASDAQ:WFM), now predicts identical supermarket sales (excluding fuel) growth of 4.5% to 5% for fiscal 2011, up from a 4% to 5% rise projected previously.
(Read our full coverage on this earnings report: Kroger Beats, Lifts Outlook)
Agreement of Estimate Revisions
Clearly, a positive sentiment is palpable among analysts, who remain optimistic on Kroger's performance. Following the earnings release, the Zacks Consensus Estimate has been on the rise with analysts remaining bullish on the stock. The better-than-expected results and an increased earnings guidance bolstered analysts' confidence, who tweaked their estimates to better align with management's projections.
The current Zacks Consensus Estimate of $1.99 for fiscal 2011 remains on the high-end of the guidance range.
The agreement of estimate revisions indicates that the analysts were unidirectional following Kroger's third-quarter 2011 results.
In the last 7 days, six out of 16 analysts covering the stock raised their estimates, whereas none of the analysts lowered the same for the fourth quarter of 2011. For the first quarter of 2012, three analysts raised their estimates, with none making a downward revision.
For fiscal 2011, eight analysts moved their estimates up, with only one analyst revising the same downward in the last 7 days. For fiscal 2012, seven analysts increased their estimates and none lowered the same.
Magnitude of Estimate Revisions
The magnitude of estimate revisions by the analysts is clearly reflected through changes in the Zacks Consensus Estimates.
The Zacks Consensus Estimates moved up by a penny to 49 cents for the fourth quarter of 2011, and by a couple of cents to 74 cents for the first quarter of 2012, in the last 7 days.
For fiscal 2011, the Zacks Consensus Estimates jumped by 3 cents to $1.99 in the last 7 days. For fiscal 2012, the Zacks Consensus Estimates rose by 5 cents to $2.19.
Our Say
A dominant position among the nation's largest grocery retailers enables Kroger to sustain growth in top line, expand its store base, and boost its market share. The company's customer-centric business model provides a strong value proposition to consumers. It is well positioned to continue its growth momentum primarily through identical supermarket sales growth.
However, Kroger is not immune to the tough economic environment. The intensifying price war among grocery stores to lure budget-constrained consumers may adversely impact Kroger's sales and margins. Further, a sluggish economic recovery and rising food and fuel prices may affect consumers' shopping pattern. Moreover, a higher debt-to-capitalization ratio also remains a matter of concern.
Given the pros and cons, we maintain our long-term 'Neutral' rating on the stock. However, Kroger's shares maintain a Zacks #2 Rank that translates into a short-term 'Buy' recommendation, and mirrors the better-than-expected third-quarter 2011 results, increased fiscal 2011 earnings outlook and upward revision in the Zacks Consensus Estimates.
KROGER CO (KR): Free Stock Analysis Report

WHOLE FOODS MKT (WFM): Free Stock Analysis Report

WAL-MART STORES (WMT): Free Stock Analysis Report