Accenture (NYSE:ACN) is a truly global mega-corporation involved in management consulting, technology services and other outsourcing services for corporations and governments. With 236,000 employees in 54 countries, and clients in more than 120 countries, it can offer a wide range of knowledge and capabilities. The company's fiscal year ends August 31, and in 2011 it delivered net revenues of $25.5 billion. It appears in the S&P 500®, Russell 1000® Index and the Fortune Global 500. Incorporated in the Irish Republic, its headquarters are in Dublin.
Target clients are organizations looking to benefit from Accenture's "high-performance business" strategy to improve revenue, operational performance, market scope and overall efficiency. They claim to work with 94 of the Fortune Global 100 and more than 75% of the Global 500. Even more significantly, all of their top 100 clients in 2010 (based on revenue) have been with Accenture for at least five years, 92 for at least ten years. Loyalty of that kind cannot be bought, only earned.
The company sees its competitive edge as centered on its extensive industry expertise, especially in the area of business transformation, on the wide and constantly expanding range of offered services, and on its history of technological innovation and R & D capabilities. In order to maximize the specialized expertise of its personnel, the company is divided into 19 focused industry groups gathered under five operational headings: Communications, Media & Technology; Financial Services; Health & Public Service; Products (e.g. Retail, Automotive); and Resources. In other words, wherever you are in the corporate or public sector, Accenture has you covered.
However, Accenture's breadth of services means that it faces an equally wide field of competitors. In the consulting field, incorporated partnership McKinsey & Company has 97 global offices, while Boston Consulting Group (BCG) has 70. Technology services competitors include IBM (NYSE:IBM), Electronic Data Systems (NASDAQ:EDS), and Computer Sciences Corporation (NYSE:CSC). Outsourcing challenges come from the lower operating costs of Indian-based enterprises such as Tata Consultancy Services (TCS), Saytam Computer Services, Infosys Technologies (NASDAQ:INFY) and Wipro Limited (NYSE:WIT).
Dividing Accenture's revenue by geographic region, Europe, the Middle East and Africa combined deliver about the same slice of the pie as the Americas: 43% and 44% respectively in 2011, with Asia Pacific covering 13%. Service-wise, consulting contributed 59% of revenue and outsourcing 41%. Revenue was also fairly evenly distributed between the five operating groups. Whichever way you look at Accenture's business, the eggs are strategically placed in a variety of baskets.
Looking at fiscal 2011 results in more detail, revenue was up 18% on the previous year, and growth was recorded in all operating divisions. Geographically, the largest revenue percentage growth was in the Asia-Pacific region, up 23% in local currency terms. Overall earnings per share of $3.40 showed a 28% increase. Dividends are paid semi-annually and amounted to $1.125 per share in 2011. For fiscal 2012, Accenture expects net revenue growth of 7% to 10% and earnings per share of $3.80 to $3.88, an increase of 12% to 14% on 2011.
During the September 2011 Q4 earnings conference call, Accenture CEO Pierre Nanterme referred to two planned acquisitions of companies servicing the insurance and banking sector, one in the U.S. and one in the U.K. Accenture also has plans to expand its services range, particularly in new technology, and extend its geographic reach with a focus on ten priority emerging markets. Mr. Nanterme identified the challenges of globalization, increased regulation and the need for operational efficiency as the key trends driving demand for the company's services. Responding to a question about European sovereign debt and deficit problems, he observed that the majority of the company's European clients were in fact global organizations that were to some extent cushioned by the fact that they were operating outside Europe as well as within it.
Accenture is shooting at a great many targets, but the sheer breadth of its services, client base and global reach may in the end be its greatest asset when every government and corporation is looking over its shoulder to see where the next economic challenge is coming from. Yet it would not be a great surprise if the company were to suffer some negative consequences as a result of the Europe's sovereign debt issues.
Accenture's stock price is up about 50% over the last two years as shown below:
With Accenture's upcoming earnings report on 12/15/2011, an investor might consider entering a collar position for the company for protection in the event the company has a negative report. A collar can be entered by selling a call option against an existing or purchased stock with some of the proceeds from selling the call option used to purchase a put option for protection.
As an example, using PowerOptions search capability, a collar position for Accenture was found with a potential return of 2.3% and a maximum potential loss of 9.4%. The time frame for realizing the potential profit is 46 days.
The specific call option to sell is the 2012 Jan 60 at $2.10 and the put option to purchase is the 2012 Jan 52.5 at $0.75. As a bonus, if the price of Accenture's stock is greater than or equal to the call option's $60 strike price the position will return 3.6%. A profit/loss graph for the Accenture collar position is shown below: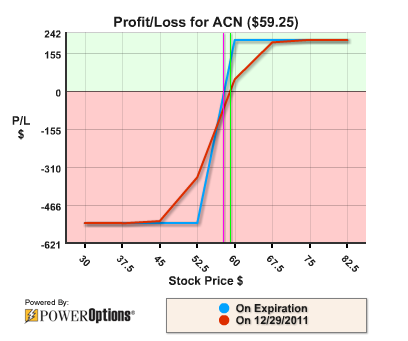 An investor entering the Accenture collar position can rest easy with the upcoming earnings report knowing the position is protected by the put option.
Disclosure: I have no positions in any stocks mentioned, and no plans to initiate any positions within the next 72 hours.