Contrary to the weather we've experienced in New York, the average U.S. temperature has been below normal over the last few weeks. The chart below shows that based on pure weather conditions, natural gas prices should be close to my year-end forecast of $4/MMBtu. In the past, winter weather has played a factor in boosting prices, but as the seasonality chart shows, this relationship is becoming increasingly obsolete. This pattern is even more striking, since WTI prices soared during that period as a reflection of the overall "risk-on" sentiment and idiosyncratic factors (Seaway pipeline reversion).
The natural gas curse continues. I have mentioned several times the reasons why natural gas prices remain under pressure: over supply (shale gas) and lack of access to external demand (no LNG exports facilities before 2015). With prices hovering around $3.5, some producers may be close to or even below their breakeven – something that historically and in theory should reduce supply and set a floor for prices.
However, as the chart below shows, the WTI/natural gas price differential brought about physical arbitrages between oil and natural gas extraction (rig count). Gas directed drilling has edged down over the last years, but remains historically high. In addition, oil production has soared. As natural gas is a byproduct of oil production, the supply glut of natural gas will not be reduced anytime soon.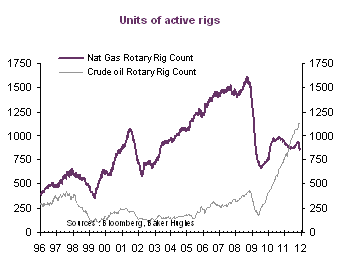 I have enhanced my natural gas price model. Instead of modeling prices directly I did some econometrics on the 1-year change in prices. The main drivers are:
1. (-) change in inventories – growing inventories are negative for prices.
2. (+) 6-month change in the ISM – industrial demand drives prices up
3. (+) our Hurricanes proxy – disruptions drive prices higher
4. (+) one year change in nuclear plants capacity utilization rate – competitive source of electricity. natural gas prices are up when nuclear capacities are under pressure.
5. (+) one year change in WTI
I did not include coal prices as the natural gas to coal switching for power generation is more structural and regulation-driven than a short term driver of natural gas prices. The chart shows that the combination of demand/supply factors legitimate the short run decline in prices.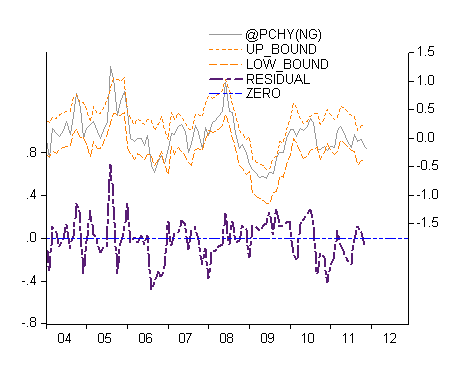 We have yet to see whether a run up in prices will occur at year-end, as expected. If gas remains oversold, prices are unlikely to rebound for long, and the supply glut will prevent strong upward moves.