Before launching into the chart update, here are a few items that caught our attention. One was a Reuters report that European central banks that are members of the euro-system are quietly planning for a 'shock' that could lead to a break-up of the currency union.
As Reuters reports:
Euro zone central bankers are looking at the possibility of a shock to the currency area that could trigger its partial break up and their priority in such a scenario would be to preserve the system's survivors, central bank officials say. ...

In private, euro zone central bank officials say a lot of the pieces in Europe's policy puzzle need to fall into place to calm financial markets and see off the crisis. An official at one of the bloc's 17 national central banks identified a collapse in a peripheral euro zone country's banking system as something that could trigger a break-up of the bloc in its existing form.

The ECB hosted a crisis communications exercise with officials from national euro zone central banks late last month that included a commercial bank collapse scenario. In the event of such a banking collapse leading to a country defaulting and – in a worst case scenario – leaving the euro zone, the central bank official said policymakers' priority would be to protect the rest of the bloc.

"In such a situation, we have to safeguard the rest of the system," the official said, adding that this could involve reshaping the euro zone's EFSF rescue fund and recapitalizing banks. Another euro zone central bank official pointed to Franco-German group Dexia as an example of a euro zone bank that recently got into trouble, requiring a government rescue, although the wider impact was limited.

The likely burden of bailing out Dexia led ratings agency Moody's to warn Belgium its Aa1 government bond ratings may fall. Standard & Poor's subsequently downgraded Belgium, saying funding and market risk pressures were raising the chances its financial sector will need more support.

HUSH HUSH

Euro zone central bank officials have privately cited market expectations for a 20-25 percent chance of euro zone break-up, though they believe markets will turn more positive if governments deliver the tougher fiscal rules the ECB wants. They are loathe to speak about a "Plan B" – or crisis contingency planning – with heavy ECB involvement for fear that this will reduce governments' incentive to push ahead with "Plan A": implementing economic reforms, kick-starting the euro zone's EFSF rescue fund and adopting tighter fiscal rules.

"What I think is important at the moment is not showing politicians that there might be an alternative, because in their mind that might be less costly than the options they have," the central bank official said.

The ECB wants euro zone governments to agree a new "fiscal compact" and a summit of European Union leaders in Brussels on Thursday and Friday is an opportunity to agree on treaty change to anchor coercive budget discipline in the bloc. German Chancellor Angela Merkel has said, however, that the "marathon" crisis will take years to solve.

In Britain, top officials are not waiting to see if their euro zone peers can deal with what Merkel says could be Europe's toughest hour since World War Two. Instead they are already discussing a potential euro zone break-up scenario.

"The government together with the FSA and the Bank of England are making contingency plans against a wide range of contingencies," Bank of England Governor Mervyn King said last week, without detailing the nature of the plans."

(emphasis added)
Some contingency planning probably makes eminent sense at this point. Note in the portions of the article highlighted above that the "disaster scenario" proceeds from the idea of a large commercial bank failure. This is testament to how rickety the banking system has become and makes Mario Monti's decision to enforce "electronic payments" on amounts exceeding €1,000 all the more odious.
While this is officially clad as an attempt to create obstacles to tax evasion, it has the unfortunate side effect of forcing people to use the banking system whether or not they like to do so. One feels a bit reminded of the attempts of Sweden's socialist commissar-bureaucrats to create a "cashless" society (see "Sweden Discusses Cash Ban" from last year) by forbidding cash transactions altogether – using the flimsiest of reasoning as their justification.
Is It All Over For Commerzbank?
Speaking of euro area banks in trouble, Germany's second largest bank, Commerzbank, appears to be in quite a bit of it. After revealing that it will need € 5 billion (at least) to remain in business and fulfill the new core Tier 1 capital ratio requirements, rumors of the bank's imminent nationalization have begun to fly. The German government already owns 25% of the bank due to a previous bailout attempt.
Europe's banks urgently need fresh capital to meet tougher EU rules, but they will have problems raising it amid the current crisis of confidence plaguing the euro zone. The survival of Commerzbank, Germany's second-largest bank, is at stake, and Berlin is considering a full nationalization of the bank if necessary. ...

According to government sources, if Commerzbank doesn't manage to raise sufficient capital on its own by next summer, Berlin will reactivate the Special Fund for Financial Market Stabilization (Soffin) and purchase additional shares in the bank. The sources say that they assume the government would acquire a majority of the bank's shares in a capital increase.

But things haven't reached that stage yet – and they won't necessarily have to, either. Commerzbank management is working round the clock to solve the problem without government aid. It's a difficult job that will mainly have to be tackled by the new Chief financial Officer, Stephan Engels, who was appointed by the supervisory board last Friday.

If Commerzbank fails to meet the challenge, though, Blessing's days at the head of the commercial lending giant may very well be numbered. "I'm not going there again," he recently said, in reference to a government bailout of €16.2 billion ($21.7 billion) that the bank received in 2009. His statement was not well received in Berlin.
Click to enlarge.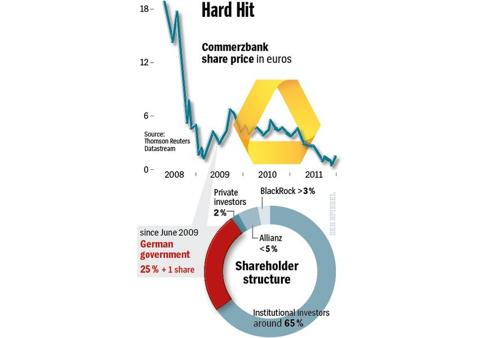 Commerzbank's share price and shareholder structure, via Der Spiegel.
Meanwhile, Barclay's (NYSE:BCS) bank in the UK is getting creative by offering to buy up its own collapsed debt paper at a 30% discount from investors in order to improve its capital ratio. Anyone not taking the bait right away will be paid less. This follows on the heels of similar offers by Lloyds TSB (OTCPK:LLDTF) and offers by Santander (STD) and BNP Paribas (OTC:BNOBF) to buy out investors in their subordinated debt at a discount. Not surprisingly, investors in these bonds are somewhat less than happy.
Greece's Stock Market
The collapse in Greek stocks has continued in recent weeks, as can be seen below: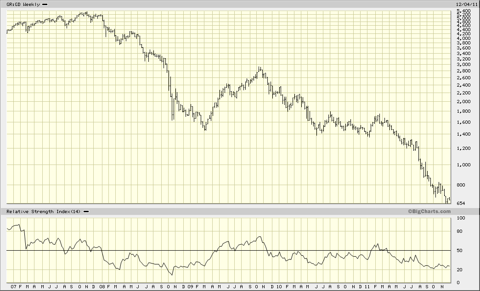 The Athens General Index has continued to plunge to new lows.
It should be noted, though, that Greek bank stocks have been the biggest losers and the idea that Greek stocks are closing in on a generational low remains worth considering. The p/e ratio of the market is now well below 6 and the decline is by now on a par with the collapse of the DJIA in the 1929-1932 bear market.
There are some news that may interest putative bottom-fishers: on Thursday this week a new ETF focused on Greek stocks begins trading in the US at the NYSE. The symbol will be GREK. The Wall Street Journal reports:
The first U.S. exchange-traded fund to track only Greek stocks is slated to launch this week, offering investors another tool to deploy investment strategies amid Europe's ongoing sovereign-debt crisis.

The Global X FTSE Greece 20 ETF is set to trade on NYSE Euronext's electronic Arca exchange, listed under the ticker "GREK," starting Thursday, Global X Funds chief executive Bruno del Ama said in an interview.

The fund, reflecting the trend of ever more specific slivers of market exposure, is tied to the FTSE/ATHEX 20 Capped Index, which tracks the top 20 companies by market capitalization on the Athens Stock Exchange.

"Greece has been in the headlines pretty much every other day for the last 18 months," del Ama told Dow Jones Newswires. "It's a market where a lot of people have an opinion. [We're aiming to] facilitate access to that market."
While it may well still be too early to invest in Greek stocks, we think it is a good thing that an NYSE traded vehicle for doing so will be available from now on. Hitherto it was rather difficult to get exposure to Greek stocks. Now there will be something one can easily trade in and out of. We wanted to apprise our readers of this development, since we have received some questions regarding access to investment in Greek stocks. Mind you, the risks are undoubtedly great, but so are, presumably, the potential rewards.
Please note, this should not be misconstrued as a recommendation – everybody must do their own due diligence and whether such an ETF is an appropriate investment must be decided on a case by case basis taking risk tolerance and other factors into account. Individual investors should consult a registered investment advisor.
Euro Area Credit Market Chart Update
Below is our customary collection of CDS prices, bond yields, euro basis swaps and several other charts. Both charts and price scales are color coded (readers should keep the different scales in mind when assessing 4-in-1 charts). Prices are as of Tuesday's close, except for yields, which are as of today's close.
So far, the 'risk on' game is evidently still playing, although there has been the odd small bounce here or there in CDS prices. CDS on Greece are now trading at a level that indicates a 100% write-off of Greek sovereign debt is likely. All in all, we still do not have an all clear, in spite of the recent sharp decline in bond yields.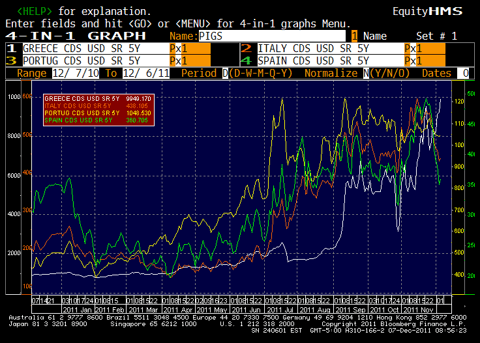 5 year CDS on Portugal, Italy, Greece and Spain. At 9,949 basis points, CDS on Greece don't leave much for the imagination. The remaining upside should be capped, since it now costs $9,950,000 to insure $10,000,000 in Greek debt. Small bounces were registered in CDS on the rest of this group.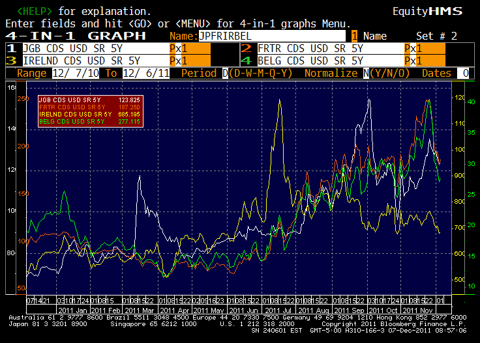 5 year CDS on France, Belgium, Ireland and Japan – also a few small bounces.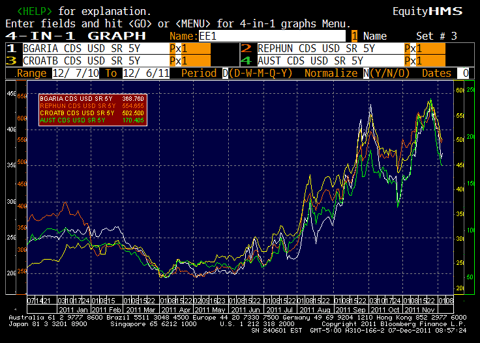 5 year CDS on Bulgaria, Hungary, Croatia and Austria – ditto.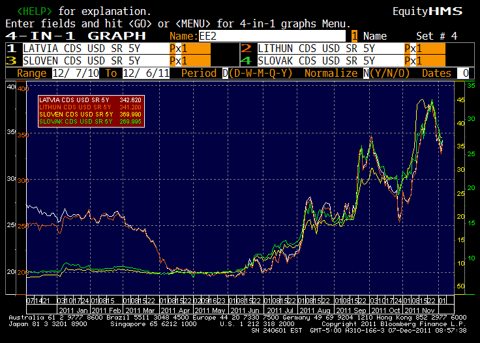 5 year CDS on Latvia, Lithuania, Slovenia and Slovakia.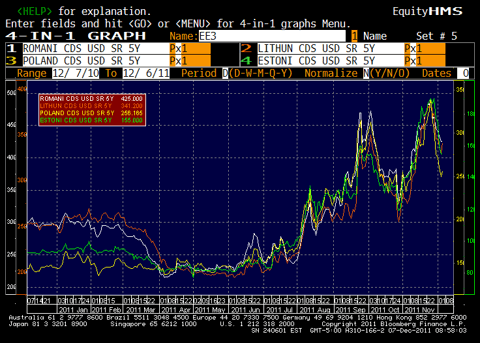 5 year CDS on Romania, Poland, Lithuania and Estonia.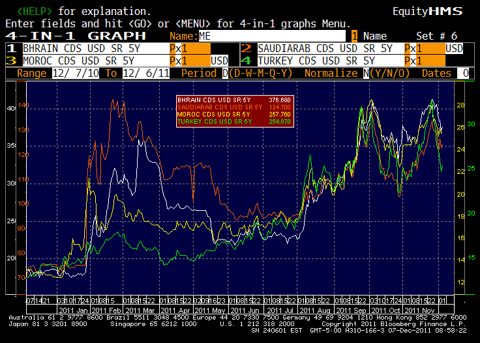 5 year CDS on Bahrain, Saudi Arabia, Morocco and Turkey – still following their European brethren faithfully.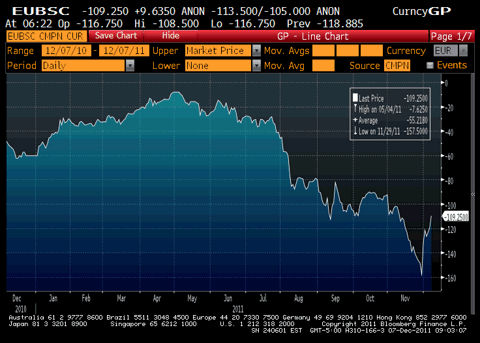 The three month euro basis swap. Following news of the vast increase in borrowings from the ECB's dollar swap facility, there was a big improvement in these swaps.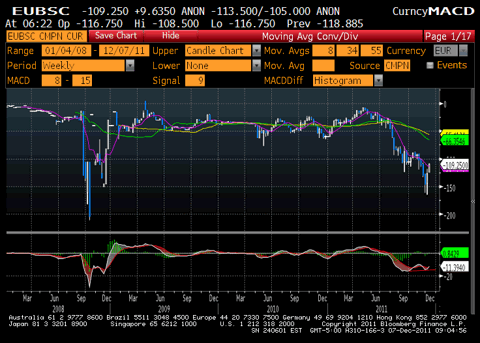 The three-month euro basis swap, long term. An MACD buy signal is in force.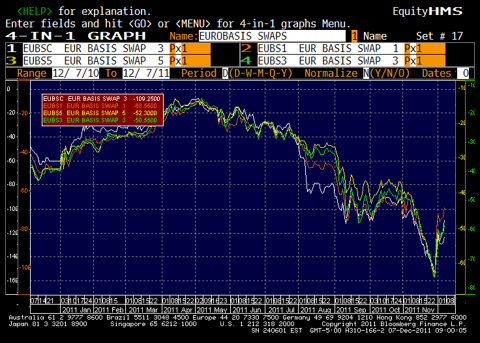 Three month, one year, three year and five year euro basis swaps – all bouncing.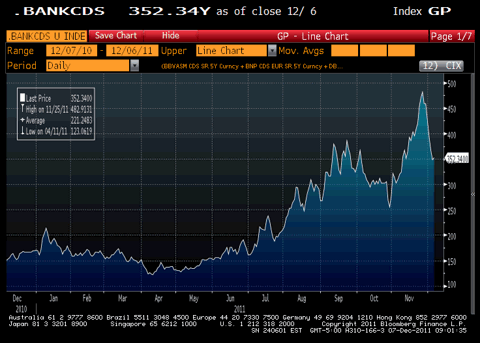 Our proprietary unweighted index of 5 year CDS on eight major European banks (BBVA, Banca Monte dei Paschi di Siena, Societe Generale, BNP Paribas, Deutsche Bank, UBS, Intesa Sanpaolo and Unicredito) - a slight bounce on Tuesday.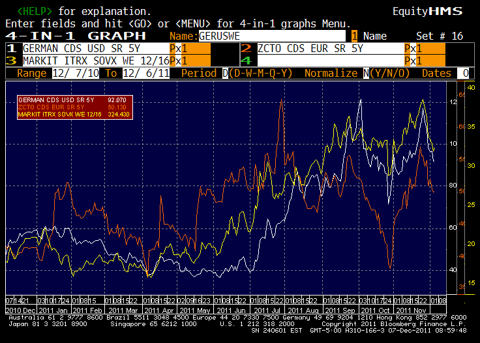 5 year CDS on Germany, the US and the Markit SovX Index of CDS on 19 Western European sovereigns. So far this looks like a typical run-of-the-mill pullback in the SovX that occurs whenever the next bazooka is readied by the eurocrats.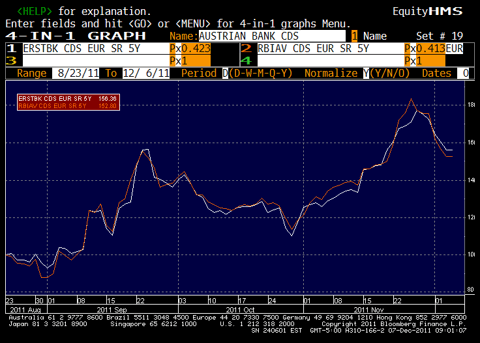 5 year CDS on two big Austrian banks (Erstebank and Raiffeisen) – indexed to 100 (for actual prices in basis points, divide by the price divisors in the legend). A slight bounce as well.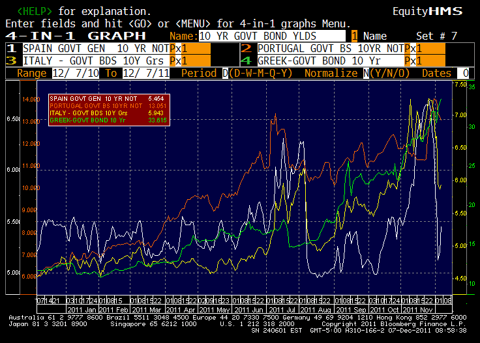 10 year government bond yields of Italy, Greece, Portugal and Spain. The recent show of optimism has given way to some profit-taking, apparently. Greek yields continue to wander into the blue yonder.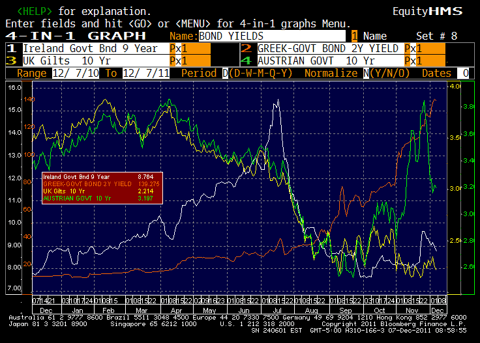 10 year government bond yield of Austria, the 9 year government bond yield of Ireland, UK Gilts and the Greek 2 year note. Buying of 'safe haven' gilts has resumed, while Austrian yields bounce. The Greek 2 year note at nearly 140% still indicates that Greece will eventually default.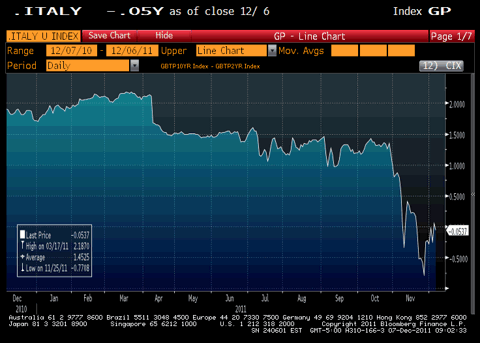 Italy's 2-10 spread once again inverts slightly. This is a strong sign that things are not yet really settling down.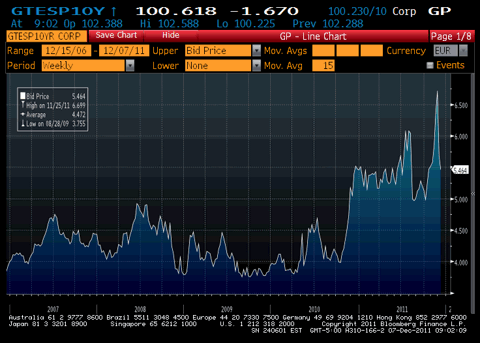 Spain's 10 year government note yield. Today's bounce is better visible on the 4-in-1 chart above. This also still looks to us like it might stair-step higher again.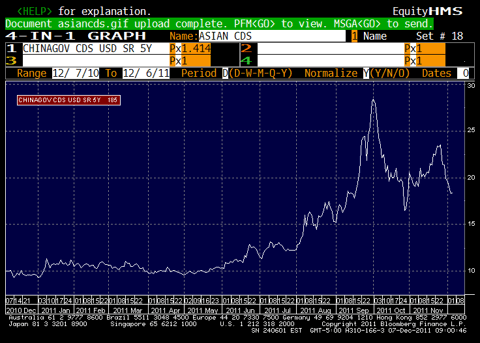 5 year CDS on China (indexed to 100, use divisor in the legend for absolute level in basis points) – a small bounce.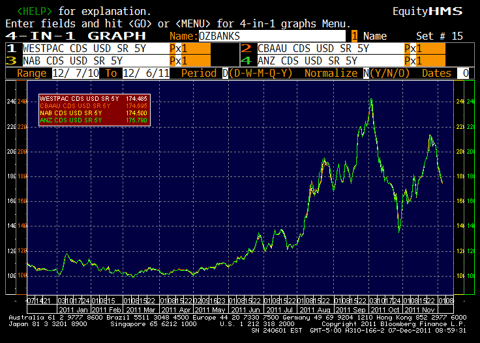 5 year CDS on the debt of Australia's 'Big Four' banks – there was almost no movement at all yesterday in those.
Charts by Bloomberg, BigCharts.com