What a difference a month makes. I wrote the last of this "S&P Target 1600" article series on November 8 at 12:50 EST. We were at S&P 1259, and the euro-dollar December futures were at 1.378. Most of the bad news seemed out, and I was expecting an upside break of the 1261 resistance. I was right for a few hours, as it reached a high of 1276 by the close. Then Europe shrugged again. We went up and down for a few days and on November 14, when Angela Merkel called for "perhaps the darkest hour since WWII," I pulled the trigger. The next day, at 9:15, I posted the following comment:
Q3 earnings are now behind us, not much is happening in Washington, and even less in Europe. The headline risk is increasing to a level which I now feel is not worth taking the short term risk and I do not hold Mario Monti in high regard. There is resistance at around 1265, with support at 1210, and possibly 1185. I am going back into net zero exposure.
We then reached an intraday low of 1158 on November 28. I had covered my shorts the week before (posted on My Inbox correspondence with some readers who asked) and I have been long since then. A Stampede it was, impressive and tough to stay in the saddle. The question is, now what? I say, ride it.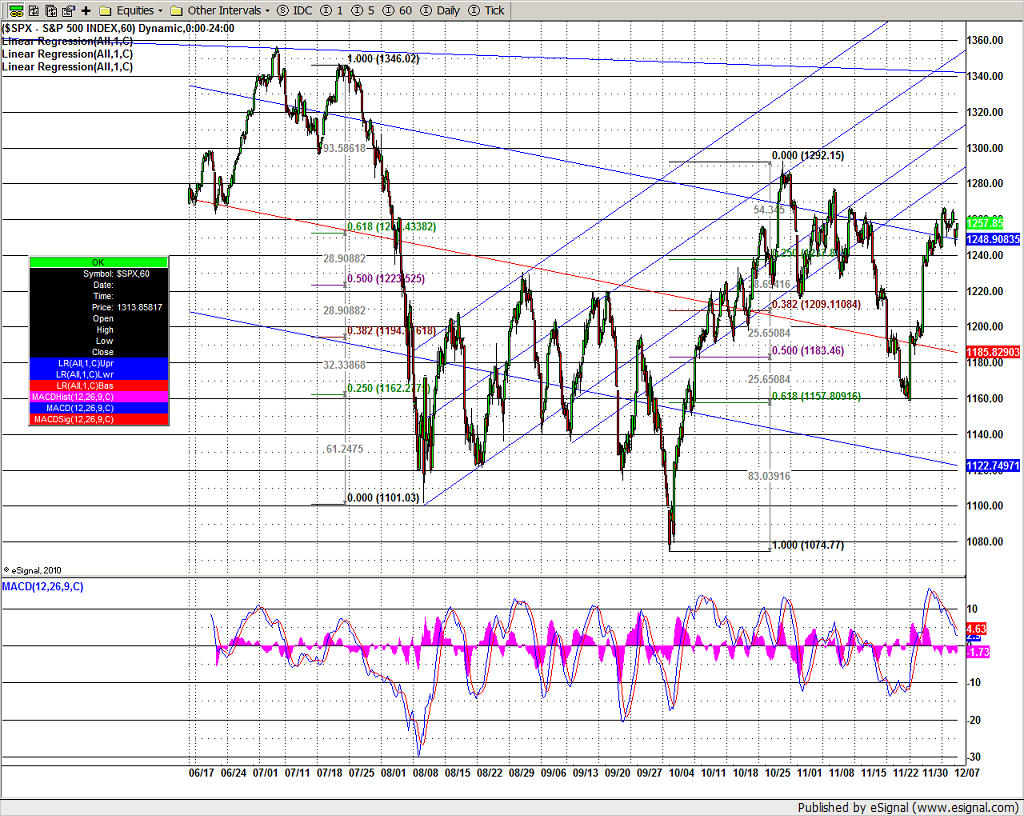 Click to enlarge
What have we learned in the meantime? Well, Europe shrugged and did what it had to do when faced with the inevitable. Before interbank lending freezes, it's all talk. When it happens, it's all action. I have said it for a while: First guarantee, then nationalize, then monetize – I don't remember which of my articles mention this, but they have all been written along the same script.
The volatility leading to the event is just the illustration of how hard it is to get to it. Now, to be sure, we are not there yet, and volatility is here to stay for a while. But the trendline is the stampede, i.e. excess reserves trickling down to the financial system, after having been hoarded at various central banks, et al.
Given the current earnings yield of some 8%, my target of S&P 1600 is on the horizon; the question is when. I originally thought 2014. The political agenda may make it happen sooner.
First, there is Europe. Sarkozy is due in April/May 2012, Merkel in early 2013. Greece, Italy and Spain are back into the conservative camp. France and Germany are not about to leave it. On that score, I was amazed by Merkel's WWII comment. At first read, I thought "how indecent!" This is just a financial crisis; how could one compare it to WWII, even as a figure of speech? At second read -- and to give Merkel the benefit of the doubt, which I'll give anyway -- it may have been her version of "don't waste a good crisis." The idiom has been used by many dubious people; why not her? The net of it: The eurozone reform will happen in due time, and this is only a few months away.
Second, the US. Finally, a reasonably serious Republican candidate is emerging, Newt Gingrich. Contrary to most, if not all, he is quite candid: "I am not the perfect candidate," he admits. So, assuming he is elected, there will be no surprise. Can he be, and should he be? I have my own opinion, but not to be debated on SA. From a market standpoint, I believe this new leadership and credibility helps. The best data point may actually be the dollar, which has been pretty strong of late (yes, I know, there are many other factors affecting the dollar, but political stability differential is one).
Suffice it to say, the main thing I disagree with Gingrich on is his opinion on Ben Bernanke. This, from my book, is a scenario I dubbed "The Three Little PIIGS":
The third "little piggy" had the brick house. The builder was Dr. BenBee, a well-known TV handyman with a bag full of tricks. He had used a new framing material, "structurally engineered", called QE. […] Jobs would come back. He would have repaired the whole system. Goldilocks, and he would get the Nobel Prize.
From a practical portfolio standpoint, here is a hint at my stock-picking methodology. I do not use ETFs except to hedge. I classify stocks in potential gain/loss categories, 5 to 10%, 10 to 20%, 20 to 30%, and 30% plus for the upside. For the downside, the potential percentages have to be lower than the upside, so that my expected return is positive. And for each category, I add a time dimension: The greater the upside, the longer the horizon. I add it all up, and it works pretty well. Even with this run-up, I feel quite comfortable in the way the portfolios look.
For the record, the time of this writing is December 7, at 12:30 EST, with S&P at 1257, euro-dollar December futures at 1.341. Since a month ago, only the dollar has changed, and it is stronger. It is Europe that Sshruged, not Atlas. I still say, "Go for it, John Galt."
Disclosure: I am long AGM, CTAS, FIATY.PK, IMAX, IR, IPG, JCI, SANM, SLM, WSBC, VECO, WCC.
Disclaimer: As a Registered Investment Advisor, there are a few things we must tell you. We at Capital Max do not know your personal financial situation or investment objectives, so this article does not constitute a solicitation to purchase or sell any of the securities mentioned, nor is it intended to provide specific investment advice. Past performance is no guarantee of future performance. We live this every day, and you should know it too. The value of the securities mentioned herein may fall or rise and are not insured by any government or private company, even if it meant something. We believe what we write, and we take your audience quite seriously. However, since we cannot be held responsible for any loss or damage caused by reliance on the information and data herein, you should consult with your own advisor and/or do your own research before acting on any of our opinions, which we change without notice.