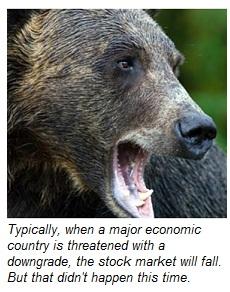 The market hardly budged Tuesday. Volume ran low once again as the indices moved sideways all session. To the bulls' credit, some indices managed slight gains during the session despite the tumult in Europe.
On Monday, after the market close in the U.S., Standard and Poor's put 15 EU countries under threat of downgrade. More notably was that Germany made the list of potential targets by the Standard and Poor's credit rating agency. Yes, that is the same credit agency that missed the ball about big banks five years ago.
Typically, when a major economic country like Germany is threatened with a downgrade the stock market will fall. Added to the threat were 14 other European countries, so the stock market should have really plummeted.
Yet, the exact opposite occurred - the indices rose or marginally decreased. Many subscribers wondered how this could be. Why would the market rise on a day after Standard and Poor's all but said, "Europe is screwed" to the investment community?
I think there are three reasons why no one cared about a 15 nation downgrade threat. And keep in mind, everyone understands that there is a very real threat in Europe, and all the hot air we've blown into the economy to inflate growth could cause it to burst.
My first reason is somewhat basic: it was a threat, not an actual downgrade. Standard and Poor's only threatened to downgrade and they cited the EU Summit this weekend as one of their reasons for delaying a downgrade. Clearly, the rating agency sees the potential to form a solution and restore economic growth to the EU.
My second reason is a continuation of the first. The Standard and Poor's rating agency waited to downgrade 15 countries in Europe because of the EU Summit this week. Clearly, investors are optimistic a deal will be done. Additionally, investors have fought through worse news this year, such as lower GDP revisions, higher unemployment and rising interest rates. It will take a lot more than a threat to frighten investors after this crazy Fall.
My third reason is more abstract. But as a trader it's the most critical. Back in October the indices looked to have bottomed. I went aggressively long during that time and the market complied and went on a ridiculous rally higher. I view the action in late October and all of November as a consolidation phase of a bull trend that began October 4. And within that bullish trend I view November 25 as a lesser swing low.
Until either of those lows are violated, the trend is bullish. And in bullish trends stocks go up. The news can be as bearish as possible, but with institutional funds very under-invested and bearish sentiment on a private level higher than normal, odds favor a sluggish push higher for all major indices.
I don't expect too much more from the market this week. A general index-wide pullback is normal after an 8% push higher. Only a complete breakdown in EU negotiations, a la U.S. Congressional budget talks, could halt the bullish momentum and turn the indices bearish this week. SPX continues to consolidate at 1250, although I think it should retest 1220. But that level should be heavy support.
What is your biggest investment concern right now? Do you hold back on long-term investment because of the problems occurring throughout Europe?