John Paulson, the billionaire hedge fund manager of Paulson & Co., is well known for betting against subprime mortgages before they collapsed, and buying banks after their collapse. Last year, Paulson earned a record amount of money for managing a hedge fund on the back of large bets on gold and some of those banks.
In 2011, though, Paulson & Co.'s funds have had their issues, including the generally poor performance of the financial sector and the negative news that the hedge fund was a large investor in Sino Forest, a Chinese timber and wood company that has come under scrutiny due to accusations of fraud.
Below is a chart listing the largest equity holdings within Paulson & Co.'s most recent 13F. I have also provided the 1-month, 6-month and 2011-to-date share price performance rates for these equities.
Click to enlarge: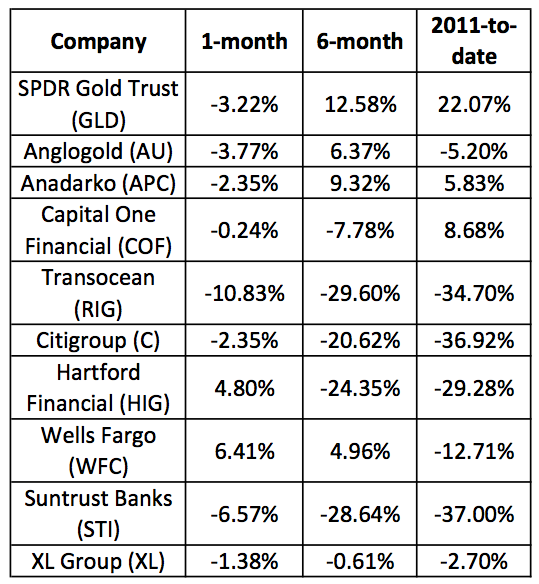 Paulson's filing also included information showing many transactions made within during the third quarter of 2011. According to the filing, Paulson's largest new purchase was to Motorola Mobility Holdings (MMI), buying nine million shares of the company, valued at about $340 million at the end of the third quarter. Google (GOOG) is currently acquiring MMI, and it appears that this purchase is an example of merger arbitrage.
Other large new purchases by Paulson & Co. include Nalco Holding Co (NLC), buying about 9.17 million shares worth about $320 million, and News Corp (NWS), buying 14.7 million shares worth over $229 million. Paulson also purchased about $160 million worth of AMC Networks (AMCX) and $140 million worth of Interdigital (IDCC), both being new positions for the hedge fund.
Paulson & Co. increased its holdings in several gold mines, including Rangold (GOLD), Agnico-Eagle (AEM) and Iamgold (IAG). Nonetheless, Paulson reduced its exposure to Anglogold Ashanti (AU), selling about 3.2 million shares its second largest holding behind GLD.
Disclosure: I am long C.
Disclaimer: This article is intended to be informative and should not be construed as personalized advice as it does not take into account your specific situation or objectives.