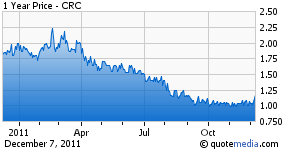 Chromcraft Revington (NYSEMKT:CRC) is a non profitable furniture company that has been severely hurt by the economic downturn. However, at this price level, the stock is trading at a discount of nearly 50% to the liquidation value of the company's assets, assigning no value to the company's operations.
For some background, CRC is a one stop furniture shop as it designs, manufactures, and markets residential and commercial furniture. The company markets its products under 5 brands: Chromcraft®, Peters-Revington®, Southern Living®, CR Kids & Beyond®, and Cochrane®. Chromcraft sells both to the commercial and residential markets. The stock has been under pressure as there has been a broad housing slowdown as well as weak economic conditions.
Chromcraft Revington hasn't generated a net income since 2005. Sales have been shrinking since 2000 after the company recorded revenue of $259.4 million in 2000. In 2010, the Chromcraft recorded sales of $56.3 million. For the first 9 months of this year, sales are down 5% year over year. The company posted a loss of $4.1 million in the first 9 months of the year compared to a loss of $4.3 million a year ago.
At the end of Q3 on October 1, 2011, the company had assets of $30.8 million versus liabilities of $9.7 million. Chromcraft had nearly $23 million just in cash, accounts receivable, and inventory alone. The company also owns two large warehouses, one in Senatobia, MS and one in Delphi, IN. The Mississippi facility is 560,000 square feet while the Indiana facility is 519,000 square feet. According to MS property records, the property has been assessed at a price of over $2.5 million, which is about $4.50/square foot. The property lies on 47.5 acres. According to Indiana property records, the Delphi facility has an assessed value of about $3.0 million, which is about $5.80 per square foot.
After adjusting for liquidation values, I project that the company's assets can generate $21.5 million in the event of liquidation. This assumes a 90% recovery rate for accounts receivable, 75% for inventory, and 50% for real estate. The liabilities of the company will be roughly $11.0 million, adjusting for leases. My estimate of the net value of the company in liquidation is $10.7 million versus a market cap of $5.6 million. The company has 4.79 million shares outstanding, leaving assets of about $2.20 per share. This is a premium of over 90% to
If the upside from liquidation value does not intrigue the reader, a return to profitability will drive tremendous upside. CRC is currently trading at a price to sales ratio of 0.09. Profitable furniture companies Ethan Allen Interiors (NYSE:ETH) and La-Z-Boy (NYSE:LZB) are trading at price to sales ratios of 0.89 and 0.51, respectively. If Chromcraft is valued at the midpoint of that at 0.7x sales, the stock would be trading at $9 a share. If CRC is valued at the low end of the comparables, it would be trading at around $6.50 a share.
It is also comforting to know that insiders are buying at these prices as well. CEO Ronald Butler and Director John Swift both made open market purchases over the past month. Insiders also own more than 30% of shares outstanding.
Disclosure: I am long CRC.