On Monday morning, Reuters published an article about Abbott (NYSE:ABT) CEO Miles White denouncing a possible sale of the pharmaceutic division at a conference in London. Is this news: hardly, what should we expect him to say? If he's selling it, he's probably going to continue the line: "It's a great company, why would we sell it," not wanting to lose any leverage in possible negotiations. If he's not selling, well he's going to say he's not selling it.
Back in October I mentioned selling the pharmaceutical divisions as one probable motivation for the split. But I wasn't alone, a few other analysts also believed the pharmaceutical division was up for sell including an analyst from Jefferies.
On the day of the announcement 37 million shares change hands representing about 4.5x the average daily volume. Of course this should not be a surprise that the largest share volume spike in Abbott history happens when it makes the biggest announcement in modern history. I'm willing to bet a large number of funds were placing bets on M&A activity associate with the split.
click to enlarge

Click to enlarge
Over the last 3 days after the conference where CEO White and CFO Gonzalez denied that the pharmaceutical company was up for sale, we have seen below-average volume, Implying minimal market impacted from this recent conference.
| | |
| --- | --- |
| Monday | 5.9 Million |
| Tuesday | 5.4 Million |
| Wednesday | 8.7 Million |
| Average Volume | 8.8 Million |
This shouldn't surprise us? Maybe not, I mentioned earlier, whether he's selling it or not, he's going to give the same line.
But maybe we should be surprised, given some new information. Namely this quote from the CEO:
"You're probably going to end up with two companies that are in the $40-45 billion range on day one."
Why is that interesting? Well most analysts have the Pharma business valued much higher around the time of the split in October. Here's some of the more reputable banks where I was able to find sum-of-the-parts valuation numbers.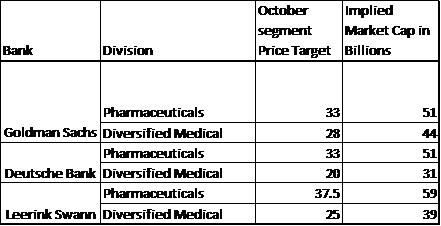 Figure 1: Average of a range was used for Leerink Swann's price target.
If he was going to sell the pharmaceutical company, I don't believe he would have mentioned the companies as having about equal value, especially since the majority of the analyst believe the pharmaceutical company has a higher value. This means that either this company is not for sale, or Miles Whites is the absolute worst negotiator of all time.
Change in Valuation
When I valued the company in October I had the Pharmaceutical company at 28.50 with a probably of a buyout at 40 percent at about 35 dollars a share giving it a total value of $31 dollars a share. I valued the diversified health care company at $28-30 dollars a share.
Given the recent announcement I now believe the additional buyout premium cannot be added to the total value of the company. This gives the total company valuation at $56.5-58.5 a share. With an equity risk premium of 5.2 percent, this company is about fairly valued.
Recommendation
I believe the street has priced in a possible sell of the pharmaceutical division. I believe this means there is some small immediate term downside risk, probably of about 2 percent as it becomes more apparent to the market the sale will not happen.
This company is still a buy for the most conservative and dividend seeking investors. It does however lose its luster for most capital appreciation portfolios and those looking to profit on potential M&A activity.
Disclosure: I am currently long ABT but I will be selling in the next couple weeks.