While the market has been flailing violently on a slow path downward, Sturm Ruger (NYSE:RGR) has become one of 2011's top performing stocks. Economic fear and weakness have stimulated gun sales and Ruger, as the most well run gun company, has been able to capitalize on this trend. Although I was a little gun shy when I first wrote about this stock in an article about the arms industry, I am now long Ruger due to public fear levels back on the rise, a bullish technical breakout, and continued strong financial performance.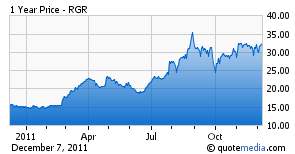 The fundamental driver for Ruger is the revival of interest in firearms from the American public. This was kicked off by the election of Barack Obama where many feared that gun control laws would grow stricter and bought weapons in response. However, economic factors such as the European debt crisis, increased poverty rates and unemployment, protest movements from both sides of the political aisle, and budget cuts of police forces have made Americans more concerned about their personal safety. This fear has led to a record Black Friday in gun sales that beat the previous high in 2008 by 33%. In addition, the reduced stigma in urban areas towards gun ownership also helps sales. Ruger stands out in the industry because of its leadership in the semi-automatic rifle/pistol segments and due to is better financial health compared to competitors such as Smith and Wesson (SWHC).
Financially, Ruger has continued to perform strongly. The company has no debt, but has still been able to maintain annualized earnings growth of 114% over the past five years. The company has been managed efficiently which is demonstrated through a 26.27% return on investment capital and a 21% return on assets. Profitability is also strong with a 18% operating margin and an 11% net profit margin.
Technical analysis also is pointing out a breakout for Ruger. Wednesday, the stock closed above the downward resistance line of a two month wedge pattern. The MACD has also crossed into bullish territory. Ruger's relative strength indicator is strong, but has not yet reached overbought levels.
Strong financial performance, bullish technical signals, and the high probability of the societal factors leading to higher gun sales remaining prevalent into the near future have made me bullish on Sturm Ruger. As people grow more concerned by the economy and its potential byproducts of civil unrest and crime, gun sales will continue to climb.
Disclosure: I am long RGR.