Defense stocks have rallied over the past two weeks, buoyed by the strength in the broad market. The Spade Defense Index is now re-testing near term highs not seen since the late-summer stock market collapse [click to enlarge]: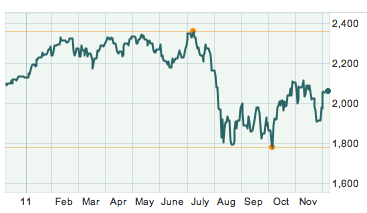 1-year chart of Spade Defense Index, courtesy marketwatch.com
As noted, the rise has coincided largely with the renewed optimism for the US economy and the European debt crisis that has driven the market up nearly 9% since Thanksgiving. Yet the rise has also come despite some concerning news for the sector at large:
To be sure, the bad news is nothing new for the defense sector. Fears of budget cuts and a slowdown in wartime expenditures in Iraq and Afghanistan have been weighing on valuations in defense stocks for some time. Investors need only look at the P/E ratios for the sector's largest, most defense-oriented companies:
Defense Stock Valuations
| | | |
| --- | --- | --- |
| Company | P/E Ratio | Forward P/E |
| L-3 Communications (NYSE:LLL) | 7.68 | 7.55 |
| Raytheon (NYSE:RTN) | 9.08 | 8.80 |
| General Dynamics (NYSE:GD) | 9.14 | 8.67 |
| Lockheed Martin (LMT) | 9.73 | 9.86 |
| Northrop Grunman (NOC) | 9.18 | 8.27 |
data courtesy finviz.com
In addition, there are some serious questions about Congress' ability to stand by its August agreement to "sequester" future defense appropriations. With 2012 an election year, and the value of defense spending, both at the local and national level, many analysts are projecting that Congress will find a way to avoid the automatic cuts enacted by the Budget Control Act. President Obama has threatened to veto any such workarounds, but will he hold firm in an election year?
Of course, those "cuts" are only cuts in the Washington sense. Defense spending -- even should the automatic spending reductions stay in force -- will still rise, albeit from a lower baseline [click to enlarge]: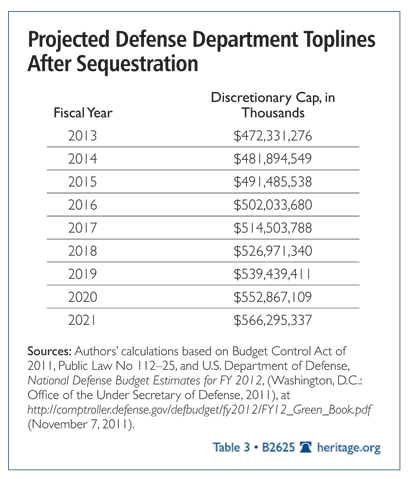 source: Heritage Foundation; does not include authorizations for wars in Iraq or Afghanistan
Still, whether Congress and the President stick to the debt ceiling framework, and whether or not defense cuts are shifted by additional negotiations to entitlement spending, it seems clear that large, costly defense projects such as the F-35 Joint Strike Fighter will come under pressure for the near future. Bulls point to the low valuations and argue that such pressure is already priced in. But there are a number of problems with that argument.
First off, the low valuations are buoyed by cost-cutting measures that have improved margins. Industry layoffs tripled in the first half of the year, and nearly every company in the sector has implemented cost-cutting efforts over the past two years in the face of expected top-line struggles. Yet these efforts have a limit. There is only so much fat that can be cut before growth in the bottom line simply has to match growth on the top line. And with anemic revenue growth, at best in the single digits annually, what kind of earnings expansion can investors expect from the sector?
Secondly, the political winds have shifted dramatically. The public is tired of the wars in Iraq and Afghanistan; the political value of defense spending, while still high, seems far lower than it did just a few years ago. As public attention has turned from overseas conflicts to domestic spending, the Pentagon is no longer untouchable. The criticism of the agency from both sides of the aisle and the growing media commentary on its spending habits show its vulnerability.
More importantly, the interparty dynamics in Washington have changed. As I noted a few months ago when covering home health care stocks:
...[B]usinesses in these sectors have no one left in the political system to defend them. Democrats - particularly the more liberal-leaning in the party - are traditionally less indulgent of, or far more hostile to, business interests than Republicans, depending on your point of view. Yet the GOP -- the traditionally stalwart defender of corporate interests, for good or evil, again depending on your point of view - has made deficit-cutting such a priority as of late that their protection of corporate subsidies can no longer be taken for granted.
The idea that defense contractors will get theirs, somehow, someway -- historically a sensible investment thesis -- finally looks set to change. The most recent defense bill passed by the Senate included a $43 billion reduction year-over-year, and was even $27 billion lower than the amount requested by the Oval Office. Congress may hem and haw, and fiddle around the edges -- but the defense companies' gravy train in Washington has finally jumped the tracks. Congress is cutting authorizations, the Defense Department is negotiating from a position of strength, and a war-weary public cannot be counted on to rally behind increased defense spending.
There is just nowhere for defense contractors to turn. Yes, the P/E ratios are low, and some of the dividend yields -- 5.16% at Lockheed Martin and 3.74% at Raytheon, for instance -- look enticing. But there are good reasons for the valuations. These companies are surrounded on all sides: waning influence in Washington, disappointing demand from overseas governments (many of whom are facing their own budget issues), and a narrowing pool of cost-cutting opportunities. In the short-term, the continued pressure from Washington would seem to preclude any kind of near-term catalyst for defense stocks. For long-term investors, the recent run-up -- 6-8% since Thanksgiving, some 15% since early October -- makes current levels look like a less attractive entry point. Valuations are cheap; but the top- and bottom-line pressures mean that they are not yet cheap enough. The bad news of the last few weeks goes to show that, for defense stocks, things are likely to get worse before they get better.
Disclosure: I have no positions in any stocks mentioned, and no plans to initiate any positions within the next 72 hours.