Right now, investors around the world have many reasons to own gold [SPDR Gold Trust (GLD), ETFS Physical Swiss Gold Shares (SGOL)]. While huge budget deficits, building debt pressures and rampant money printing are often quoted in the press, what do these things really mean? How can we be sure these things are actually problems? Is it all hyperbole by investors talking their book?
As someone that personally owns gold, I can appreciate those with a healthy dose of skepticism. After all, the day I am without doubt is the day I should probably sell my gold. To appease my skepticism, I spend a lot of time digging through data trying to prove my thesis wrong. To be frank, I really don't want my gold holdings to perform well in the same way I really want a payout from my house insurance. Nevertheless, I own both and hope neither are needed.
Reality is unfortunate. Each time I try to prove myself wrong, I uncover the frightening truth. My latest attempt to paint a glowing picture of the world turned up these 5 scary charts that left me hugging my Kruggerands.
Let me explain ...
Chart 1: 36% of every dollar spent by the U.S. government must be borrowed. Imagine the market for U.S. Treasuries dried up ... this essentially means that the U.S. government would need to cut spending by 36% immediately. This is politically impossible. Any such possibility would probably be resolved with debt monetization. This is bullish for gold.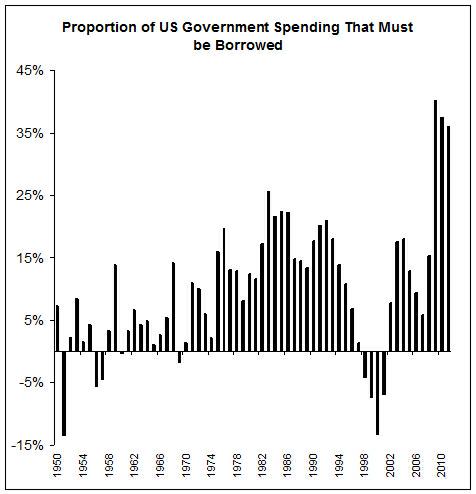 Chart 2: Real interest rates in the U.S. are persistently low-to-negative. This means that interest rates are being kept artificially low and bondholders aren't being compensated for inflation (aka financial repression). Therefore, the opportunity cost of not owning income producing assets is low and the rationale for using Treasuries as a safe haven is diminished. Worse yet, those owning long-duration government bonds could get destroyed if inflation and/or yields rose. This is bullish for gold.
Chart 3: Let's turn to Japan. Almost 45% of every Yen earned by the Japanese government is used to service debt. And this number is growing rapidly! This means that the financial flexibility of the Japanese government - a government that has relied heavily on fiscal stimulus during its "lost two decades" - is massively constrained. Japanese government spending is highly dependent on borrowed money. Ponzi financing like this eventually implodes, likely leading to a deflationary shock followed by relentless central bank intervention. While a Japanese reflation policy would clearly create domestic inflation, as the planet's third largest economy the unforeseen consequences of such an inflation could be something more global than the world has ever seen. This is bullish for gold.
Chart 4: As insinuated in the previous chart, Japan must borrow 48% of its government expenditures. Japan is heavily/increasingly reliant on the kindness of strangers. And no, domestic savings will no longer save the country. Data from the Japanese Ministry of Finance shows that the Japanese savings rate has declined from about 16% in 1991 to about 3% in 2004. The rate is reportedly even lower today. Japan is ripe for a debt crisis, and consequently a yen printing bonanza of epic proportions. This is bullish for gold.
Chart 5: Back to the U.S. of A where the growth in debt has far outpaced the growth in GDP since 1966. The United States of America is financing its economy with increasing amounts of debt (this doesn't even include private sector debt). This is a scheme even Charles Ponzi would be proud of. The paradox of this situation is that the more debt is increased, the more debt is required to fuel the same amount of real growth. Said differently, according to research by Rogoff and Reinhart, debt levels above 90% of GDP tend to reduce GDP growth by 1% annually. This would be much worse if interest rates rose from record lows. Like a flooded internal combustion engine, the American growth engine will eventually seize as more stimulus is provided. However, with massive outstanding debt and budgetary spending requirements, an economic halt will likely lead to a stupendous Fed response. This is bullish for gold.
I really hope I'm wrong. Perhaps governments can cut spending without triggering an economic collapse and/or riots in the streets. Perhaps real growth will rise around the world to offset current debt levels. Perhaps spending gaps won't need to be filled with printed money. But until someone can convince me otherwise, I will still own gold just as I still pay my house insurance premiums.
Disclosure: I am long SGOL. This is not advice. While Plan B Economics makes every effort to provide high quality information, the information is not guaranteed to be accurate and should not be relied on. Investing involves risk and you could lose all your money. Consult a professional advisor before making any investing decisions.