The following S&P 1000 companies have displayed recent insider selling activity (discretionary direct ownership sales) during the past 2 weeks and have also been underperforming SPY:
Commerce Bancshares (NASDAQ:CBSH): 183,941 Shares Sold
Commerce is a regional bank engaged in the general retail banking business. Recent selling activity was done by Jonathan Kemper (Vice Chairman) and David Kemper (Chairman and CEO).
Church & Dwight Co. (NYSE:CHD): 157,500 Shares Sold
Church and Dwight manufactures a range of household and personal care products, including: Arm & Hammer, Trojan, Nair, OxiClean, First Response, and Orajel. Recent selling activity was done by James Craigie (Chairman and CEO), Jacquelin Brova (EVP, HR), Bruce Fleming (Chief Marketing Officer, EVP), and Steven Cugine (EVP, Global New Products Innovation).
Allscripts Healthcare Solutions (NASDAQ:MDRX): 53,133 Shares Sold
Allscripts Healthcare Solutions provides clinical software solutions to physicians to help with electronic record keeping and improving practice management. Recent selling activity was done by Laurie McGraw (Chief Client Officer).
The following chart shows the performance of the CBSH, CHD and MDRX against the performance of SPY over the past 2 weeks. Note that these stocks have been underperforming the broader market during this time period.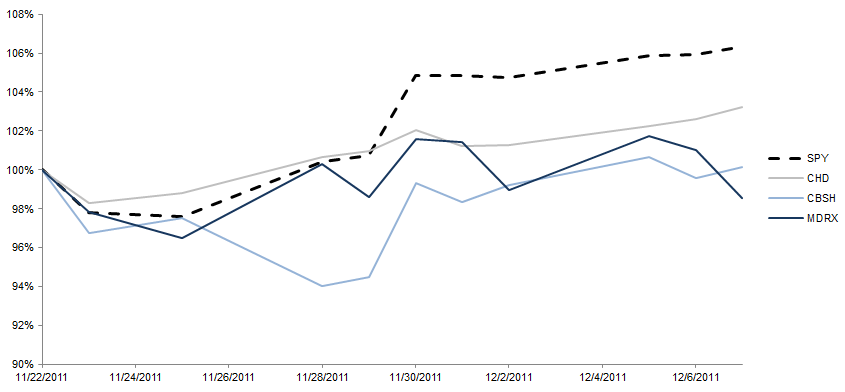 Click to enlarge
The following table highlights key financial ratios and price performance for each company.

Sources: Insider transactions data are taken directly from Form 4s. Financial data are taken from Yahoo Finance.
Disclosure: I have no positions in any stocks mentioned, and no plans to initiate any positions within the next 72 hours.
Disclaimer: Please consult your financial advisor before making investment decisions. Depending on your circumstances and risk tolerance, the strategy in this article may not be suitable for all investors.