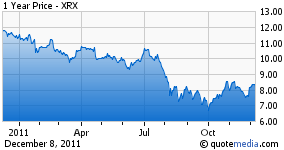 Takeover Analyst is quietly beating the drum for a takeover of Xerox (XRX). Hewlett Packard (HPQ) seems his favored destination.
Under Ursula Burns, Xerox has stopped the rot at the heart of the company, for whom copying was a niche circling the drain. She did it by buying ACS, a computer services company with a strong niche in healthcare. This has given XRX a steady PE of 11, which is better than HPQ or DELL (DELL).
But it's not terribly exciting.
There was a lot of interest in healthcare IT two years ago, with the launch of the $19 billion HITECH plan as part of the stimulus bill. The idea was that hospitals and clinics would be lining up to buy new computer hardware, software and services with that sweet, sweet stimulus cash, facing a hard deadline of late 2014 before they might be penalized for failure to move.
Things haven't worked out that way. Most of the money has gone to established healthcare vendors tied to hospital managements, or to SaaS "cloud" systems like athenaHealth (ATHN) , whose links to getting paid give it an edge. This is why Microsoft (MSFT) recently threw in its healthcare hand to GE (GE).
ACS has good contacts with healthcare managements but it may not have enough technological "oomph" behind it to get it where Burns wants it to go. Giving those customers a long-term strategy means building out cloud assets, and the question becomes whether XRX has the cash to do that, or whether a take-out then makes sense.
The business idea behind a buy-out would be that ACS' niche play goes under HPQ's EDS unit or Dell's Perot Systems. Both companies are rapidly building out their own clouds, into which healthcare could then grow. Takeover Analyst probably finds HPQ a better fit because its $56 billion market cap would make XRX a smaller meal, against Dell's $28 billion.
But there's another way this could go, with Xerox being a buyer rather than a seller.
Computer Sciences (CSC) has a government niche that looks as solid as ACS' in healthcare. The company's shares have crashed this year over concern that government spending will be cut. But CSC has been investing heavily in cloud technology, anticipating the government's own moves in that direction.
A Xerox purchase of CSC would give its health services customers a cloud strategy, while giving CSC a private industry strategy. Hospitals might find themselves more comfortable inside a company that serves government – thus has security – than working with a mainline company like Dell or HP.
It might also double-down on its own niche and make a play for athenaHealth, a high-flyer in the space it could afford to buy.
But if this kind of play were made, it would put a downdraft on XRX shares. It would not be accretive, but a longer-term strategic play. In other words, bearish for investors in the near-to-medium term.
Still, it's as likely Burns will move in that direction, toward being a bigger fish, than allow Xerox to be swallowed up.
Additional disclosure: I have about 200 shares of GE in my retirement account.