Zhejiang Province, Hangzhou and Jinhua: Establishment of an EV Industry Pilot Model
In the previous parts of my article on China Based, Nasdaq-listed Kandi Technologies (NASDAQ:KNDI):
I shared with you my macro-economic picture of the China EV market status and potential.
I gave you an insight of what has been achieved and is planned in relation to the build-out of the smart grid and the EV Charging Infrastructure.
I did an analysis of the State Grid Corporation of China's EV Business Model with its preference for "Battery Swapping" and proven you that this model, first tested in Hangzhou, is here to stay and to be replicated in other provinces.
And I gave you a sneak preview which tells you that small compact electric vehicles make sense, also in the eyes of the authorities who now finalize future EV policy and subsidies.
In the final Part 4, I will attempt to consolidate the important points of the first three parts and also give financial estimates of what this all should mean for KNDI.
Given the fact that the SGCC has lifted the Hangzhou EV Project to the status of "SGCC National EV Business Model Pilot" and that Hangzhou, Jinhua and Zheijiang are Kandi Technologies' home market, I now zoom in from the China map into Zhejiang Province.
3.1. Zhejiang Province:
The reason why the Yangtze River Delta and the Bohai Bay Rim were chosen by the Central Government to promote large-scale electric vehicle applications is the high level of their economic development and higher levels of consumption. The inter-city and inner-city EV Charging Networks, as well as the EV Service Companies, can reach economies of scale, enhancing consumers to buy electric vehicles. Meanwhile, EV Charging Network build-out coincides with the build-out of the Smart Grid, leading to higher efficiency at lower costs.
Zhejiang was recently applauded by the Chinese vice president for its entrepreneurial spirit.
From the table below you can see that Zhejiang ranks No. 2 on the list of China provinces for the item "exports per person."

1 If exclusive Beijing, Shanghai, Tianjin => 2nd rank behind Jiangsu Province.
2 If exclusive Beijing, Shanghai, Tianjin, Hong Kong and Macau => 5th rank.
3 Data originating from China MOFCOM, Wikipedia, CIA, and The Economist
In the first nine months of 2011, Zhejiang's GDP increased 9.5% compared to the same period last year.
Zhejiang's EV Smart Charging infrastructure:
Please look to this video presentation first. Even if the commentator speaks in Madarin, the video is self-explanatory.
In May 2011 SGCC's branch, the "Zhejiang Electric Power Company" (ZEPC) stated the following plan for infrastructure to be constructed in 2011:
a) 9 Centralized EV Charging Stations, including battery swap and charge facilities
b) 31 EV Battery Charge + Swap Stations
c) 116 EV Battery Swap Stations
d) 770 AC Charging Piles
The company would further focus on inter-provincial interconnection, and strive to demonstrate the SGCC EV Business Model. It also planned to increase research and training to improve the scientific and technological aspects of this model.
In accordance with the unified EV development plan of the SGCC, the ZEPC has a blueprint plan for a "Smart EV Charging Network" in which it forecasted that Zhejiang EV car ownership will reach 100,000 to 160,000 BEV units before 2015.
The ZEPC is constructing an EV Charging network, to be completed at the end of 2015:
a) 19 Centralized EV Charging Stations, including battery swap and charge facilities
b) 96 EV Battery Swap Charging Stations
c) 677 EV Battery Swap Stations
d) 61 EV Battery Swap Stations dedicated to commercial vehicles
e) 20200 AC Charging Piles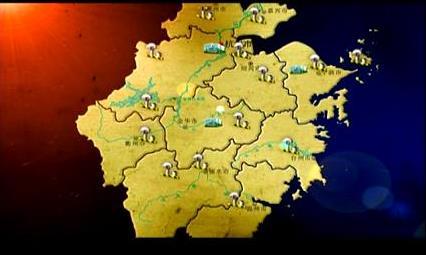 Zhejiang Province Central Charging Stations
At the same time, the ZEPC targets to realize the Yangtze River Delta inter-city connectivity, planning and constructing:
a) 28 inter provincial EV Swap and Charge Stations
b) 40 provincial inter-city EV Swap and Charge Stations
c) 93 EV Swap and Charge Stations that connect cities with counties
Once realized, the EV Charging Network will enable EV users to interconnect between Zhejiang, Shanghai, Jiangsu, Anhui, Fujian and Jiangxi as well as regional and inter-city.
Initial implementation at the province level will strive to connect cities first and then from cities to surrounding counties.
A recent article stated that 41 EV Charge and Swap Stations are now completed in Zheijiang constructed in 2010 and 2011, as well as 606 charging piles. However, it omits to provide info about the above level c) EV Battery Swap Stations.
In the meantime the SGCC's Shanghai Municipal Electric Power Company is building up its own EV Charging network applying the unified SGCC's business plan.
From information that I personally obtained from the SGCC in August, I was able to draw a map that shows which cities in Zheijiang that will be connected according their plan: Hangzhou, Jinhua and Ningbo are the main nodes with links to Yongkang, Huzhou, Jiaxing, Quzhou and Zhoushan.
Next there will be the inter-city networks to Shaoxing, Taizhou, Whenzou and the inter provincial connections to Shanghai, Jiangsu, Anhui, Fujian, Jiangxi and regional connections to other provinces.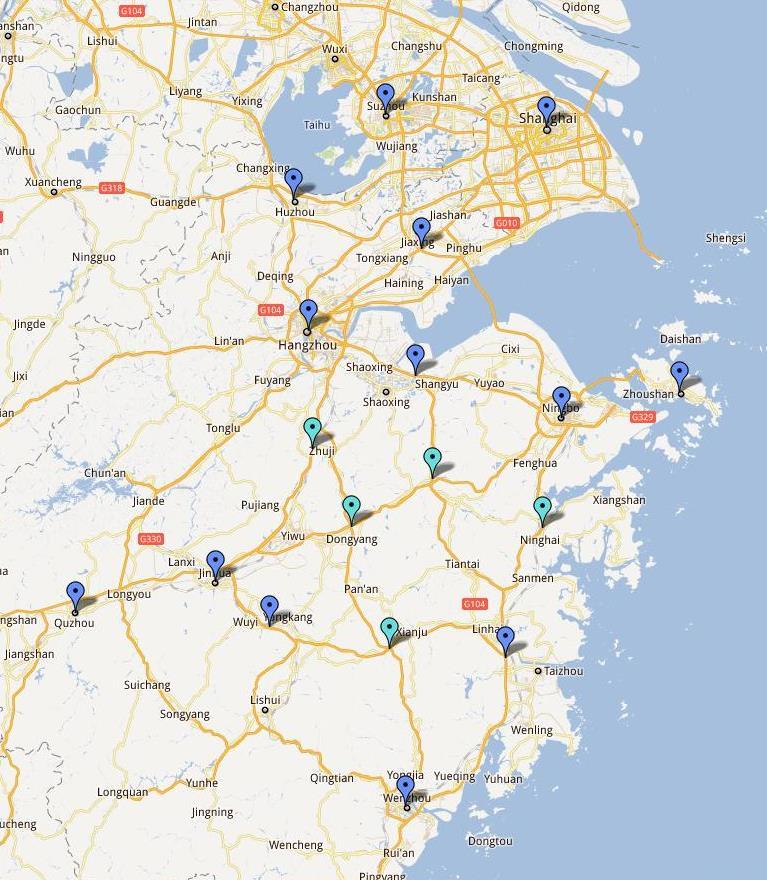 The highway connections from Hangzhou to Shanghai and Suzhou as well as Hangzhou to Jinhua also have battery charge and swap stations.
3.2. Hangzhou City
Hangzhou is the capital and largest city of Zhejiang province, about 110 miles south of Shanghai and has a population exceeding nine million. Its economy has rapidly expanded over the past two decades and its GDP in 2010 was U.S. $87.8 billion, ranked 8th in China's cities. The city is one of the advanced technology centers of China, with R&D and manufacturing for telecommunications and consumer electronics, and fast becoming a new energy vehicle automobile manufacturing hub for China.
3.2.1. Hangzhou EV History:
To people in the know of the China EV sector it probably didn't come as a surprise that the SGCC had chosen Hangzhou to be its EV Business Pilot Model City.
In December 1999, before the time that the Central Government took the initiative to heavily support the EV development program, the Zhejiang Provincial Government established and invested in a company formerly known as Zhejiang Electric Car Project Working Group.
In 2002 Wanxiang Group inherited the initiative and established the "Zhejiang Wanxiang Electric Vehicle Development Center," later on restructured in 2005 as the "Universal Electric Motor Co., Ltd." With the strong support of the provincial government and Hangzhou City, the company successfully applied with the Ministry of Science to obtaind funding within the "National 863 Program for development of high-tech industry" for four electric vehicle projects.
The first project initiated in 2006 was led by Mr. Hu Xiaoming, who later on established Kandi Technologies: "Assessment of the viability of Electric Vehicles in Hangzhou, test run and demonstration program".
The other two projects were:
Wangxian pure electric vehicle powertrain development
Electric vehicle demonstration runs of integrated information management system "
At the time of launch of these projects the Universal EV business approach ideas were:
The use of quick-change battery packs structure: convenient and efficient energy supplies.
Equipped with lithium-ion polymer batteries: high energy, long life, large capacity.
Equipped with self-developed powertrain system: taking into account the vehicle dynamics and economy.
The vehicle CAN bus electronic control system: digital communication and control technology.
Equipped with electric power steering system (EPS): manipulation of light, energy saving.
Vehicle driving comfort: low noise level, like being in a quiet home.
However, the Smart Grid construction was still in an embryonic stage and the market wasn't ready for these ideas yet.
Considering that Mr. Hu Xiaoming was heavily involved in the Wangxiang EV initiatives and ideas it's no wonder that he was well prepared to establish Kandi Technologies in 2006 with the purpose to implement the above ideas later when the time was ripe and the SGCC started its involvement.
The above ideas had also found fertile ground with the Zhejiang Provincial Government, Hangzhou Government, the Zheijiang Electric Power Grid Co. and one of its subsidiaries the "Hangzhou Great Science and Technology Development Co., Ltd.".
According the SGCC's website, the ZEPGC completed construction of its first charging station In August 2007.
"Currently, the charging station has accumulated some experience in the construction and operation management for electric vehicle charging systems. In Zhejiang we will gradually extend the grid to lay the initial foundation for EV charging."

"To solve the problems of short driving range of electric vehicles and the long charging times Zhejiang is promoting a bold business model innovation, and actively explores the sale of 'Naked Cars' without batteries. The model provides for 'Battery Lease' plus 'Battery Swap' mode, and the battery leasing company is responsible for battery charge, repair, maintenance, replacement, recycling, and monthly rent. In this regard, Zhejiang Electric Power Test & Research Institute Chief Engineer Chen Xinqi that the electric car battery leasing model is a public energy supplies system development that helps the electric vehicle industry to achieve low energy cost and high efficiency."

"ZEPGC's marketing department said that the business model will first be tested in this charging station before up scaling and expanding the model. Rational distribution of EV charging stations will allow solving the user's electric vehicle charging problem, promoting the electric vehicles, while a large number of batteries in a charging station allows for power storage and becomes an important tool for 'load shifting."
To my understanding this was the first time that the idea of Smart Grid integrated EV Charging Stations was expressed in China.
2009: Hangzhou was officially included in the "New Energy Vehicle Demonstration Pilot Cities."
Fast forward to June 2010 when the ZEPGC opened its first up-scaled EV Battery Swapping and Charging Station capable to serve 500 EV's:
"Next year, we'll have enough Swap/Charge EV Stations to meet the electric power needs of 20,000 cars. By 2012 Hangzhou will form a "trinity" (car manufacturers, battery suppliers, public service organizations) multi-level service platform and pure electric vehicle energy supply system that can serve >30,000 electric vehicles."
In 2010, Hangzhou Power Authority completed six charging stations and gradually formed an embryo network of standard charging stations, supplemented by standard rechargeable battery replacement points and charge piles.
In September 2010, the Chinese Government website quoted Nie Liang, General Manager of the Hangzhou Power Authority EV Charging Service Co., Ltd:
"Hangzhou targets private ownership of 20,000 NEV. To enable this, by the end of 2012 Hangzhou City EV Charging Network will be composed of:
4 centralized charging stations,
38 battery swap and charging stations,
145 battery swap distribution centers,
3,500 charging piles.
To conveniently serve EV owners there will be an EV charging network grid shaped in a way that the distance to cover for reaching an EV charging and battery swapping service point will be maximum 2.5 km in the city."
2011: Accelerating events
Late January 2011, the first 30 electrical taxis appeared in Hangzhou and the "Electric Motor Service Co., Ltd., Hangzhou" was established under the management of Mr. Nie Liang.
In March 2011, the Hangzhou NEV Exhibition Center was opened where Kandi Technologies for the first time introduced its KD5011XXYEV model with Li-ion batteries.
On April 11, 2011 one of the EV taxis spontaneously caught fire and the EV taxi service was temporarily suspended. After an extensive investigation the cause of the fire was said to be related to a problem with the battery pack and that for this Zotye EV taxi, there wasn't a clear separation between the battery compartment and the passenger compartment.
To prevent such a problem in the futur,e the Hangzhou Authorities enacted a set of corrective measures to safeguard the EV taxis and its passengers. One of these "corrective measures" was that battery and passenger compartments must be separated, isolated and protected with fire retardant insulation.
Please note that this event also proved and promoted the design value of the Kandi EV cars having the battery pack compartments clearly separated from the passenger compartment and allowing for an easier removal of the batteries in case of trouble.
In June 2011 the Zhejiang University Business Park with the support of Hangzhou Government launched an EV Car Hire and Leasing Company called EVnet as a further promotion of EV cars via car sharing, hiring and leasing.
In August 2011, during my stay in Hangzhou I personally got confirmation from the SGCC's staff that by the end of 2011 there would be 86 EV Battery Swap Stations installed and functional. Opposite to the EV Main Charging Stations the Battery Swap Stations are simple operations with low investment cost that only need an area of +/- 150 m2. Each Battery swap point uses two modular containers, enough to serve 250 to 500 cars, depending on their daily distance run.
For readers who would like to have a more in-depth understanding about the rationale of the Hangzhou EV Business model please check this document. Another good document that gives insight of the economic rationale is "Zhejiang Sample."
During my visit in Hangzhou I had the chance to get my first snapshots of the Kandi EV with Li-ion batteries being tested by the SGCC. According the people who organized the test drives the car has a maximum range of up to 300km. A range that exceeds all but the world's most high-end EVs.
| | |
| --- | --- |
| | |
| Kandi KD5011XXYEV Test Car | KD5011XXYEV Li-ion Battery Pack |
On August 14, 2011, a team was formed in Hangzhou by Development Research Center of the State Council, Society of Automotive Engineers of China (SAEC), and Zhejiang University to begin a research program on a subject proposed by Kandi Technologies: "the feasibility of building a 100 thousand pure EV renting network in Hangzhou and the related supporting policies required." This research is planned to be finished by the end of 2011, and is expected to help stimulate Kandi Technologies' development.
On September 13, 2011, the Central SGCC website reported the great progress made by the Hangzhou EV Business Pilot Model and had fully matured to the level that it can be expanded and repeated in other places.
On November 8, 2011, Kandi Technologies held a meeting with the Hangzhou Pure Electric Vehicle Service Co., Ltd. and the China Aviation Technology, Hangzhou Company to discuss the feasibility, and the further execution of the plan of bringing 20 thousand pure EVs in Hangzhou market.
Media reported a deal being finalized and the article in Reuters China Hexun website had more details about the deal:
The cars will be procured from Zheijiang Condit (= Kandi Technologies).
From December 20 onwards Hangzhou will deploy 20,000 EV via leasing, available to private customers at a rental of 800 Yuan per month (US$126).
Funds totaling 5.4 billion Yuan ($850 million USD) would be provided by:
The Hangzhou Government: 800 million Yuan (US$126 million), as subsidies to the purchase of the cars.
"Lithium in The Air Co., Ltd." (OTC:AVIC): 2.4 billion Yuan (US$380 million) for Li-ion battery leasing purpose.
SGCC: 2.2 billion Yuan (US$346 million) for infrastructure construction.
The battery leasing would be free of charge for 3 years and the car rental would be tax free.
If this published article is accurate, additional subsidies from the Central Government will also become available to this project because of the existing agreement between Hangzhou City and the Central Government that determined the EV subsidies would be composed of 863.6 million Yuan from the Local Government and 1.2 billion Yuan from the Central Government.
Interesting to note here is that there is already a great interest for EV car rental in Hangzhou and an EV leasing car shortage was claimed.
On November 17, it was reported that the Zhejiang's Provincial Electric Vehicle Services Company was established and that 4 EV Charging / Battery Swap Stations were completed on the Hangzhou to Shanghai highway connection.
Around the same time the media also reported acceleration in the investment into the Provincial Smart Grid and completion of the first Smart Grid Intelligent 110kV substation.
3.2.2. Hangzhou Government EV Policy, Support and Subsidies
Policy and Support
What needs to be said here is that Zhejiang Province and Hangzhou City were first to take an initiative toward vehicle electrification. As a picturesque historical and cultural city, with the touristic attraction of the Hangzhou West Lake and its green hilly fringes, Hangzhou City Government had strong aspirations and pressures of how to efficiently integrate environmental protection with urban development and traffic.
Since 2005, the Hangzhou Government got heavily involved in the "Assessment of the viability of Electric Vehicles in Hangzhou, test run and demonstration program."
Later in 2006, the Hangzhou Power Authority began the development and construction of the EV charging stations. Within its own enterprise it promoted usage of EV.
In 2009, Hangzhou was officially included in the new energy vehicle demonstration pilot cities.
In April 2010, by mandate of the Central Government the SGCC stepped up its role and the Hangzhou Municipal Government and Zhejiang Electric Power Company, SGCC's branch signed a cooperation agreement. As a result of the agreement the SGCC is responsible for the electric vehicle charging infrastructure investment, construction and operation, and jointly with the Hangzhou Government promotes the development of the electric vehicle industry.
The joint work between "Universal Electric Motor Co., Ltd." and the Hangzhou Government for the "Assessment of the viability of Electric Vehicles in Hangzhou, test run and demonstration program" in which Kandi's CEO initially participated resulted in guidelines for the current Hangzhou EV Pilot Business Model. For example Mr. Cai, Deputy Director of Hangzhou Power Authority, responsible for the planning of the charging stations figured out that:
"... if only 'Slow Charging' and 'Fast Charging' would be applied in a radius of 25km the City would need 30 huge power stations at massive cost and high usage of expensive city land. If 'Battery Swap' is applied as the main mode only four centralized charging stations are needed and the choice of sites as well as the site lay-out becomes a lot easier.

With this approach the city can also make full use of urban building complexes, associated supermarkets, sports stadiums, public parking and other public site resources."
Currently, the Hangzhou City Power Authority is still responsible for the "electric vehicle charging facilities key technologies research project" which is listed as a major technological innovation projects in Hangzhou.
In the current phase, with Hangzhou Municipal Government's support and encouragement, the Hangzhou Power Authority has significantly stepped up investment, accelerating the construction of the electric vehicle energy supply system, and targets the realization of a multi-level service platform operated by "Trinity Strategic Alliances" consisting of car manufacturers, battery suppliers, and public service agencies.
Currently, the Vice Mayor Shen Jian acts as a facilitator and coordinator between the Hangzhou Government and all public or the private parties involved in the Hangzhou EV industry development plan..
A few websites shed some light on the role of Zheijiang Province and Hangzhou City Authorities:
Hangzhou to accelerate the construction of EV charging stations and to promote development of electric vehicles.
Subsidies
There are three forms of EV subsidies available in Hangzhou:
The first subsidy type was introduced and provided for by the Central Government in 2009 as an incentive for public services within the program "Energy Conservation and NEV Demonstration and Extension Work." For purchase of Pure Electrical Cars (BEV) by public service authorities the subsidy amounts to 60,000 Yuan and is applicable for EV with lead-acid batteries or with lithium-ion batteries.
The "initial sales" of Kandi KD5010XXYEV with VRLA batteries to the Hangzhou Postal Service enjoyed subsidies under this program.
The second subsidy type provided for by the Central Government in 2010 are the "Subsidies for Private purchase of New Energy Cars in 5 pilot cities." For Kandi, the subsidies are only applicable for private purchase of the KD5011XXYEV with Lithium-ion batteries. To my understanding this second type of subsidy only became available to a pilot city after that specific city earmarked its own EV subsidy and worked out the details of application. In the case of Hangzhou, Beijing earmarked 1.2 billion Yuan for this program.
The third subsidy type falls under the Hangzhou Government Subsidy Program "Hangzhou Pilot City Program for Private Purchase of NEV" and was launched in August 2010 and later on revised in July 2011. For a good detailed insight of the Hangzhou Government subsidies for EV, please check the following document available from the City's website. As for subsidy type 2 it only applies for EV cars with Li-ion batteries. For this subsidy program Hangzhou earmarked 863.6 million Yuan (U.S. $136 million).
As mentioned above type 2 and 3 subsidies are provided in combination and further certain conditions apply for the type 2 subsidy. Interpreting the Central Government stipulations for type 2 subsidy (see Chapter: Support Conditions), the local Government needs to guarantee that:
There is sufficient EV charging/swapping infrastructure.
There will be a sufficient number of EV for operating such infrastructure.
It will provide local financial subsidies, tariff concessions, EV parking and other supportive dedicated policy measures.
It supports a distinctive NEV business model; at least including a "Battery Leasing Model."
Technical standards of battery charging stations and other infrastructure are unified and converge with national standards.
Efforts are undertaken for improvement of the EV sector and the establishment of a NEV battery scrap and recycling system.
It creates and enables an environment of fair competition in open markets, and that subsidies are not linked to specific vehicles brands, models, origin, dealers or other restrictions.
The program for private EV subsidized sales converges with the program for public-sector energy-saving and NEV demonstration and promotion, which enjoys the first subsidy type.
Hangzhou targets a private purchase of at least 20,000 NEV's before the end of 2012.
The above subsidies type 2 and 3 apply to the Kandi KD5011XXYEV with Li-ion batteries.
If the deal mentioned earlier in this article is confirmed, the following type of subsidies could apply:
1) Direct purchase subsidies: up to 60,000 Yuan (US$9427)/car from the Central Government and up to 60,000 Yuan per car from the Local Government.
2) Battery charging subsidy: 0.09 Yuan /km for a period of 3 years up to a maximum mileage of 60,000 km (whichever comes first)
3) Vehicle rental assistance (naked car without batteries):
a) For lease contracts before the end of 2011: 50% of the naked car's rental fee, up to max 1000(US$157) Yuan /month.
b) For lease contracts before the end of 2012: 30% of the naked car's rental fee, up to max 600(US$94) Yuan /month.
4) Battery lease subsidy: 0.50Yuan(US$.08) / km of standard rental fee subsidies given to the battery lease company, the maximum subsidy for a period of three years or a maximum mileage allowance of 60,000 km (whichever comes first).
5) EV fleet purchase: for purchase of 10 or more cars: 3,000 Yuan (US$471) /car.
6) Replacement of private individual ICE cars by a NEV car: 3,000 Yuan / car.
The maximum direct purchase subsidy from the Central Government is 60,000 Yuan per EV car depending on the production and service scale of the car manufacturer, as well as the specifications of the EV car tested. The Kandi KD5011XXYEV comes with a battery power pack of >20 kWh but doesn't classify as an "M1 class Pure Electric Vehicle" and a divergence to the subsidy program may apply because this car is classified as a Special Purpose "Box Type Van Car."
Besides the financial subsidies the Hangzhou Government will also provide other advantages such as: special parking areas, lower parking fees, lower road tax, lower highway road toll, free car and battery maintenance, no odd and even numbers traffic restrictions, etc..
From the above overview of subsidies it is easy to conclude that the Hangzhou Government wants the EV leasing model to be the most cost efficient and attractive. According Mr. Hexiu Lin, the Director for the Automotive Industry at the Hangzhou Municipal Economic Commission, the EV leasing model is promoted as it will enhance customers to try EV, to build confidence in the charging and swapping infrastructure and to understand the benefits of EV usage. The current EV leasing experience in Hangzhou has also lead to increased EV buying interest.
3.2.3. Hangzhou: current EV infrastructure and EV business model
EV Infrastructure
Hangzhou City EV infrastructure relies on complex network that puts the main priority on battery swapping supplemented by lower priority slow or fast in car battery charging. Theoretically the city has an organized grid with mazes of 5km x 5 km and 2.5 km x 2.5 km that are provided each with battery swap facilities in the maze crossings.
| | |
| --- | --- |
| | |
| Central Battery Charging Station | Battery Charging and battery Swapping Model |
Due to the high cost of land in the cities, restrictions on land utilization purpose, cost of EV charging station construction, it is much more efficient to make maximum usage of logistics and modular swapping and charging units as shown above. Furthermore, containerized battery swap stations can be added to supermarkets, sports stadiums, hospitals and other city complexes with minimum usage of space. Such "Battery Distribution Centers" only need an area of ​​about 150 square meters where two battery modular container boxes are installed. Each of these distribution centers can cover the needs of 250 to 500 EV cars, depending on car class and distance run per day.
| | |
| --- | --- |
| | |
| Central Battery Charging | Modular Battery Containers |
Additionally charging piles can be installed connected to office buildings, residential areas, houses or mall parking lots using Smart Grid meters and software to optimize the timing of battery charging.
Mr. Nie Liang, the General Manager of Hangzhou Electric Vehicle Services Co. Ltd., has claimed the advantages of the above modular design of mobile battery storage, swapping and battery charging. The whole infrastructure can also be implemented in less time and is flexible for adjustment in function of traffic density of EVs in certain city areas. The medium size Battery Swap and Charging smooth out the uniform distribution and logistics.
This EV model cost less, offers coverage of a wide area, maximizes efficient use of the smart grid, doesn't put a high stress on availability of city land resources, and can be realized in a shorter time.
This model of an EV Charging network is very flexible and enables the Central Charging Stations to be integrated into the Smart Grid as energy storage units with clipping and valley function.
This EV model only functions using standard batteries as basic modules of the energy supply chain.
For the consumer, battery swapping results in lower capital expenditure for purchase of the EV without batteries, no worries about battery life time and maintenance, lower leasing costs for standard batteries that also have a secondary function as energy storage units in the Smart Grid, faster service at EV stations and no traffic jams due to cars queuing at the EV station charging poles.
A service network is responsible for battery replacement and logistics.
Payment for charging of the batteries will be uniform over the whole province, using swipe cards such as "Recharge Cards" or "Citizen Swipe Cards" or payment by phone.
Depending on the source of information Hangzhou targets an EV infrastructure in 2012 that can support 30,000 to 40,000 EV for private and public EV cars.
Under point 3.2.1. I referred to an article on the Chinese Government website that described the targeted EV charging infrastructure to be completed in 2012. Lately, I haven't been able to obtain an update of the EV infrastructure status from a reliable website but from personal communications with people in the know in Hangzhou I learned that four Central Battery Charging Stations and 56 Battery Swap and Charge Stations have been completed while the Hangzhou Power Authority and the Zhejiang State Grid Corporation stay on track to complete and 86 Battery Swap and Charge Stations before Chinese New Year (23 Jan. 2012). Consequently, the scale of EV charging infrastructure works for this first batch of Battery Swap stations completed by the Chinese New Year will be large enough to support the needs of about 15,000 EV cars with battery swap concept such as the KD5011XXYEV.
EV Business Model:
Below please find a schematic outlay that represents my understanding of the Hangzhou EV Business model. It's a result of information and data that I obtained through articles and direct contacts during my latest stay in Hangzhou.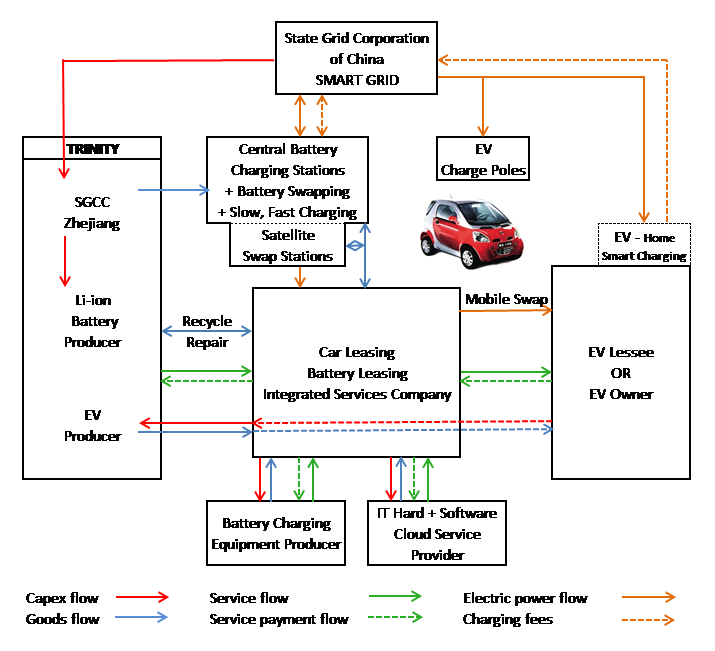 3.3. Jinhua City (KNDI has a confirmed subsidy for 3000 EV's through 2012)
Jinhua is a prefecture level city in Zhejiang Province that administratively governs nine counties. Great Jinhua (including Dongyang and Yiwu) has population of close to 1.8 million inhabitants. Jinhua prefecture's GDP was close to $26 billion USD in 2010 with exports valued at $13.2 billion USD.
In 2010 about one person on seven in Jinhua was employed by the automotive industry which had an industrial output value of >$4 billion. Detailed information about Jinhua's automotive industry is available here.
3.3.1. Jinhua EV History
Jinhua is quite famous for its production of electric bicycles, an activity which dates back to 1997 and 1999 when the first specialized companies set-up their business.
In 2008 Zotye Automobile Co. and Kandi Technologies first produced their respective EV cars, the Zotye 2008EV and the KD-08E. Also in 2008, the Jinhua Government first supported Kandi Technologies to elaborate a feasibility study about an investment project for 300,000 ultra-micro EV cars and its first trial production of EV's late 2008. In Oct. 2010, the Company reported the completion of the study in this article.
"... Annual output of 300,000 ultra-micro-electric car project: feasibility studies are completed, as well as the prototype development and other preparations. At the end of 2008 the car has been put into trial production."
In 2009, while Zotye was introducing its EV in Hangzhou, Kandi Technologies took the initiative in Jinhua and proposed its EV Business Model. The Jinhua Government and the Jinhua Power Authority strongly embraced it for demonstration and application, first in Jinhua:
To construct a comprehensive network of EV "battery stations" throughout each city for one-stop battery charging, replacement, recycling and rental.
To back-up the battery stations with a centralized industrial "Battery Charging Station," to optimize electrical usage and costs.
To sell affordable pure electrical cars without batteries, equipped with Kandi's patented technology for easy battery removal and replacement.
To make traditional batteries available on a lifetime, maintenance free rental basis, and replacing, maintaining, recycling these at the battery stations.
To obtain government support, not only in the form of subsidies for car ownership, but also for operational requirements such as permits for battery station construction and operation.
This EV Business Model fitted well to Jinhua City and would promote Kandi's EV's to "Compact EV City Cars" able to cover the needs of city dwellers. Reflecting the fact that most commuting in China is intra-city, with an average of distance covered below 60km, this model is also replicable in other mid-size cities.
In April 2010, Jinhua Municipal Government and the provincial branch of the SGCC signed an agreement to jointly carry out Jinhua electric vehicle charging facilities.
On July 16, 2010, Kandi announced that construction had begun of the first battery charging and swapping station in Jinhua. It was a major step toward implementation of Kandi's EV Business Model.
In September 2010 Kandi entered into its first formalized cooperation with the State Grid Corporation of China. Kandi Technologies, Jinhua Bada Group, a subsidiary of State Grid Power Corporation, and Tianneng Power International, Ltd., China's leading battery maker, established China's first "Electric Vehicle (EV) Battery Replacement Services Joint Venture Company."
Late November 2010 the first EV Charging Station was put into operation in Jinhua and Kandi had its first EV sales to the public.
Also in 2010 Jinhua Government approved a subsidy program for the sale of the first 3,000 Kandi EV's in Jinhua City, subject to the Provincial Governments' approval.
| | |
| --- | --- |
| | |
| First Kandi EV sales to the public | Governor Lu Zushan at Kandi booth during Ningbo Fair |
On April 14, 2011, the Vice Governor of Zhejiang Province, Guanglie Mao, toured Kandi's Jinhua facilities, along with other provincial and Jinhua city government officials.
On June 3, 2011, the Provincial Government Office approved Jinhua's pilot program for new urban energy vehicles and for Jinhua to become the "EV car production operation and demonstration base." In September 27, 2011 the pilot program was implemented.
And finally, on October 12, 2011 the City Government and Kandi Technologies held a grand ceremony to start-up the program and the regional TV station gave a lot of attention to Kandi Technologies and the applicable new subsidies.
Mid-2011, Jinhua and Kandi joined efforts to promote the Kandi EV cars in Ningbo, Zheijiang Province during the International Consumer Goods Fair, at Ningbo International Convention and Exhibition Center. Governor Lu Zushan visited the event and gave a lot of attention to the Kandi booth as you can see from the picture above right.
On November 28, 2011 the Jinhua Municipal Government and Zhejiang SGCC Power Company made a new agreement targeting the strengthening and acceleration of the Smart Grid construction in Jinhua, covering an investment budget of 16 billion Yuan.
As you can understand from the above the Jinhua EV history is very strongly coinciding with the Kandi Technologies EV story. It's obvious that specifically Kandi Technologies has received a lot of local government support, first because of its export oriented production of recreational vehicles and later on because of its unique EV Business Model that once implemented in Jinhua holds a lot of potential to be replicated in other Chinese cities.
3.3.1. Jinhua Government EV Policy, Support and Subsidies
Policy and support
In recent years, Jinhua City, headed by the Communist Party Secretary, has put a major focus on the development of the automotive industry. The local government issued a special policy to promote the development of the automobile industry, providing: Multi-level support for technological innovation projects, product development, brand building, financing, security, etc. More noticeable, the local government enhanced establishment of a number of provincial and municipal technology centers, one of these, an ATV testing center, being located within Kandi's Jinhua grounds.
In 2009, the "Jinhua EV Promotion Committee" with support of the Mayor Xu Jia and Deputy Mayor Jin Zhongliang first drafted an application to the Provincial Government for Jinhua to become an "EV car production operation and demonstration base." During the next 18 months a close cooperation between the Jinhua Electric Power Authority, the Zheijiang State Grid Corporation and local EV producers created the conditions for this application to be approved in June 2011.
For an insight of the level of commitment from the Jinhua Government to promote the development of a local EV Industry, have a look to this article, under section "integration to achieve a major breakthrough."
Jinhua Subsidies
The first subsidies applied to Kandi EV cars in Jinhua were local government subsidies as Jinhua was not part of the 13 cities originally picked for the "National Program for Promotion and Demonstration of New Energy Vehicles." Jinhua provided a subsidy of 10,000 Yuan (UD$1571) per Kandi EV sold to public service companies such as the Postal Service.
Within its pilot program "EV Production, Operation and Demonstration Base" approved by the Zhejiang Provincial Government, Jinhua City recently activated a subsidy program that is very beneficial to Kandi Technologies.
The subsidy program targets a.o. sales of at least 3000 KD5010XXYEV to private Jinhua based customers who purchase this EV before the end of 2012.
The Kandi pure EV KD5010XXYEV is priced at 43,000 Yuan ($6,750) and the following subsidies are made available:
32,000 RMB (US$5,024) to the buyers for each of the first 500 Kandi pure EV,
20,000 RMB (US$3,140) to the buyers for each of the next 1,000 Kandi pure EV,
16,000 RMB (US$2,512) to the buyers for each of the following 1,500 of Kandi pure EV.
To gradually start-up the Jinhua EV charging and battery swap stations the Jinhua Government strives to have 300 subsidized Kandi EV's on the road before the end of 2011.
Full details about this subsidy program are available from the Jinhua Government website.
3.3.3. Jinhua EV Charging Infrastructure
Jinhua City basically has the same concept of EV Charging Infrastructure as used in Hangzhou.
Currently there are 2 Central EV Battery Charging Stations including battery swapping facilities and five additional satellite Battery Swapping Stations as shown in the schematic drawing below.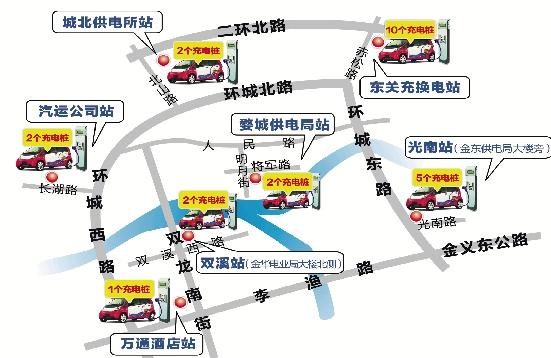 Several Battery Swapping Stations have recently been put into operation.
Further "Battery Swapping Vans" can operate all over Jinhua and there are 90 charge poles available.
Also the highway between Hangzhou and Jinhua has operational battery swap and charge stations.
Before the end of this year, the Jinhua Power Authority plans to complete the establishment of a 2.5 × 2.5 km inner city grid layout, with eight simple battery swap stations, boosting the large scale implementation of the Jinhua EV program.
By the end of 2012, Jinhua will have 2 Central Battery Charging stations, 14 medium-sized EV charging stations, 25 quick-change battery stations, and 110 EV charging poles, serving an area of 300 square kilometers in Jinhua City and surrounding counties. In less dense populated areas the EV Charging Infrastructure network will use a grid layout with 5 × 5 km intersections.
The existing and future infrastructure is fully integrated with the Smart Grid. Below there is a series of pictures that give a better insight:
Jinhua EV Business Model
Below please find a schematic outlay that represents my understanding of the Jinhua EV Business Model. Currently the model is slightly different from the one in Hangzhou as the "Jinhua Three Parties New Energy Vehicles Service Co., Ltd." doesn't do any car leasing.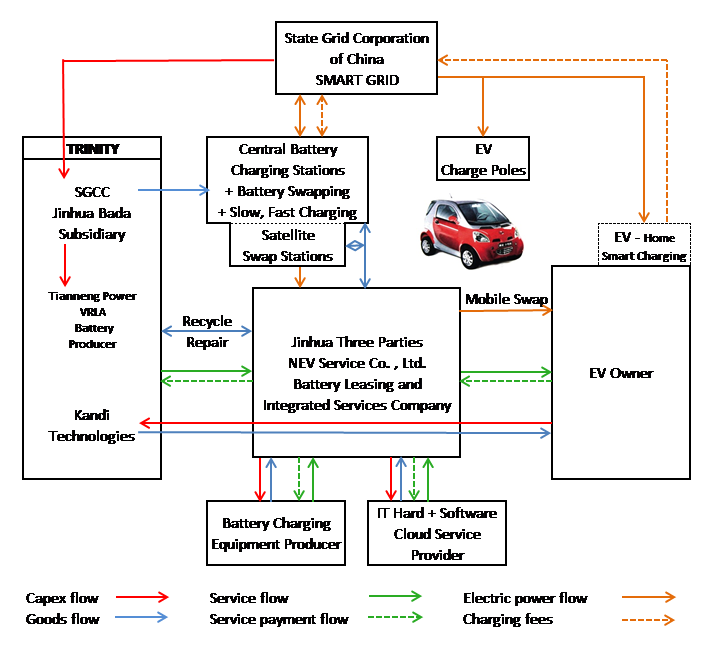 In Conclusion of Part 3
As you can see from this and the prior two parts of this article, KNDI is heavily involved as a key and lead participant along with various levels of National, State and Local Governments as well as several State Owned Enterprises in the early roll-out of EV's in China. Based on culture, it is best that KNDI respect "proper order" in China, allowing its senior participants to take the lead in timing of formal disclosure of the monumental events I have so far described. For this reason, the company has been relatively quiet in initiating release of much of the information I have included to date.
In turn, as you can see, for the elaboration of this article I had to rely on continuous follow-up and study of events reported by the Chinese media and maintenance of personal contacts within the country. Intelligent investors can understand that major events and achievements will soon be breaking news for the company and its international shareholders, confirming Kandi Technologies' "Disruptive Technology" leap I speak of in the title of this article.
Last, this part three of the article proves that Kandi Technologies is better positioned than the major car manufacturers such as GM (NYSE:GM), Ford (NYSE:F), Renault (OTC:RNSDF), BYD (OTCPK:BYDDF), Tesla (NASDAQ:TSLA), Toyota (NYSE:TM), Honda (NYSE:HMC), Volkswagen (OTCPK:VLKAY), Geely (OTCPK:GELYF), BMW (BAMXY.PK), and Nissan Motor Co. (OTCPK:NSANF).
Is there any of those companies offering an EV model with swappable batteries "SGCC Mode" that fits to the Hangzhou or Jinhua EV business model which are considered as the pilot EV Business Models in China?
Disclosure: I am long KNDI.