By Joseph Hogue, CFA
The Financial Industry Regulatory Authority (FINRA) recently issued an Investor Alert, warning of the dangers of too much company stock in retirement portfolios. The agency referenced a study (pdf) by the Employee Benefits Research Institute that found almost 15 percent of respondents have more than half of their 401(k) invested in the stock of the company where they work. Worse, 7 percent of respondents had more than 80 percent in their employer's stock.
The Financial Industry Regulatory Authority is the largest independent regulator for all securities firms doing business in the United States. FINRA's mission is to protect America's investors by making sure the securities industry operates fairly and honestly. All told, FINRA oversees nearly 4,490 brokerage firms, about 163,640 branch offices and approximately 635,405 registered securities representatives.
If you are one of these with a large portion of your retirement account in company stock, or fail to see the danger, consider the fate of Enron employees. Almost 60 percent of employees' 401(k) assets were invested in Enron stock when it fell 98.8 percent during 2001. These people not only lost their jobs, but many lost half or more of their retirement nest egg.
The company where you work may be financially solid and may be around long after you've since retired, but the last few years have shown that no company is immune to a credit crisis and slumping economic growth. Even a defensive stock like Procter & Gamble (PG) fell 38.6% during the crisis and is still 12.7% below its high set in 2007. The problem is a serious lack of diversification between your human and financial capital.
Human vs. Financial Capital
Your human capital is the amount of future wages and benefits you will collect due to your education, skills and experience. It depends on the number of years you have until retirement, your level of education, and the industry in which you work. Think of human capital as the investment you have built up through education. Your financial capital is the amount of savings you have in your respective accounts; savings, checking, investment, and retirement.
Your human and financial capital have a very interesting dynamic throughout your life. As you finish school and start working, you have almost no financial capital but hopefully a great deal of human capital. As you progress through work and life, your human capital will decrease but you begin to build financial capital. With good planning, you should have enough financial capital saved up before you begin retirement. The problem with investing your financial capital in company stock is that it is putting all your investment capital (human and financial) into one undiversified pot. If you are unlucky enough to be one of those losing their job in a recession, you may lose a significant chunk of your retirement investment as well as having your future investment potential (human capital) decreased significantly.
Investing in company stock may seem the rational thing to do when your company provides incentives like matching or discounts, but these incentives often come with restrictions. Your company may place restrictions on the ability to buy or sell the stock, or require that you hold it until a certain age or date. Lockdowns or blackouts, those periods where employees are restricted from selling stock, occur frequently as well. Shareholding employees at Enron saw their investment plummet by 35 percent over a two-week blackout period and could do nothing about it.
Best Practices
FINRA suggests holding no more than 10 to 20 percent of your total investment in company stock. This includes all accounts and investments, including mutual funds and indexes. If you work for a large multinational company, there is a good chance that you have a significant investment in company stock within some of the mutual funds you hold.
Additionally, make sure you know the restrictions placed on company ownership and relevant blackout dates before you agree to purchase company shares. The most common restrictions on selling shares are around the company's quarterly or annual earnings releases. These dates can also be extremely volatile times for a company's stock.
The report also suggests investing in your employer's shares just as if it were any other company. Read analyst reports and other third-party research on the company. Understand the relevant valuation metrics and risks facing the company. Don't forget, a good company might not necessarily be a good stock. Companies with a long running and stable earnings history may have their stock price discounted to reflect that safety. If the company were to hit a sudden speed bump, investors may be taken by surprise and punish the shares accordingly.
Using the Business Cycle to Pick Diversifying Investments
One of the best ways to diversify your human and financial capital is investing in the stocks of industries somewhat counter-cyclical to the one in which you work. Investors often use the business cycle to determine which stocks may benefit from coming economic developments but the strategy can also be used for diversification. More information about how the economic cycle can determine company profits can be found in a previous article. From the graph below, we see that the energy and precious metals industries do relatively well at the top of the economic cycle. This is when inflationary expectations are high, so it stands to reason that those dealing in commodities would be doing well. Those workers within these industries would want to invest primarily in the industries that do well during the bottom of the economic cycle, i.e. consumer cyclicals and transportation.
(Click chart to expand)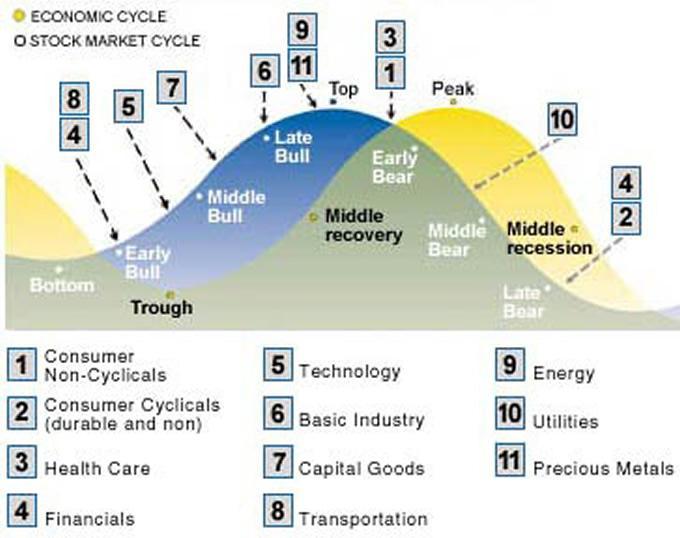 Click to enlarge
Investing this way can be done by selecting individual companies or through sector exchange traded funds. The employee above, working in the energy or metals industry, might want to look at the Consumer Discretionary Select SPDR (XLY) or the iShares Dow Jones Transportation Average (IYT). Conversely, someone working within consumer cyclicals or transportation may look to the Energy Select Sector SPDR (XLE) or the SPDR Gold Shares (GLD).
The Consumer Discretionary Select SPDR tracks a variety of sectors within consumer goods including: media, retail, hotels, restaurants, apparel, leisure equipment, and consumer services. Some of the largest holdings include McDonald's (MCD), Amazon (AMZN), and Disney (DIS). The shares trade at an average of 15.4 times trailing earnings and pay a dividend yield of 1.6%. The fund has outperformed the S&P500 (NYSEARCA:SPY) over the last year with an increase of 5.2% versus an appreciation of 2.8% in the broader market.
The iShares Dow Jones Transportation Average seeks returns that correspond generally to the price and dividend yield of the companies in the Dow Jones Transportation Index. These include companies in the railroad sector like Union Pacific (UNP) and Norfolk Southern (NSC) and companies in the delivery sector like FedEx Corporation (FDX) and United Parcel Service (UPS). The fund pays a dividend yield of 1.5% and has an average price-to-earnings ratio of 16.9 times trailing earnings. The shares have underperformed the S&P500 over the past year with a loss of 1.8% but have outperformed the larger index by an annualized 9 percent since the multi-year lows in March of 2009.
The Energy Select Sector SPDR invests in companies within energy-related fields such as oil & gas, energy equipment & services, and other consumable fuels. Top holdings within the fund include Exxon Mobil (XOM), Chevron (CVX), and Schlumberger (SLB). Holdings within the fund have an average p/e ratio of 11.0 times trailing earnings. The shares have recently rebounded to a gain of 7.9% over the past year on a stronger outlook for oil and other energy prices.
The SPDR Gold Shares Fund seeks to follow the price of gold through an actual physical holding of gold bullion by the fund. Investment in the fund is often used as protection against inflation as well as general price appreciation. The shares have appreciated by 20.3% over the past years as the price of gold benefits from global economic uncertainty.
However you diversify your portfolio, never invest more than 20% in any one stock or bond and most portfolios should have less than 60% in any one asset class. Do your homework to better understand the relationship between asset classes, sectors, and the companies within sectors. While more isn't necessarily better, a mix of investments in at least 10 companies or funds will mean that no one company has the potential of wiping out your savings.
Disclosure: I have no positions in any stocks mentioned, and no plans to initiate any positions within the next 72 hours.