The first thing to understand about Amazon.com (NASDAQ:AMZN) is that Amazon is no longer only about books or media. Indeed, Amazon today is mostly not about books or media.
Amazon.com has turned into an electronics and general merchandise online retailer. As such, it should be compared to other online retailers that do mostly electronics and general merchandise.

This Amazon.com transformation has been part of the reason the company has had an implosion in margins. Selling expensive electronics is a more competitive field; customers expect free shipping, and the products are usually more expensive to ship. Amazon.com states this impact in its own 10-Q:
We expect our net cost of shipping to continue to increase to the extent our customers accept and use our shipping offers at an increasing rate; to the extent our product mix shifts to the electronics and other general merchandise category; to the extent we reduce shipping rates; to the extent we use more expensive shipping methods; and to the extent we offer additional services. We seek to mitigate costs of shipping over time in part through achieving higher sales volumes, negotiating better terms with our suppliers, and achieving better operating efficiencies. We believe that offering low prices to our customers is fundamental to our future success, and one way we offer lower prices is through shipping offers. [Emphasis added.]
So, once we start seeing Amazon.com as an online electronics retailer, it turns out that there are other online electronics retailers out there. And they aren't as small or unrecognizable as to be meaningless, either. Thus, we can compare Amazon.com to them.
I selected two of those retailers: PC Connection (NASDAQ:PCCC) and Systemax (NYSE:SYX). PC Connection runs the PC Connection webstore, and Systemax runs a few well-known websites, like CompUSA, TigerDirect.com and CircuitCity.com. So, although not as ubiquitous overall as Amazon.com, in electronics these are pretty recognizable names.
In terms of valuation, this is how these companies stack: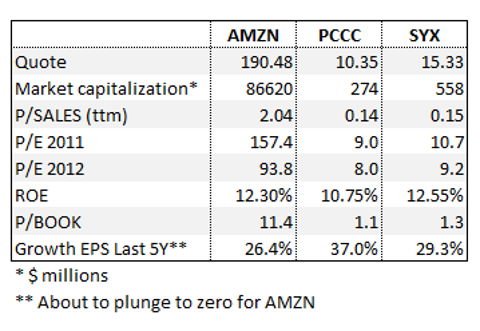 One should also take into account that AMZN's TTM ROE and 5-year EPS growth rates are about to take a plunge as soon as 2011 ends, given the guidance and estimates for Q4 2011. Also, PCCC's earnings estimates have been going up, and SYX's have been cut only slightly, whereas AMZN's have taken plunges off the deep end, with earnings for 2011 expected to fall more than 50% from 2010, and estimates for 2012 having been cut 37% in just the last 90 days.
The picture that emerges from this quick comparison is that not only of Amazon.com's extreme overvaluation when compared to companies acting in generally the same market, but also that its earnings performance has actually been weaker when compared over a long (5-year) period.
Is there some metric on which Amazon.com beats these two companies? Yes: revenue growth. Amazon's low margins have permitted it to grow faster.
This kind of comparison should give anyone thinking of investing in Amazon.com serious food for thought. You can get competitors for valuations that are basically one-tenth or less per each dollar of sales or earnings, and those competitors have a better recent track record, as well as a better estimated track record (bearing in mind that Amazon.com's growth from 2011 to 2012 is mostly just a function of its earnings estimates for 2012 not having been cut enough yet).
For someone who wants exposure to online electronics retailers, there are better options out there than Amazon.com. Consider buying PC Connection and Systemax while shorting Amazon.com.
Disclosure: I am long SYX. I am also short AMZN, and will consider buying PCCC over the next 72 hours.