Yesterday Morgan Stanley (NYSE:MS) introduced a brand new dance step, the Electric Crawfish, when it got in front of the thundering herd, downgraded shares of Tesla Motors (NASDAQ:TSLA) from overweight to underweight and slashed its price target from $70 to $44.
The principal reason reported in a Silicon Alley Insider report on the downgrade included "a breathtaking level of innovation for the internal combustion engine that is ready or near-ready for market." In the understatement of the year, SAI noted "the whole industry just isn't ramping as quickly as expected."
With all due respect, a phrase that's inevitably followed by a very disrespectful thought, the industry isn't ramping at all – it's already gone flat line. The following graph of monthly HEV and Plug-in Vehicle sales as a percentage of total US new car sales was derived from data published by Hybridcars.com and is worth at least a thousand words.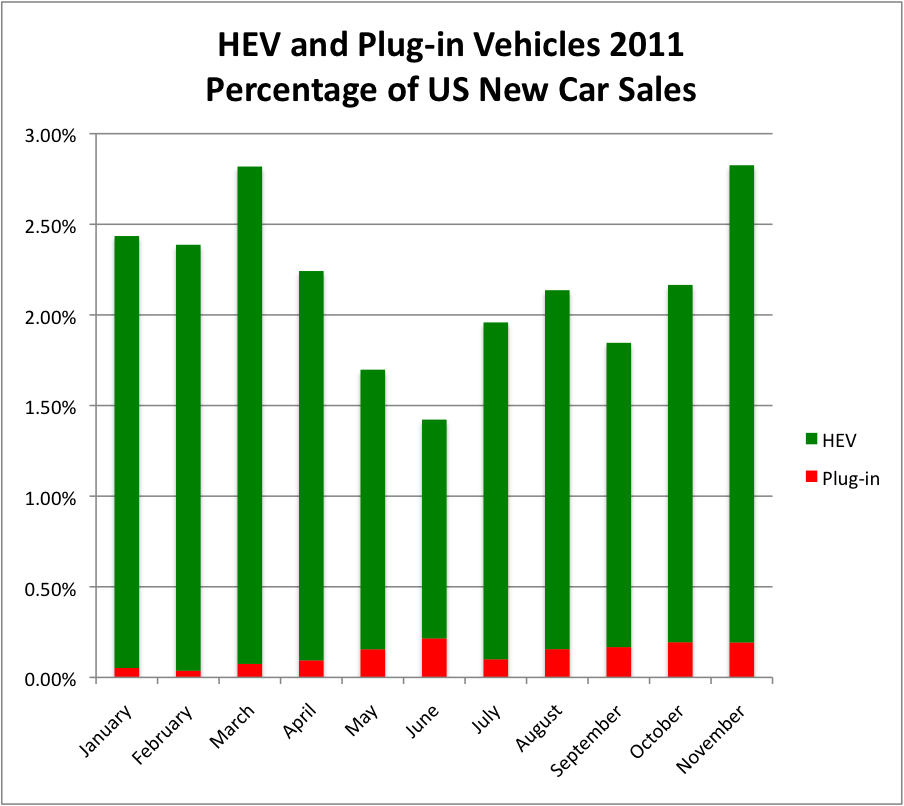 At yesterday's closing price of $30.89 per share, Tesla's market capitalization of $3.2 billion is an eye-watering 11 times book value and 16 times trailing twelve-month sales. That valuation is simply not sustainable.
In a recent 450 page black book report titled, Global Autos: Don't Believe the Hype" Bernstein Research and Ricardo plc reached the surprising conclusion that:
Hybrids will become viable on a large scale by 2020. We believe that near-term mass adoption of electric vehicles looks unlikely given the tough comparison with (ever improving) combustion engine vehicles. Premium-priced plug-in hybrids may become viable earlier, but by definition will be niche.
When I consider the market ramp for electric vehicles over the last 11 months and compare it with recent news that Exide Technologies (XIDE) has produced and shipped a cumulative total of 2.5 million batteries for cars equipped with stop-start systems, I'm more convinced than ever that the market prices for Exide and Tesla will cross each other at some point in the next twelve months.
Disclosure: I have no positions in any stocks mentioned, and no plans to initiate any positions within the next 72 hours.