Which is better for investing in Emerging Markets equities – an active or passive vehicle? Given the ongoing contentious debate over active versus passive, there will no doubt be a variety of opinions about this. The argument for a passive approach may make more sense for investors who understand the importance of emerging markets but do not have a particular sense of where to capture pockets of relative outperformance. For those investors with long-term growth goals, Emerging Markets ETFs may be a sensible way to add this important asset class to their portfolio. Emerging markets equities can be very volatile in short-term environments but offer potential for significant upside over time.
Jem5 Investor: Kate Murano
Each of our articles identifies the five mutual funds or ETFs which are the best match for specific types of investors, given their goals, risk profile, and other preferences. Kate is this week's Jem5 investor. She is 24 years old, single, college-educated, and employed at an early-stage technology company in Silicon Valley. Having been in the working world just a short time, Kate is nonetheless a planner by nature and believes it is time to start building wealth for the future. Her goal is simply to begin the wealth creation process so that she will be in a strong position as specific life goals of family, retirement, etc. come into clearer focus.
Kate is not an investment pro but she is savvy and well-read. She knows, from keeping up with world events, that developing countries in Asia, Latin America, and elsewhere are the fastest-growing economies and will probably continue to grow in importance. She does not have any specific strategies about these countries but thinks that obtaining exposure would be a smart move for her portfolio. She read an article recently about ETFs and was impressed at this seemingly efficient way to build up portfolio exposures in a variety of asset classes.
Kate sets up a Jemstep account and inputs her investment goals, as well as her preferences for return/risk characteristics, sensitivity to fees, tax considerations, income needs, and other important factors. Jemstep sifts through the universe of Emerging Markets ETFs, taking into account over 70 attributes of every fund, to find the ETFs that are the best match for Kate. Here is a snapshot of what Jemstep recommends:
Top 5 Emerging Markets ETFs for Kate Murano
1. Vanguard MSCI Emerging Market (NYSEARCA:VWO)
2. Wisdom Tree Emerging Market Equity (NYSEARCA:DEM)
3. Wisdom Tree Em. Mkt. Small Cap Div (NYSEARCA:DGS)
4. iShares MSCI Emerg. Mkts. (NYSEARCA:EEM)
5. BLDRS Em. Mkts ADRs (NASDAQ:ADRE)
click to enlarge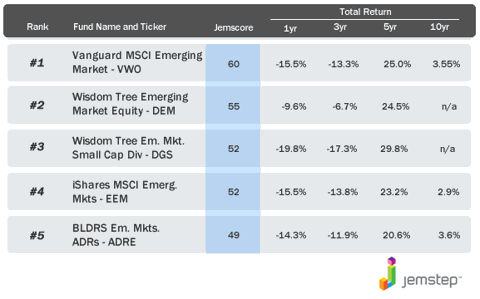 The Jemstep Recommendation:
The Jemscore represents how well a fund fits your specific investment goal and time horizon for achieving it, preferences, and other profile information. The higher the Jemscore out of a high of 100 the better the fit. In general, the emerging markets funds have been weak performers in the last twelve months or so, as they have been caught in the prevailing volatility arising from global economic and geopolitical crises during this period. Since Kate is interested in long-term wealth building, she is less concerned about the negative short-term numbers.
Other Metrics
Kate knows that returns are not the only metric to take into account. With ETFs, and particularly with regard to less mainstream asset classes, there are several things an investor wants to take into account. One statistic that shows up in the Jemstep evaluation that is of interest to Kate is the difference in market capitalization between the top fund VWO and the #5 fund ADRE. The Vanguard ETF has a $44 billion market cap as compared to just $434 million for the BLDRS fund. Not surprisingly, the bid-ask spread is also much tighter on VWO. This is important for efficient execution of trades. VWO's other advantages include a highly competitive fee structure, broad market exposure (the MSCI index is perhaps the most broadly used emerging markets equities benchmark), and an inception that goes back more than five years. Kate decides to go with VWO.
Disclosure: I have no positions in any stocks mentioned, and no plans to initiate any positions within the next 72 hours.