The future seems to be in natural gas, not oil. Here is the ExxonMobil (NYSE:XOM) Outlook for Energy, a view to 2040. Not too many surprises, it's broadly in line with similar publications from the International Energy Agency (IEA). According to the Exxon report, global energy demand will be 30% higher than in 2010.
That's actually a surprisingly low figure, considering the fact that global GDP is supposed to rise much faster. Indeed, were it not for 'efficiency gains,' energy demand would rise much faster:
While global energy demand is expected to rise by about 30 percent from 2010 to 2040, demand growth would be approximately four times that amount without projected gains in efficiency. Efficiency is the key reason why energy demand will rise by only about 1 percent a year on average even as global GDP rises by nearly 3 percent a year. It also is the reason why OECD energy demand will remain relatively unchanged through 2040 even as its economic output nearly doubles. [Exxon]
The Oil Market
Can supply keep up? Well, it depends what kind of supply we're talking about. Oil might very well struggle, as existing oilfields decline by 6.7% per year, on average. According to a study in Energy Policy by Höök et. al. (pdf) argued:
It is well known that oil production from many oil fields worldwide is in decline and that more fields transition into decline each year.
Some are even more pessimistic than the IEA:
However, Andrew Gould, CEO of Schlumberger, stated that an accurate average decline rate is hard to estimate, but an overall figure of 8% is not an unreasonable assumption (Schlumberger, 2005). [Höök et. al. - pdf]
As least as disturbing is the following little graph:
(Click charts to expand)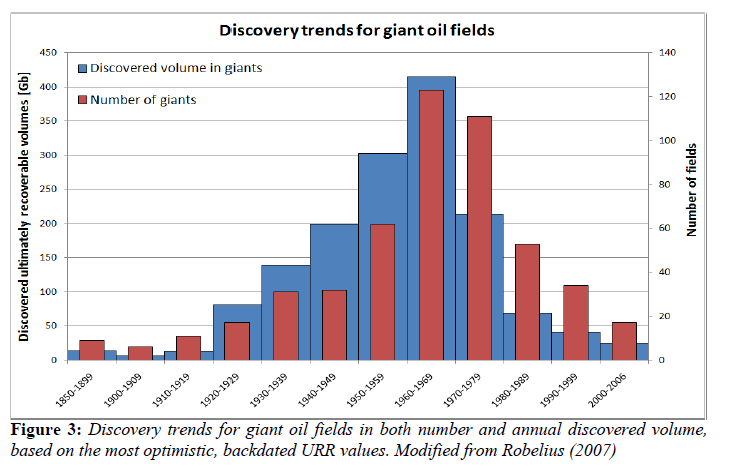 And even more worrying is the following:
As more giant fields go into decline in the future, the average decline rates for all giants will increase. This situation is shown in simple terms in Figure 7. We have no reason to doubt that the giant field discovery trend shown in Figure 3 will continue, since large fields are harder to miss than small fields. [Höök et. al.- pdf]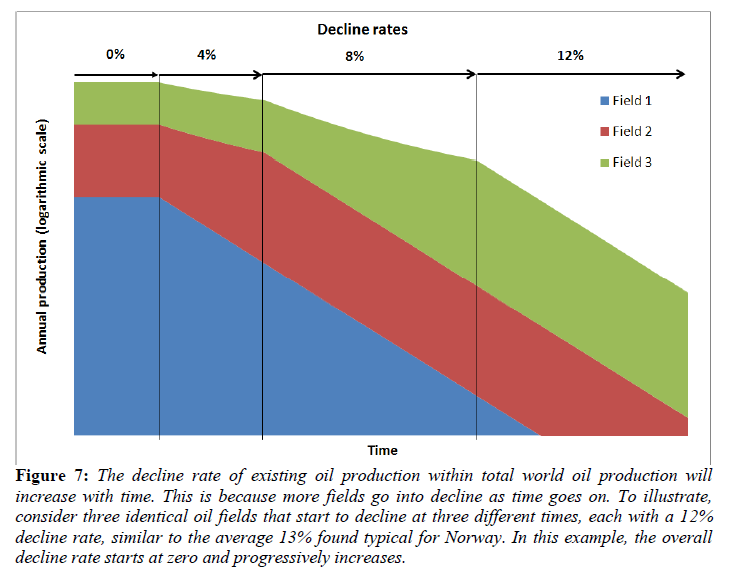 One might wonder whether the smaller fields might come to the rescue. However:
First, the world's giant oil fields are the dominating contributors to total world oil production. Second, it is found that the decline of smaller fields is equal to or greater than those of the giants (see for instance IEA, 2008; CERA, 2007). A detailed study of Norwegian fields showed that giants declined at an average of 13%, while the small fields, condensate, and NGL declined at 20% or more (Höök and Aleklett, 2008). [Höök et. al.-pdf]
The one saving grace might be that we have insufficient data about some of the super giant fields in the Middle East. However:
By 2030 one can expect 80% of total giant oilfield production to come from fields in decline, if one extrapolates the trend since 1985 (Fig. 8). The share could be even higher when important OPEC "super giants", such as Ghawar or Safaniyah, leave the plateau phase in the intervening years. [Höök et. al. - pdf]
And there are other warning sights:
Since a large number of important giants are subject to enhanced production methods, such as waterflooding, gas injection, fracturing or other measures, it is reasonable to expect relatively higher declines after those fields depart their plateau phase [Höök et. al.-pdf]
There is other stuff going on:
Iran's efforts to slow the steady decline of its oil fields, some of which have been producing for six decades, is being seriously hampered by international sanctions imposed because Tehran refuses to abandon its contentious nuclear program. "A lot is at stake," the Middle East Economic Digest, published in Dubai, reported this week. "Iran risks becoming a net oil importer if output rates continue to fall." [UPI]
And you might want to keep in mind that Iran is the second largest producer in OPEC after Saudi Arabia.
"The natural rate of decline in Iran's crude oil production is estimated at 8-11 percent a year," MEED reported. [UPI]
There are of course similar problems in other areas, like Mexico. Most important is what happens to the super fields in Saudi Arabia. They are not terribly forthcoming with information, which is why stuff like this:
oil production from the kingdom was 8.292 million barrels per day in March, down about 800,000 barrels a day from 9.125 million barrels per day in February. Most estimates, including the monthly report of OPEC—which relies on external databases—had seen a rising or stable production at about nine million barrels a day in March. [WSJ]
can cause quite a bit of a stir. Perhaps it's no wonder that the world oil supply has basically been stagnant since 2004, despite booming demand from emerging economies: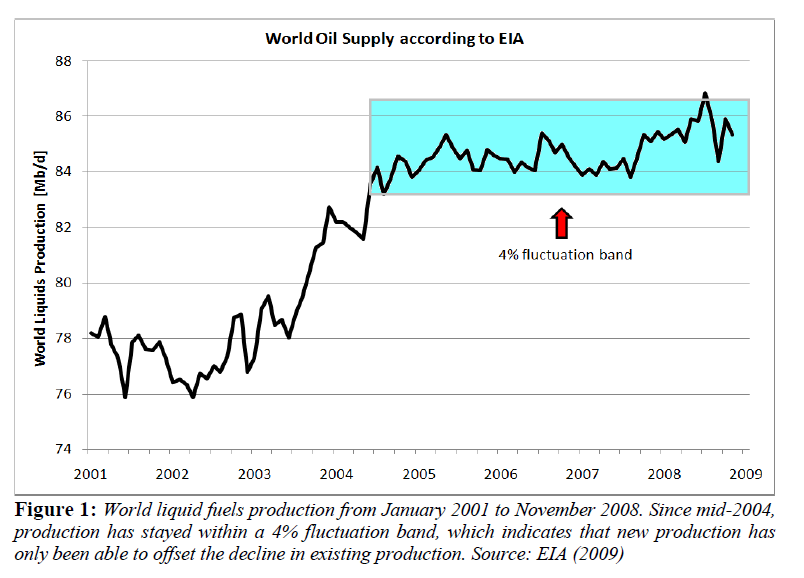 We won't repeat the whole peak-oil thesis here, it's sufficient to say that it's a good idea to look to other sources of energy.
Natural gas
The most important of these should be natural gas. Alternatives are not yet scalable enough, and probably not yet competitive enough either, and suffer from other curious problems (as explained here). Natural gas is seen as the bridge fuel, as it can be used both in transport as well as in (it's preferred use) electricity generation.
Natural gas has certain advantages (it burns much cleaner than oil and especially coal, and it leaves less greenhouse gases), and gas fueled electricity plants can be installed relatively quickly and with reasonable returns. The world is, slowly, turning to natural gas for electricity generation.
Since electricity generation doesn't benefit from much of the efficiency improvements (for instance in transport), demand for it is rising much faster than overall energy demand. While overall energy demand is expected to rise 30% by 2040, electricity demand will rise by 80%, according to ExxonMobil.
And since natural gas is likely to increase as a proportion of electricity generation (if only because whole cities are choking on pollution from coal generated electricity, which fine particles are a significant health hazard).
The mix of fuels used to produce electricity will change dramatically, however, as nations shift away from coal in favor of lower-carbon sources such as natural gas, which emit up to 60 percent less CO2 than coal when used for electricity generation. By 2040, 30 percent of the world's electricity will be produced using natural gas, while demand for coal will peak and experience its first long-term decline in modern history. [lngworldnews]
US policy
For the life of us, we can't understand why the US isn't embarking on a more ambitious energy policy to develop significant resources in unconventional gas. Yes, we are aware that there are some critics of fracking, the main method to release much of this unconventional gas. But most of what we've read suggest that the (rather distant) risks can't be sorted out by some regulation and institutionalization of best practices.
If one waits for the market to sort this out one can wait a long time. Gas prices in the US linger under $4 per Mcf half those in Europe, which are half those in Asia. And here is where the opportunities are, of course. The Asian market for LNG is expected to boom:
Demand: From 239 MTPA in 2011 to +/- 420 MTPA in 2020 [Morgan Stanley]
A more sensible energy policy for the US would be to have a two pronged strategy:
Develop natural gas for domestic transportation and electricity generation
Enable the exportation for export of liquified natural gas ((NYSEMKT:LNG))
The first means defying the coal lobby, about time, we're inclined to say. The second opens up huge opportunities. We know there are already a few project under way, although it's somewhat ironic that the only LNG plant in the US (in Alaska) has been closed this year, after having been in function for 30 years or so, exporting LNG to Japan just when Japan:
Japanese demand for liquefied natural gas is expected to rise by 20 million tonnes next year in the aftermath of the Fukushima nuclear disaster, a Japan Oil, Gas and Metals National Corp company official said on Thursday. [Reuters]
The Australians, who thought they had the Asian market more or less to themselves (well, with Qatar), have suddenly woken up to the possibility of US liquified gas exports:
AUSTRALIAN gas exporters had better watch out - there's a new kid on the block. [The Australian]
And indeed, the first plans are already materializing:
Cheniere Energy recently signed two long-term gas supply deals with offtakers, including with BG Group, as it presses ahead with plans to build the first LNG export terminal in the US. Last month, Cheniere said it has enough supply locked into long-term contracts to start construction of a proposed LNG export terminal in Sabine Pass, Louisiana, in 2012. [The Australian]
It's another matter whether they can pull it off, however, they are not without skeptics..
The Australians seem to have quite a bit to lose:
Investment totalling more than $140 billion has been earmarked for new Australian LNG terminals focused mainly on Asia since 2007, which could catapult Australia ahead of Qatar as the world's largest LNG exporter within a decade.

Tomnay told Deal Journal Australia: "We're of the view that North America will have 20 million tonnes of LNG capacity maybe as early as 2018. Consequently, that will remove potential market share for Australian LNG projects." [The Australian]
Tomnay is Noel Tomnay, the head of global gas at UK-based energy consultancy Wood Mackenzie. However, not everybody agrees with him:
Our supply and demand forecasts point to a market shortfall in the order of 75 MTPA by 2020. New projects are indeed required, and given the very long lead times to get a project up, in the order of 5-7 years, we would expect to see customers very active in marketing discussions in the coming year. Thus, approximately 75-85 MTPA of new capacity needs to be installed by 2020. Realistically, about 20 MTPA could come from the USA and Canada. Brownfield expansions in Australia, such as Gorgon and PNG LNG, could add 15 MTPA. That still leaves open room for new projects that would need to deliver 45- 55 MTPA. Looking at the "wish-list" of new projects, it is difficult to see the next suite of mega-projects. [Morgan Stanley]
Since prices in Asia are up to four times those in the US, one would expect the US to relish these prospects. However, it is still not possible without Congressional approval to export energy to non-NAFTA countries Mexico, Chile, Porto Rica, and Brazil). There could be good reasons for this. Energy dependence (or rather, the avoidance of it) is one.
But it would all make that much more sense if the US would actually embark on exploiting its domestic energy boom for domestic consumption. Now the market is just that for industry and electricity generation, neither of which grow anywhere near what gas supply could grow at, so prices remain low, acting as a disincentive to exploit resources.
And meanwhile, while the Americans dither and the Australians are expensive and liable to cost and time overruns, we've tried to flag a little company, InterOil (NYSE:IOC), which seems perfectly poised to take advantage of these opportunities, having recently concluded its third off-take deal.
Disclosure: I am long IOC.