The Elephant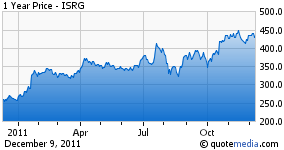 Intuitive Surgical Inc. (NASDAQ:ISRG) is a very interesting company. It is a huge 16.8 billion dollar company that hinges on blue-chip status yet has growth and momentum that even blossoming small-cap companies would be jealous of. Size for Intuitive Surgical, unlike for many of its competitors, does not seem to be an impeding factor on further company growth, which has created a unique niche for itself in the market that it has completely dominated and expanded on.
The Niche
Intuitive Surgical Inc. designs, manufactures, and markets surgical systems for various surgical procedures. The company has been known for its state of the art innovation; it's main product, the da Vinci robotic surgical system, translates the surgeon's natural hand movements on instrument controls at the console into corresponding micro-movements of instruments positioned inside the patient through small puncture incisions.
Intuitive Surgical has a tremendous competitive advantage over its few competitors, none of whom are posed to threaten Intuitive Surgical's stranglehold on surgical systems. This is because Intuitive Surgical has the most renowned and trusted name in the surgical systems sector and because of natural sector barriers: Due to the fact that any new competitor to the da Vinci system would require completely new training/re-training of staff often already familiarized with the da Vinci system, hospitals and care centers will not be willing to switch unless the competitor offered a truly significant advantage. Intuitive Surgical also has in place a system of replacements and renewals that continue to generate customer retention and satisfaction. In an environment that often determines whether a patient recovers and to what degree, familiarity and reliability of the machinery are a surgeon's main concern, and there are absolutely no alternatives to the da Vinci that are more familiar or more reliable. Intuitive Surgical also manufactures EndoWrist instruments, which allow for greater dexterity in handling surgical procedures as well as a wide array of surgical accessories, most of which complement the da Vinci system.
The Result
Intuitive Surgical Inc. has seem tremendous growth and profits. More attractively, it's financial performance, especially in the area of earnings, fulfills and surpasses many of the requirements of CAN SLIM stocks. Recently, in its third quarter, Intuitive Surgical delivered a stellar 30% overall revenue growth and 25% system sales growth that goes to show Intuitive Surgical's da Vinci system is facing increasing demand. Its 3rd quarter EPS results are up 43% from the EPS results of the same quarter of last year. Combined with Intuitive Surgical's average EPS growth of 32% for its last three quarters, it can be gleaned that even by Intuitive Surgical's history of consistently strong EPS results, its third quarter was extremely successful. Intuitive Surgical also has a incredulous 38% 3-Year EPS growth rate that reflects secure growth and its dominance of the surgical system market. Its 3Q beat analysts' estimates soundly by 10.5%, its estimate revisions are up for this quarter, and chances are Intuitive Surgical will continue to beat estimates handily in the near future.
Intuitive Surgical's other financials also exceed CAN SLIM requirements for successful stocks and paint a picture of profitable growth. Intuitive Surgical has had 4 consecutive years of annual EPS growth, and the EPS estimate change for this year compared to last year's EPS is up 25.23%, an estimate that is on track to being easily surpassed. Intuitive Surgical's 3-Year Sales Growth Rate is 28% and sales are blossoming, with a 30% increase in sales figures in Intuitive Surgical's 2011 3Q compared to its 2010 3Q. Intuitive Surgical is able to effectively translate these sales into profits, with an annual pre-tax margin of 40.5% and an annual ROE of 21.4%, both of which are on the high end of the medical systems/equipment sector. Intuitive Surgical is also debt-free.
The Verdict
Intuitive Surgical is undoubtedly the elephant in the room that is the surgical systems market and it is prospering as a result. It definitely meets and exceeds the CAN SLIM requirements for a successful stock, and has shown continued, consistent, and increasing growth in profitability and earnings. Considering that there are significant barriers to entry into its market and no major direct competitors, Intuitive Surgical is set to dominate its niche and continue down its charge of growth.
Disclosure: I have no positions in any stocks mentioned, but may initiate a long position in ISRG over the next 72 hours.