Does the EU summit really eliminate slower economic growth? Hardly.
Spain
The Spaniards still have an unemployment rate of more than 23 percent. The misconception with Spain's very high unemployment rate is the Debt/GDP ratios growing exponentially. Spain's private sector was actually to blame first for such lackluster growth and high unemployment. But why?
When the European Central Bank set interest rates at ultra lows, Spaniards decided to take advantage and borrow. For years, Spain actually had negative real interest rates because inflation was higher then the ECB set rate. Spanish consumers took advantage and borrowed at extreme levels and created their own real estate bubble, very similar to what happened here in the United States. Real estate values in Spain continue to decrease rapidly.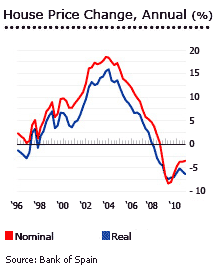 As a result of this, investors continue to demand higher yields on government debt due to not just austerity, but economic growth that is anemic at best. Who is to blame for all of the uncertainty? It's hard to blame just one source. Has anyone thought of blaming the ECB itself when setting rates at these ultra low rates?
The Trade
As economy of Spain continues to slow, today may be a great day to short it using put options or bull put spreads against the ishares EWP.
The EWP has traded up nicely to is key 50-DMA. I traded this using the April 2012 38 Put option at $6.85. For those who are more risk averse I would advise just selling an out-of-the-money put making a Bull put spread.
If the EWP decides to break out over the 50-DMA, then close out position immediately for avoidance of bigger losses.