There are stocks that can be identified as preparing to break out on the upside after a period of rest or accumulation. They form patterns, and one of these patterns is called an ascending triangle. The ascending triangle is a bullish formation that usually forms during an uptrend as a continuation pattern. Regardless of where they form, ascending triangles are bullish patterns that indicate accumulation. Here are three stocks looking like they are getting ready to break out, in which one can invest long-term or with options.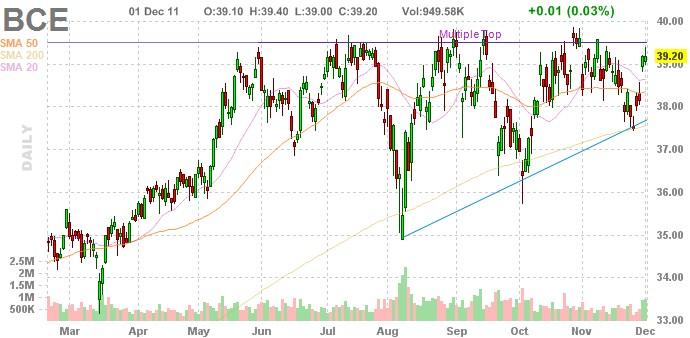 BCE Inc. (BCE), a communications company, provides wireline voice and wireless communications services, Internet access, data services, and video services to residential, business, and wholesale customers in Canada. It offers local telephone and long distance services under the Bell Home Phone name; data services, including Internet access and information and communications technology (ICT) solutions under the Bell Internet name; DTH satellite television services under the Bell TV name; and Internet protocol (IP) television services under the Bell Fibe TV name, as well as local exchange carrier services.
If you are looking for a growth company with dividends, BCE is a text book company. It has a decent dividend and is poised for growth with this ascending triangle formation. Having a strong resistance at $39.40, it is poised to push through very soon. This is a typical accumulation phase for a company that is ready to continue its move up after a period of rest. It looks like BCE is ready to move up very soon. A safe option play would be a vertical debit spread in the low $40s.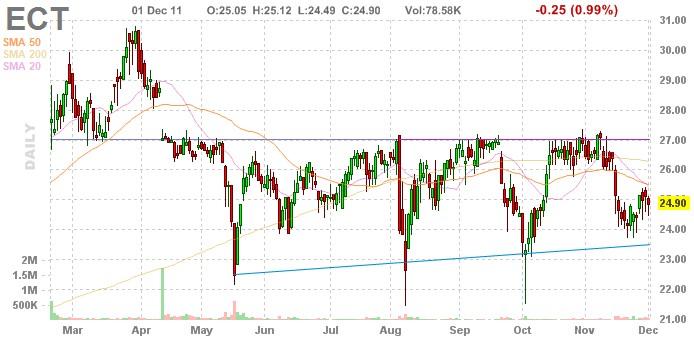 ECA marcellus Trust Inc (ECT) holds royalty interests in producing and development horizontal natural gas wells for Energy Corporation of America (ECA). It owns royalty interests in 14 producing horizontal natural gas wells producing from the Marcellus Shale formation, located in Greene County, Pennsylvania; and royalty interests in 52 horizontal natural gas development wells to be drilled to the Marcellus Shale formation comprising approximately 9,300 acres held by ECA in Greene County, Pennsylvania.
ECA has been written about recently because it has had a lot of insider buying of its stock. Whenever this takes place, the stock may be worth looking at. It is those Insiders who have a superior understanding of the intrinsic value of the companies for which they work as they are aware of the reasons for a company's past performance, present outlook and future opportunities. In its present pattern, ECT may break through resistance within the four months. Momentum is there. Put them on your watch list and look for a late winter break above $27.00 if the real estate market looks like it is rebounding.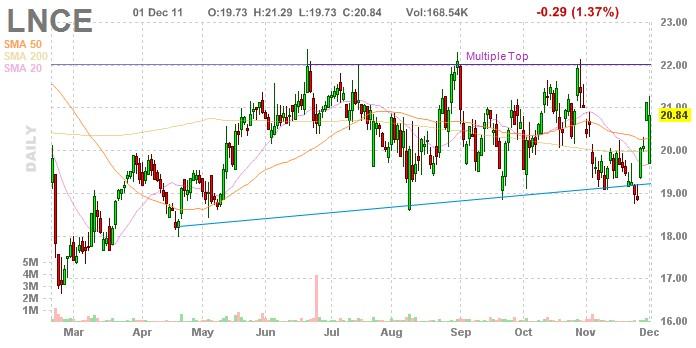 Snyder-Lance Inc (LNCE) manufactures, markets, and distributes snack foods in the United States and Canada. Its products include pretzels, sandwich crackers, kettle chips, cookies, potato chips, tortilla chips, sugar wafers, nuts, restaurant style crackers, candies, and other salty snacks. The company sells its branded products under the Snyder's of Hanover, Lance, Cape Cod, Krunchers!, Jays, Tom's, Archway, Grande, Stella D'oro, O-Ke-Doke, EatSmart, and Padrinos names.
In this recent merger, the single entity is the second-largest salty snacks provider in the U.S. (behind Frito-Lay). These iconic brands combined together are an attractive power. Throughout the year, LNCE has been steadily rising with a powerful resistance level we are waiting for it to push through. We do not sense it is ready to push through yet, but with the market showing signs of recovery in early 2012, it may push through the 22.00 level where it has defined its resistance. Put this one on your watch list. The way it moves all may depend upon the economic recovery early next year.