Las Vegas Sands (NYSE:LVS) and Wynn Resorts (NASDAQ:WYNN) were recently compared by Jim Cramer on mad money as a part of his mad tweet series. (click here for the full segment) Cramer came to the conclusion that LVS is the better stock, but do the charts agree?
Below is a 3 year chart of WYNN with the 50 day moving average (orange) and the 15 day moving average (green)
Source: CNBC
The chart indicates that WYNN may have topped out in mid 2011, and will continue to move lower for the foreseeable future. The first point that backs up this thesis is the trend of lower lows and lower highs that WYNN has been making since mid 2011. As you can see, the stock has made 3 consecutive lower highs and lower lows. This is simply not bullish. Another bearish thing about this chart is that WYNN is now below both the 15 day and 50 day moving averages. Furthermore, the 15 day moving average has just crossed below the 50 day moving average. This is a signal of a further loss of momentum in WYNN. Simply put, WYNN's chart does not look good.
Now let's take a look at the same 3 year chart of LVS.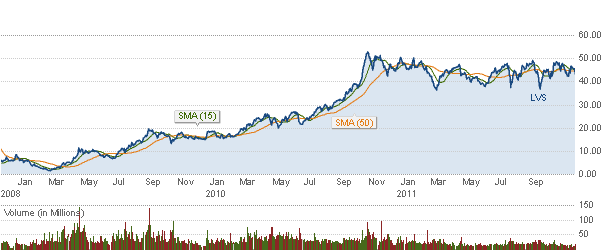 Source: CNBC
This chart is more bullish than the WYNN chart. Here, the stock is consolidating rather than making lower highs and high lows. The stock is also trading at its 15 day and 50 day moving averages. This compares favorably with WYNN.
Conclusion:
The charts indicate that LVS is a better buy than WYNN. However, it is important to note that these two companies are very similar and will most likely move in the same direction. Investors might want to consider going long LVS and short WYNN to play the spread between the two stocks.
Disclosure: I have no positions in any stocks mentioned, and no plans to initiate any positions within the next 72 hours.