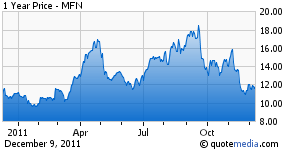 Minefinders (MFN) is a gold and silver producing mining stock that I purchased last week. Here's my rationale:
1. The company is currently producing gold and silver and generating revenue from sales. In the first 9 months of 2011, the firm produced over 53,600 ounces of gold and over 2.65 million ounces of silver. The fact that it is a producing mining firm makes it on to my short watch list.
2. The firm also managed to reduce its gold equivalent cost per ounce to $506; 2010 costs were $743 per ounce, thus marking a considerable improvement.
3. The company has additional projects in the works, and a balance sheet that suggests sufficient health to see those projects actualized. Financials released at the end of Q3 2011 show the company has $228 million in cash and short-term investments; its net worth (assets minus liabilities) is $331 million. The firm currently has a market cap of approximately $963 million, meaning it is valued at just under 3X its net worth. For mining firms in production and who have proven a capability at generating gold-equivalent cost per ounce at around $500, I think this represents a very good deal.
The big downside of Minefinders is that the company's production of silver seems to be far greater than that of gold. While mining operations still seem to be very efficient, I prefer those who are not dependent upon silver and have much larger exposure to gold. Still, though, Minefinder is currently trading at approximately $11.80; its 52 week range is $9.50 to $18.95. Given that it is near the bottom of its 52 week range, that both gold and silver have dropped significantly over the past few months and bullish sentiment has subsided greatly as a result, and that QE3 looms nearer, I think the stock constitutes a great opportunity. I am looking for the stock to re-test its previous highs; at that point, I'll likely re-evaluate, and look to shift into a mining stock with similar attributes but is more undervalued.
Disclosure: I am long MFN.