A little over a month ago I wrote an article about Diamond Foods (NASDAQ:DMND) (click here to read) and how the market was over pricing the trouble the company faced. But more importantly, I pointed out how the Diamond Foods put options were overpriced relative to the risk. I was especially interested in the December $35 puts trading at the time for about $4 per contract. I also wrote that any positive news on the Pringles purchase or with the walnut growers accounting issue may cause a very fast spike in price due to the shorts trying to run for the exits while getting squeezed.
After a series of fresh 52-week lows with the last occurring just two days ago Diamond is now headed in the other direction. Today, like a leather glove around a baseball bat, the neck of the shorts became the center of the grip by the bulls. Diamond Foods blasted off today and never looked back. At the time of this article Diamond Foods is up over $10 a share, a short seller nightmare come true, off 40% above yesterday's close and the day is not finished yet.
52 Week High: $96.13
52 Week Low: $26.37
Book Value: $20.63
Float Short: 56.80%
Diamond Foods has a stock float of about 19.4 million shares and the last reporting date of November 15, 2011, reports a short interest of over 12 million shares. With well over half the shares shorted, it's not difficult to figure out who is helping to push the price higher.
The total short interest number of shares for DMND:

Click to enlarge
The number of days to cover short interest based on average daily trading volume for DMND.

Click to enlarge
The volume traded on Diamond Foods is off the chart as well. With well over nine million shares traded and two hours to go before the closing bell, the stock is likely to smash through 10 million shares trading hands today. This marks the most heavily traded day for Diamond in the last year. Even on the worst trading days about a month ago, Diamond traded less than eight million shares. There is no question in my mind the short interest is shrinking today as shorts will be taking profits that can, and those underwater will be getting out because they have to.
A big catalyst for today's rapid rise in share price comes from news as a result of SunTrust analysts reiterating their buy rating and stating "recent concerns are overblown" as reported by Fool.com, and KeyBanc Capital Markets analyst Akshay Jagdale's statements. Jagdale stated, "We believe the ongoing investigation will reveal that Diamond has properly accounted for the various payments it makes to growers," as reported by Reuters.
I continue to believe Diamond is a strong company and based on the revenue growth, remains oversold even after today's large strong move higher. With a three-fold increase in revenue and a light at the end of the tunnel shining over the accounting issue, Diamond is far from reaching its potential market cap.
Here is a look at the fiscal year revenue.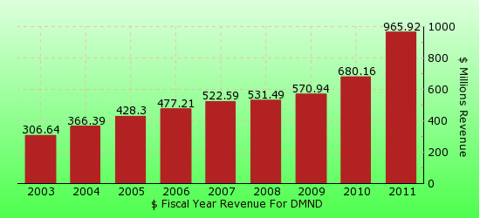 Click to enlarge
As I wrote in my article before, I believe the best way to mitigate risk and take advantage of the massive volatility is through options. Looking at the options trading today, we see March 2012 $30 strike price puts selling for about $3.70 each. By selling a March $30 put instead of buying the stock outright an investor is able to enjoy several advantages over buying the stock outright.
Firstly, and most important is the risk of loss is lower. By selling the $30 puts, the greatest loss possible is about $26.30 a share which is also the same price as the cost basis for shares that get put to the put writer. If Diamond closes above $30 in March on options expiration day, the return is well over 10% for about 90 days of risk exposure. I also like this strike price because it puts the cost basis at the support level in case of more headline pressure on the stock price.
Lastly, I like this strike price and month series because of the much lower volatility an investor will have as opposed to owning the stock. A lot of investors have lost a lot of sleep with Diamond Foods, and there is no reason to look for a return over an annualized rate of 40% or more when this lower risk method is available.
Please feel free to share your thoughts and comments.
I use a proprietary blend of technical analysis, financial crowd behavior and fundamentals in my short-term trades, and while not totally the same in longer swing trades to investments, the concepts used are similar. You may want to use this article as a starting point of your own research with your financial planner. I use Seeking Alpha, Edgar Online and Yahoo Finance for most of my data.
Disclosure: I have no positions in any stocks mentioned, but may initiate a long position in DMND over the next 72 hours.