Earlier in the week, I wrote an article focusing on what I considered the key takeaways from Netflix (NASDAQ:NFLX) CEO Reed Hastings' presentation at the UBS Global Media and Communications Conference.
In the real world, the following two tidbits, particularly the second one, would have immediately sunk Netflix stock:
Click images to enlarge
Tidbit No. 1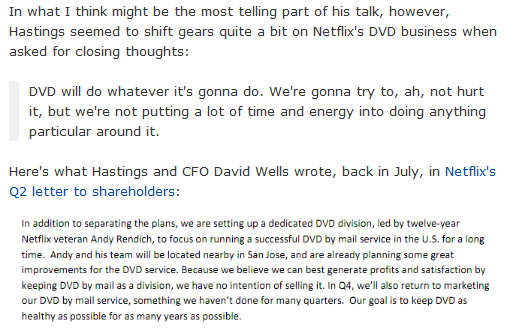 Tidbit No. 2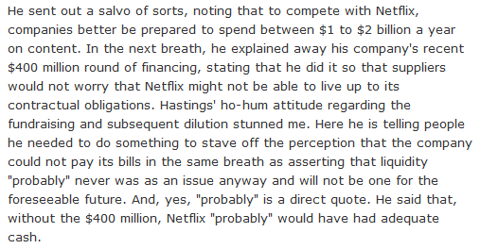 But, clearly, we don't live in the real world. We live in a world where analysts, almost mindlessly, have always given and continue to give Netflix and, more so, Hastings "the benefit of the doubt" (that's Jim Cramer's phrase, not mine). Other analysts, namely much of the sell-side, simply went into hiding once reality showed up for a second and drove their poorly-researched price targets and profit estimates into the ground:
For example, has anybody heard from Ingrid Chung at Goldman Sachs? I asked her for an interview when Netflix was momo-ing its way to $300, but she refused, noting that her firm does not allow her to do interviews. After Netflix's disastrous Q2 and weak Q3 guidance in July, Chung waxed bullishly, not only reiterating a buy rating and her $330 price target, but raising EPS estimates from 2011 through 2013.

Before you read this next sentence, call some family, friends or co-workers over to your computer screen, because there's nothing like sharing a laugh with others around the holidays. For 2012, Chung predicted Netflix would post EPS of $7.69.
Instead of focusing on what actually matters to investors - Hastings' doubletalk on DVD, downright scary talk regarding Netflix's death cocktail of spending mixed with shaky liquidity and the sell-side's culpability - the mainstream media homed in on the smoke and mirrors. Admittedly, I also led off my UBS recap talking about Hastings' strange insistence that Netflix's primary competition comes in the form of Time Warner's (NYSE:TWX) excellent HBO GO.
Because this is what the media covering Netflix - and Hastings - wants to make people think they should care about, I'll take a stab at unpacking it.
First, here's why I call it "smoke and mirrors."
Even though I've been taken to task in the past for saying this, I will repeat it because it's true. In many ways, Reed Hastings is a brilliant man. Anybody who denies that is not being objective. Nobody's perfect, but the guy, without a doubt, is a visionary.
Heck, he founded Netflix and profoundly changed the way people rent movies. Another great idea that I did not come up with, let alone execute and implement. And when you hear Hastings talk about Internet-connected televisions and "smart" and "social" television, it's difficult to not call the man a visionary. Just like he did when he put the red envelope on its way to ubiquity, Hastings sees the future of TV and articulates that future quite well. It becomes "smoke and mirrors," however, when Hastings attempts to associate that future with Netflix.
I'm certain that Hastings believes the hype when he essentially opines that I have seen the future of television and its name is Netflix. He wants you to believe that as well. He also wants to take investors' eyes off of the ball by linking Netflix with a premium-service such as HBO GO and not services that look a lot more like Netflix streaming, such as Amazon.com's (NASDAQ:AMZN) Instant Video.
It's my opinion that Hastings employs a similar tactic around the price increase fiasco and Qwiskter still birth. He directs focus to those two things because they're easy to spin as temporary obstacles that time and a little bit of hard work will overcome. The last thing he wants to do is make the increasingly-obvious connection between the inherent flaws in Netflix's business model, its hasty responses to them and its uncertain future.
By making the HBO GO comparison, almost obsessively and effectively discrediting the merits of the growing number of offerings that actually look more like Netflix, he takes your eye off of the reality that Netflix streaming is actually pretty slim. When an audience member asked him about this at the UBS conference, he did not have a good answer.
Hastings wants to create the perception that Netflix is a truly premium service like HBO, particularly in the minds of investors. Why associate Netflix with the increasing competition that critics say will ultimately put you out of business? That would be a bad move.
What Hastings is doing would be a shrewd strategic move if it was not so easy to pick apart. It's smoke and mirrors because Netflix is nothing like HBO GO. It's exactly like every other dime-a-dozen streaming service that exists and is forthcoming, with the exception of Hulu and TV Everywhere, which are both probably better than Netflix, namely with respect to fresh content.
To be fair, Hastings did say that Netflix does not directly compete with HBO GO just yet, but they could. Here's what I read into that. First, it's hardly a secret that Time Warner will likely open up HBO GO to people who do not subscribe to HBO via cable or satellite. That would make it more like Netflix in that it would be accessible to everybody. Second, expect Netflix to get deeper into the area of original content.
That said, Netflix is not there and nowhere close to getting there, unless it has a Sex and the City, Sopranos and a movie offering even comparable to HBO up its sleeve. Arrested Development, the CW slate, Top Gun and an original offering or two simply does not cut it. Upon reflection, to even say Netflix and HBO in the same breath enters the realm of slapstick comedy.
For whatever reason, the HBO GO competition thing received the most attention after Hastings' talk. Instead, Hastings' arrogant snub of the competition should have made more headlines. He not only discounted companies ranging from Google (NASDAQ:GOOG) to DISH Network (NASDAQ:DISH) as peers, but, from a position of weakness and uncertainty, he boasted about Netflix's apparent ability to outspend them to the tune of $1 to $2 billion a year. He followed that shot up noting that he secured $400 million in financing so Netflix's suppliers would not worry about its ability to meet its obligations or request complete payment upfront.
Something tells me Hastings did not learn much from recent events.
Disclosure: I am short NFLX.
Additional disclosure: I am short NFLX via a long position in NFLX June 2012 $40 puts.