One tech stock that I recently added to my portfolio is Applied Materials. It has a low valuation, a solid dividend and appears to be bottoming.
Applied Materials (NASDAQ:AMAT) – "Applied Materials, Inc. provides manufacturing equipment, services, and software to the semiconductor, flat panel display, solar photovoltaic (PV), and related industries worldwide". (Business description from Yahoo Finance)
7 reasons why Applied Materials is cheap at $11 a share:
1. AMAT has a pristine balance sheet with over $3 in net cash per share on the books.
2. It is selling at the very bottom of its five year valuation range based on P/E, P/S and P/B.
3. It has an almost 3% yield and it has grown its dividend payments by a more than 7% average annually over the last five years.
4. Applied Materials has beaten consensus earnings estimates for six straight quarters. The average beat over consensus during the last year has been north of 6%.
5. AMAT has a forward PE of under 10 which is a 50% discount to its five year average.
6. Applied Materials looks like it has built some decent technical support in the $10 to $11 range (See Chart, click to enlarge)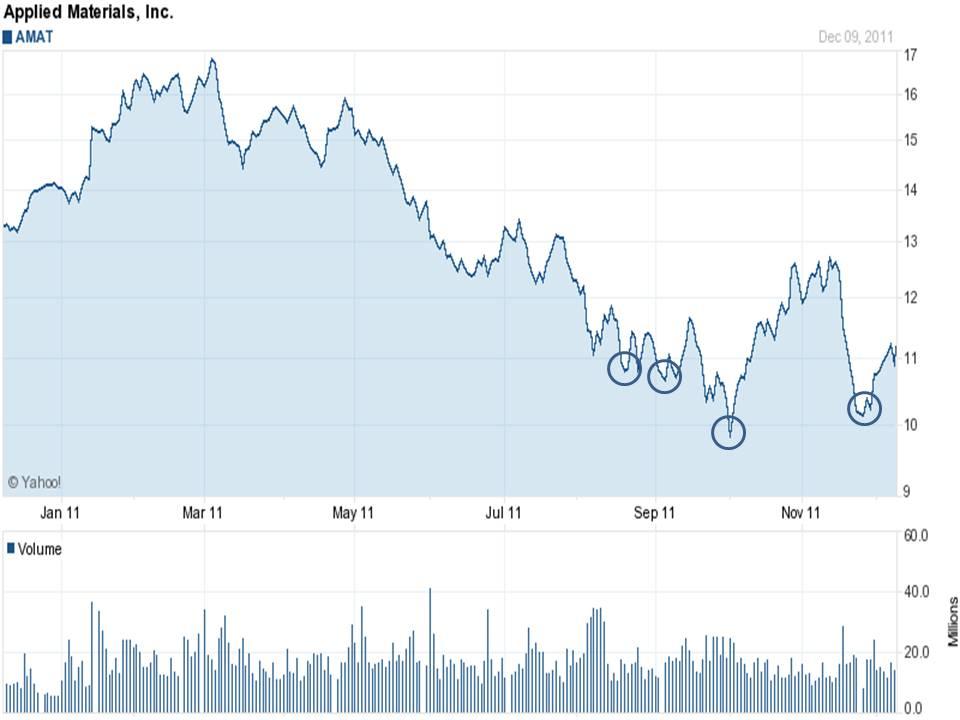 Click to enlarge
7. It is extremely cheap on a cash flow basis. Applied Materials is selling at just 6 times trailing operating cash flow.
Disclosure: I am long AMAT.