Sprint (NYSE:S) has been on a seeming death spiral for the past six years. While a decade ago, Sprint was lauded as having the best wireless technology with its CDMA network, the company squandered its lead and now rests as a distant number three player in the U.S. wireless market. Its acquisition of Nextel should go down in history as one of the worst ever in tech-land. Nextel operated an entirely different network technology called iDen, which wasn't compatible with Sprint's CDMA network architecture. That mistake was costly, sending S stock from the $25 range to around $2.45 today.
A few smart investors have recently begun warming up to Sprint stock, however. On the surface, offering iPhones and improving customer service has improved the number of subscribers, both positives for Sprint longer term. And while it may take a long time to happen, I aim to argue why it is possible that in three to five years time, Sprint could easily be a 3 to 5 bagger.
Basics:
| | |
| --- | --- |
| Stock Price | $2.45 |
| Market Cap: | $7.3BB |
| Debt, Gross | $20.3BB |
| Debt, Net of Cash | $14.5BB |
| Total Enterprise Value | $21.8BB |
| EBITDA 2011e | $5.0BB |
| EBITDA 2012e | $3.6BB |
Company Description:
Sprint is the number three wireless carrier in the U.S., behind the behemoths at Verizon (NYSE:VZ) and AT&T (NYSE:T). Here are the market share numbers for the major national wireless carriers:
| | |
| --- | --- |
| Verizon | 40% |
| AT&T | 32% |
| Sprint | 15% |
| T-Mobile | 12% |
Today, Sprint has approximately 33mm post paid subscribers, with total subscribers of around 56mm (including less profitable Boost/pre-pay subs). The company has operated two separate networks-- the old Nextel iDen network, and Sprint's existing CDMA network-- since that merger in 2006. Supposedly the iDen network will be phased out starting in 2013, which should help boost margins substantially. Right now, EBITDA margins at Sprint hover around 18%, by far the lowest of the bunch, and well below its 33% margin levels back in 2007.
The biggest carriers, AT&T and Verizon, operate efficient GSM and CDMA networks respectively, and generate EBITDA margins well above 35%. T-Mobile is in the middle at around 25%.
As far as net add trends, Sprint is finally starting to stabilize its base of wireless customers. The company lost 2-3mm net subscribers roughly each year from 2006 to 2009, and is finally turning the corner with net add growth this year and last year. Additionally, with the iPhone launched this October, Sprint will likely accelerate its net post-paid subscriber growth. For years iDen customers have been slowly churning off the network, but CDMA customer growth has finally started to more than offset that.
Click to enlarge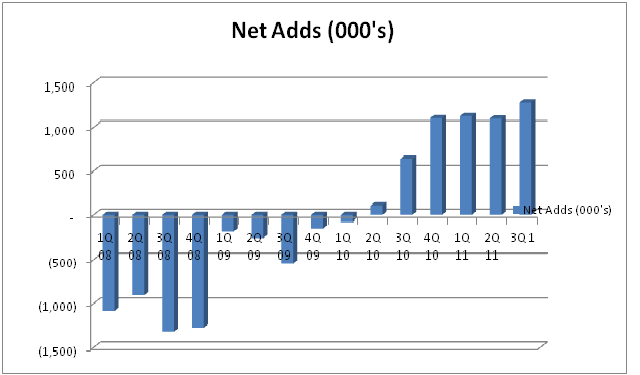 There is more good info from the company's most recent quarterly report here.
Clearly, with the iPhone hitting in Q4 and Sprint reporting record subscriber adds that month, the company should report solid adds in Q4. The next question is, will financial results improve?
Historical and Projected Results
Going back to 2008, Sprint generated EBITDA of $7.7BB. This has steadily declined, and in 2011 I expect full year EBITDA to hit an even $5.0BB. The bad news is, with Sprint's anticipated spending on 1) its Network Vision plan (to essentially get rid of the iDen network, upgrade to LTE, and migrate everything to its CDMA network), as well as 2) iPhone subsidies as growth in subs improves, Sprint will see worsening margins and EBITDA next year.
In fact, in 2012 Network Vision is anticipated to reduce EBITDA by $1.1BB, and the handset subsidies for iPhones will further reduce EBITDA by another $1.1BB. Taking $5.6BB in Q3, runrate EBITDA growing it by 3% (lower than the guided 10% number), and subtracting this $2.2BB in margin impacts implies that Sprint will do around $3.6BB in EBITDA next year. (I wasn't sure how management expects to grow core EBITDA by 10% when its long distance business tends to decline by around $200mm per year. Hence I used the 3%.)
In 2013, the drag from the Network Vision spending abates, meaning EBITDA should improve by $1.1BB, to around $4.7BB. However, in 2014 management forecasts that Network Vision will produce meaningful savings, almost $2BB. Without 2 networks to operate, it seems plausible that Sprint can attain these projected cost savings. The iPhone benefits don't really kick in until 2015 on an EBITDA basis, as every year prior to that the subsidies eat up more costs than incremental revenue.
Risks
First of all, the risks here are real. The company is highly levered with roughly $15BB of net debt. With expectations for EBITDA to be around $3.6BB next year, 2012 leverage (Debt/EBITDA) should be around 4.2x. For businesses that are worth between 5.0x – 6.0x EBITDA, that is a lot of debt.
Liquidity is the biggest risk in 2012 and 2013. It just raised $4BB in debt, paid down its 2012 maturities, but then added to its cash commitments with the recent Clearwire agreement. Here is a breakdown of cash burn, as well as liquidity at the firm:
Click to enlarge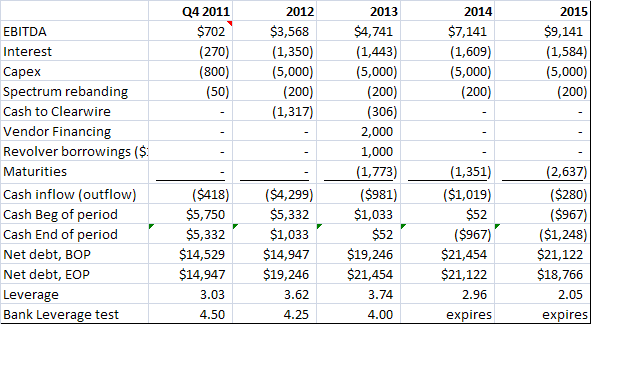 Management intends to keep a minimum cash balance of $2BB as stated on its recent call, so the cash balance forecast in 2013 of negative $1BB indicates that the company needs to borrow about $3.0BB MORE to fully fund its Network Vision plan, as well as to fund operating losses and iPhone subsidies. This is the high end of its projected range of additional capital needs.
Bankruptcy risk is real in the event that capital cannot be raised and operating results worsen more than expected. Another problem is that its $2.4BB revolver matures in October 2013. While it's undrawn today, by maturity it likely will be drawn down, and there are also $1.1BB of LCs (letters of credit) that need to get rolled into a new facility. I think this facility is extendable, but the banks are currently unsecured (with only subsidiary guarantees), and I would bet-- somewhat worried.
Sprint's bank facility also has a total leverage test (Debt to EBITDA) of 4.0x in 2013, which I personally think the company remains in compliance with (3.74x above), but only because of phone subsidy add-backs to EBITDA (under its amended bank docs) of up to $1.7BB per year. But they are going to be very close.
iPhone Deal
Management has been somewhat cagey with details on the iPhone deal given that they are bound by confidentiality. Basically, Sprint is guaranteeing $15.5BB in purchases of iPhones over the next 4 years. At $625 per phone, that equates to 6.2mm iPhones purchased by Sprint every year for 4 years. Consumers generally pay either $199 or $299 for a phone, and Sprint picks up the balance-- call it around $375 per phone ($625 less a $250 average price).
For Q4 this year, management guided to a $600mm hit to EBITDA from iPhone subsidies, which at $375 equates to selling 1.6mm iPhones in Q4. That is obviously a run rate of 6.4mm iPhones per year. If the company's contract requires minimum purchases by Sprint of 6.2mm iPhones per year, it could get ugly for S if it doesn't meet this minimum. Management comments suggest that Q4 was a very good quarter for Sprint iPhone sales, but it may not be a sustainable run rate. Personally, I am not sure this was such a great deal for Sprint. The company needed this phone to survive, and Apple (NASDAQ:AAPL) used this leverage to cut this deal. Reports suggest that Sprint will pay the highest subsidy to Apple of the big 3.
Competition
If you look at AT&T and Verizon Wireless, each have market caps well north of $100BB. Sprint has a meager $22BB market cap, $15BB of which is debt. For $7BB, investors can get a cheap option on a convergence of these three carriers. Because, three to four years from now, Sprint will have a comparably fast LTE 4G network, the same phone lineup, and pricing that probably will get pretty close to T and VZ. Should its market cap by then be so much different, assuming subscriber growth takes hold, and market shares converge some?
Sprint management also stated that they expect to mostly complete Network Vision by the end of 2013, which should dramatically improve margins. They will finally shut down the legacy iDen network, migrate the last of those customers to Sprints 4G network, finish the company's own LTE network, as well complete the technology to integrate Sprint handsets with Clearwire's own WiMAXX and future LTE network.
Sprint is reportedly a little short on spectrum, having less capacity (at the higher less "penetrating" 1900 MHz) than its peers. But in all other categories, it should be roughly on par. One plus for Sprint today: customer satisfaction surveys rank it a very close second behind VZ Wireless, and well ahead of AT&T. Net net, I cannot see a major competitive or cost disadvantage for Sprint by 2014.
Valuation
What does this mean for the stock? Likely over the next few years, I project Sprint can grow its revenue base from today's $33BB, to $40BB or so. My EBITDA numbers (see table above) imply margins improving from today's 18% level, to around 23% by 2015. That is still far below Verizon and AT&T's near 40% margins, but closer to T-Mobiles mid 20% EBITDA margins. This seems quite reasonable.
Using a 2015 EBITDA number, which growth is actually mostly driven by its Network Vision cost cutting plan, here is what S could be worth in 4 years: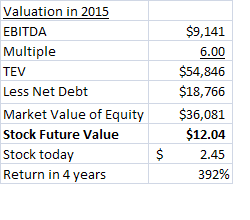 On a FCF basis, by 2014, assuming this level of EBITDA can be achieved, the stock could generate $0.79 per share in FCF.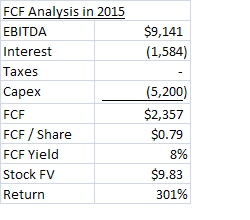 Conclusion
Sprint is quite a speculative stock. When I looked at it last summer at $4.50 a share, I didn't think it was interesting until it got to the $2 range-- well, here it is. To me the key will be management delivering on its Network Vision plan to improve margins. I am convinced that the subscriber growth will be there. But first, the decline in 2012 EBITDA to only $3.5BB may scare investors, who may not have the patience to weather another year of dismal performance-- especially after living through the past five years. Even in 2013, EBITDA will improve, but perhaps not enough to justify much movement in the stock. That said, for the patient, long term oriented crowd, the upside is solid. And who knows-- perhaps a deep pocketed cable company or private equity buyer may find this an interesting turnaround play, and buy Sprint outright.
As far as downside goes, there is a chance the stock falls to zero, but more likely it languishes at $1-1.50 amidst a bad tape and weak numbers. Owners today should treat S like an extremely long dated call option on a turnaround. Upside of $6 to $9 per share, downside of $2. Good luck.
Disclosure: I am long S.