In 1937, Patrick McDonald opened "The Airdrome" restaurant in California. In 1940, his two sons, Maurice and Richard ("Mac" and "Dick"), moved their restaurant to a different location in California. The restaurant was renamed "McDonald's". 15 years later, Ray Kroc bought rights to open other McDonald's restaurants; his 1st branch opened on April 15th 1955 in Des Plans, Illinois.
56 years later, McDonald's is one of the world's leading global fast food restaurant chains with more than 33,000 locations serving approximately 64 million customers in 119 countries each day. One of the company's targets for 2012 is to add 1,300 new restaurants and remodeling of 2,400 existing restaurants.
As of December 31st 2010, 80% of McDonald's restaurants were franchised. Only 20% of the restaurants were company-operated, as part of the company's belief that franchising is important to delivering better customer experiences and better financial results.
McDonald's menu includes its classic burgers (Big Mac, Quarter Pounder) as well as other fast food items and a breakfast menu. In recent years McDonald's started offering additionally healthier and more nutritious dishes.
A few numbers:
| | | | | |
| --- | --- | --- | --- | --- |
| | Revenues - $ Millions | Cash Flow From Operations - $ Millions | Dividend per Share - $ | EPS (Fully Diluted) - $ |
| 2011 (*) | 26,857 | 7,406 | 2.53 | 5.24 |
| 2010 | 24,075 | 6,342 | 2.26 | 4.60 |
| 2009 | 22,745 | 5,751 | 2.05 | 3.98 |
| 2008 | 23,522 | 5,917 | 1.625 | 3.67 |
| 2007 | 22,787 | 4,876 | 1.50 | 2.90 |
| 2006 | 20,895 | 4,341 | 1.00 | 2.34 |
(*) 2011 figures are based on estimates of the 4th quarter results.
The results in the table above show the consistent growth MCD achieved since 2006 despite the economic turmoil of the last few years. EPS grew by 124%, Dividend per share by 153%, cash flows from operations by 70% and revenues by 29%. For the next 5 years analysts expect MCD to grow by 10% per year.
These are impressive numbers for any company; any type of investor would like to see these results for the companies in his portfolio.
The major problem I have with the numbers above is that dividend per share increased much faster than the revenues or cash flows from operations. MCD might not be able to keep that trend much longer and will have to slow down its dividend growth to match that of its financial results. That is a point that must be considered by income investors.
Now look at the figures in the table below showing management's effectiveness and how it takes care of its shareholders:
| | | | | |
| --- | --- | --- | --- | --- |
| | Number of Restaurants | Return on Assets | Return on Equity | Return to Shareholders (Dividends + Buybacks) - $ Millions |
| 2011 | Over 33,000 | 16% (*) | 40% (*) | 6,000 (**) |
| 2010 | 32,737 | 25% | 35% | 4,643.5 |
| 2009 | 32,478 | 23% | 34% | 4,700.8 |
| 2008 | 31,967 | 22% | 31% | 5,194.5 |
(*) According to Yahoo! Finance for the trailing 12 months.
(**) Forecasted by MCD management. Actual figure for the 9 months ending September 30th 2011 was $4,622 billion.
Since 2008 management was able to keep returning piles of cash to shareholders – both by stock buybacks and by paying nice & growing dividends.
MCD is on the dividend aristocrats list after it has managed to raise its dividend consistently during the last 35 years.
Current dividend yield is 2.90% with a 48% dividend payout ratio. Despite the quick dividend growth of the last few years, dividend payout ratio remained below 50% - it might shoot up unless MCD slows down its dividend growth or boosts profits as I mentioned above.
Some more numbers:
Market cap: $ 100 billion
Total net debt: $ 8.75 billion
Price to earnings: 19.2
PEG: 1.84
Price to book: 7.4
Current ratio: 0.87
Despite a rather conservative balance sheet and very strong cash flow from operations, the debt level MCD carries is a bit high. I would prefer to see them deleverage and pay off some debt first and then continue with their high level of stock buybacks.
The P/E, PEG and price to book ratios are also quite high, indicating that current stock price may be expensive. The table below shows a comparison of these ratios between MCD and other dividend aristocrats from various industries (click to enlarge image):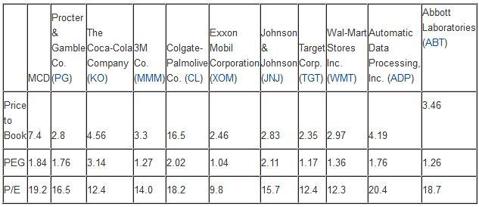 Generally speaking, when you consider P/B, PEG & P/E - the lower the cheaper. Of course that statement is general and the required level for these ratios may differ between value and growth companies, between different industries etc.
When these ratios are low – it might indicate a problem with the company that has been priced by the market. When they are high – it may indicate a growth company that its price accounts for its future high growth today.
Either way, these ratios will provide you with a general idea where you want to dig in further in order to buy cheap stocks.
While the case here may be expected high growth (look at the last line of the table above referring to analyst's consensus), I think the expectations and valuations here are a little too high. MCD's growth targets differ from the 10% analysts predict – their declared and reaffirmed target is sales growth of 3% to 5% and operating income growth of 6% to 7%. That's not bad at all, but may not support the current stock price.
With that in mind, the table above indicates that PG, MMM, XOM, TGT, WMT and ABT may be more compelling than MCD; however each one has to be studied better to reach a serious investment conclusion.
The next table compares some basic parameters of MCD to some of its competitors:
| | | | | | |
| --- | --- | --- | --- | --- | --- |
| | MCD | Yum! Brands, Inc. (NYSE:YUM) | Chipotle Mexican Grill, Inc. (NYSE:CMG) | Dunkin' Brands Group, Inc. (NASDAQ:DNKN) | Starbucks Corporation (NASDAQ:SBUX) |
| Market Cap | 100.3 B | 26.7 B | 10.6 B | 3.04 B | 32.8 B |
| Price to Book | 7.4 | 13.3 | 10.5 | 4.1 | 7.3 |
| PEG | 1.84 | 1.6 | 2.44 | 1.94 | 1.37 |
| P/E | 19.2 | 22.7 | 52.7 | 42.3 | 27.1 |
| Dividend Yield | 2.9% | 2% | N/A | N/A | 1.6% |
| Payout Ratio | 48% | 39% | N/A | N/A | 32% |
| Next 5 Year Expected Annual Growth | 10% | 13% | 20% | 15% | 17% |
Looking at the table above, none of the competitors seems to be trading at deep discounts to their current financial results as they all have very high P/B, PEG & P/E.
Cash flow:
As shown above, MCD has a solid cash flow supporting its growth and using mainly for investments in new restaurants, remodeling old ones, paying dividends and stocks buybacks.
One of the main ratios I check when researching companies has to do with cash flow - enterprise value to free cash flow. I actually prefer that than P/E since it factors in the cash & debt on the one hand, and considers cash flow rather than the easy-to-manipulate earnings on the other hand. The result for MCD is just under 23 – not terribly expensive but definitely not cheap.
Insider trading:
Since December 2009 the aggregate of stock sales by insiders was $105 million. The sales occurred all along the mentioned period. BUT - There were $0 purchases by insiders during this period! Makes you wonder…
MCD and the global crisis:
I believe MCD is well positioned to continue growth in the future with or without another recession. Here's why:
In a world with volatile commodities price, I think MCD's popularity will enable it to raise its prices as commodities price rise - even if not exactly at the same pace.
MCD's global presence should enable it to benefit from fast growing markets and compensate for others that may fall short due to recession or other local reasons.
MCD's products are cheap compared to other restaurants. In an economic crisis when many families may not be able to afford fancy restaurants – MCD may be the preferred option for them to hang out with the kids.
MCD's new menu options appeal to people who would like fast but healthier food (salads, low fat burgers etc.).
No matter how bad economy gets – kids LOVE McDonald's. The combination of Ronald, kids' meals and Big-Macs +fries +Coke will continue to get parents giving up and taking their kids to the golden arches.
Conclusion and valuation:
McDonald's is a remarkable business and is one of THE most popular brand names in many parts of the world. It used to be a high-growth company which still grows at an impressive pace. For its future growth MCD invests a lot of money in new restaurants and marketing.
MCD is also known for the extremely long period of time during which it has raised its annual dividend – long enough to become a dividend champion.
I have no doubt MCD will be here for many more years and its business will continue to grow in most parameters year in – year out. That should appeal to value investors as well as income investors.
However, I think current stock price is not attractive. MCD trades at a P/E of over 19, price to book of over 7 and PEG of 1.84. Consider the enterprise value to free cash flow, the insider transactions and the dividend growth that might have to cool off in the future. In my opinion all these imply that:
The current stock price is at least fair if not expensive.
As I explained above – the dividend growth will have to come down unless financial results will shoot up.
While I would like to start a long position and hold a piece in the excellent business of McDonald's, I will wait either for its price to pull back or for its financial results to better support the stock's price.
Disclosure: I have no positions in any stocks mentioned, and no plans to initiate any positions within the next 72 hours.