Discover Financial Services (NYSE:DFS) showed up on my radar after finishing dinner with a group of college friends. The waiter dropped off the check and we all pulled out Discover cards. My money senses began tingling, so I did some research:
Discover's main services are credit cards, personal banking, and student loans. Student loan debt and credit card debt are growing in the recovering economy. CNN Money reports that credit card use has increased this year and most likely will continue to increase throughout this Christmas season. The Discover US Spending Monitor:
Consumer confidence increased substantially in November as more consumers viewed both the economy and their personal finances as improving, according to the Discover U.S. Spending Monitor. The Monitor, a 4-year-old daily poll tracking economic confidence and spending intentions of nearly 8,200 consumers throughout the month, recorded more than a 7-point rise from the previous month to 86.3 percent.
The student loan business has also increased. During the "great recession", the number of people attending college steadily began to grow. The entire country is heading back to school, even retirees. Therefore, the student loan business has picked up. As the economy continues to recover, the default rates on these loans will steadily decrease. At the same time the increased cost of college will fuel growth in student loan debt. All of this equals profit for Discover Financial.
Here are some stats:
| Company | Current Price | P/E Ratio | P/B Ratio |
| --- | --- | --- | --- |
| Discover Financial Services (DFS) | $24.74 | 6.41x | 1.61x |
| American Express (NYSE:AXP) | $48.80 | 12.09x | 3.09x |
| Visa (NYSE:V) | $97.19 | 21.31x | 2.49x |
| Mastercard (NYSE:MA) | $377.42 | 20.75x | 7.85x |
Closing prices 12/9/2011 via OptionsHouse trading platform
Discover's stock is trading at a lower multiple than its competitors. Discover's revenue grew 69.2%, compared to the 16.9% average for the Credit Services Industry. According to Yahoo Finance, it is the fastest growing credit card company by revenue and EPS growth. Discover ranks #4 for return on equity.
click to enlarge image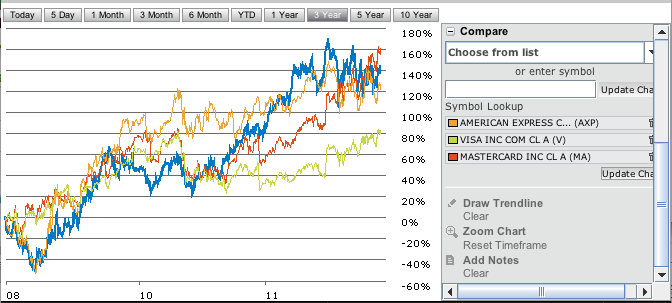 Via OptionsHouse Platform 12/10/11 @ 4:19pm
Discover Financial Services has outperformed all 3 of its competitors, including Mastercard (MA), reaching as high as a 170% return mid 2011.
Discover Financial is strategically positioned to profit in the current economic environment. In 2008, Discover acquired Diners Club from Citi, creating an international network for Discover Cards. Since then Discover has continued to expand its business, offering processing services through its pulse network, as well as personal loans. As the economy recovers and America releverages, Discover will reap profits from the infrastructure it has developed and the stock price will continue to climb.
Discover announces earnings on December 15, 2011.
Disclosure: I am long DFS.